Korea Hydro & Nuclear Power (KHNP) has deployed a private 5G network and applications at the Hanul Nuclear Power Plant in December 2022, enabling rapid response to disaster situations.
Why did Korea Hydro & Nuclear Power (KHNP) build a private 5G network?

Security: There have been 1,463 hacking attempts to KHNP in the last 10 years, and a closed network completely separate from the commercial communication network is needed (such as the leak of internal data at KHNP in 2014).
Disaster response: Even when nuclear power plants are isolated from public networks due to natural disasters such as forest fires, typhoons, and earthquakes, a stable private network that operates normally without being affected by them is needed(in 2022, a large wildfire in Uljin caused the loss of some sections of the public mobile communication network near the Hanul nuclear power plant).
Full Control: If KHNP uses the MNO's private 5G service, the MNO's public 5G network is managed by the MNO, so KHNP cannot change the 5G network configuration.

<Hanul Nuclear Power Plant>
Private 5G network built by KHNP
KHNP builds a full set of 5G network at Hanul nuclear power plant (on-premise model)

5G Core, CU/DU, MEC, and application server are installed in the communication room of the main building of Hanul Nuclear Power Plant.

RU is installed in the main building and power plants 1, 2, and 3

KHNP was allocated a private 5G frequency (4.72-4.82 GHz) by the government in November 2022.

KHNP begins private 5G planning in July 2022 and completes private 5G network deployment in December 2022

Private 5G vendor: HFR (Korean vendor HFR provides KHNP with service operation management platform, 5G SA core, 5G CU/DU, fronthaul mux, RU)
KHNP's Private 5G applications
① Transmission equipment redundancy: Automatically switches to the private 5G network when the wired network between the main communication room and the power plant is disconnected. Automatic switching within 50ms
② Emergency command communication (MC-PTT): uses the private 5G network as a stand-alone, autonomous command network for the Hanul nuclear power plant in the event that the commercial mobile communication network is down.
③ On-site Situation Relay: In a disaster situation, mobile 360° cameras installed near the disaster site and VR (3D) and AI (object recognition) are applied. Commander can monitor and direct disaster situations from the communications room in the main building without going to the field.
Private 5G network solution adopted by KHNP: HFR
A service operation management platform, 5G core network, 5G RAN (vCU/DU), fronthaul mux, and radio unit are needed in order to build and operate a private 5G network. HFR integrates and supplies all of this equipment for enterprise customers.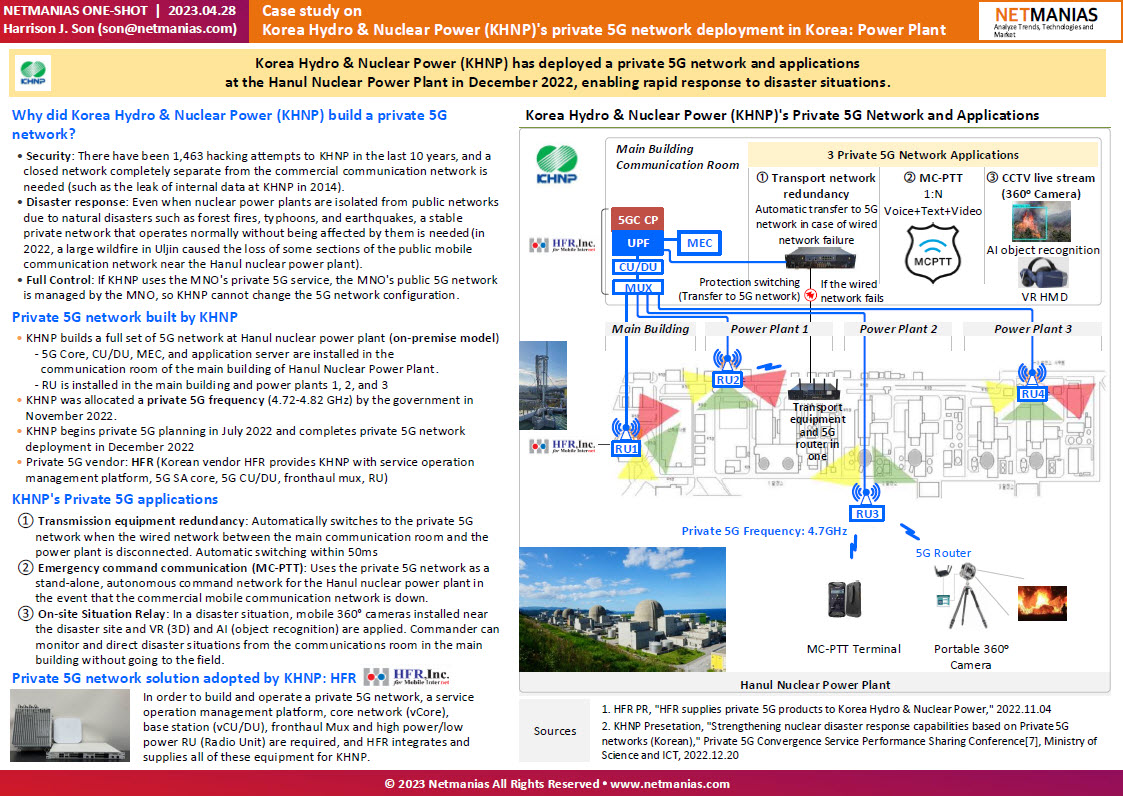 To learn more about the state of private 5G in South Korea, click the link below.
- Private 5G Status in Korea (1): Private 5G Service Providers in Korea
- Private 5G Status in Korea (2): Enterprise DIY Case Study