Total Solution | Micro Network Slicing | Vertical Applications | Business Platform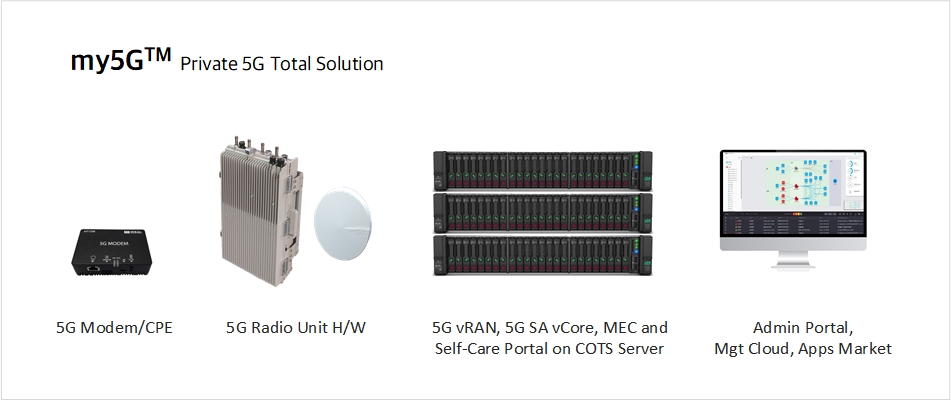 HFR develops, integrates, and provides the entire private 5G system.
Enterprises do not need to verify and integrate individual equipment from multiple vendors, so they can quickly deploy private 5G networks and operate the network stably.
In addition, agile introduction of new applications/services is possible, and failures can be resolved quickly.
Micro Network Slicing:

allowing enterprises to customize the 5G network the way they want
HFR provides robust micro network slicing capabilities which allows the enterprise to create network slices with different QoS and security policies on a per user/device group and application/service basis.

It provides optimal networks that meet each slice's distinct QoS requirements, and since the traffic between slices is isolated, it provides strong security (zero trust).

In addition to the network slicing capabilities defined in the 5G standards (3GPP Rel. 16), HFR's micro network slicing provides granular slices based-on,

• user/device group

(e.g., robots, drones, R&D

engineers),

• application

(e.g., PTT, ERP, Internet),

• location

(e.g., inside building, outside

building, factory site 1)

• time

(e.g., weekday, weekend,

office hour, off-hour), etc.
Vertical Applications

for Digital Transformation at Onsite Customer Edge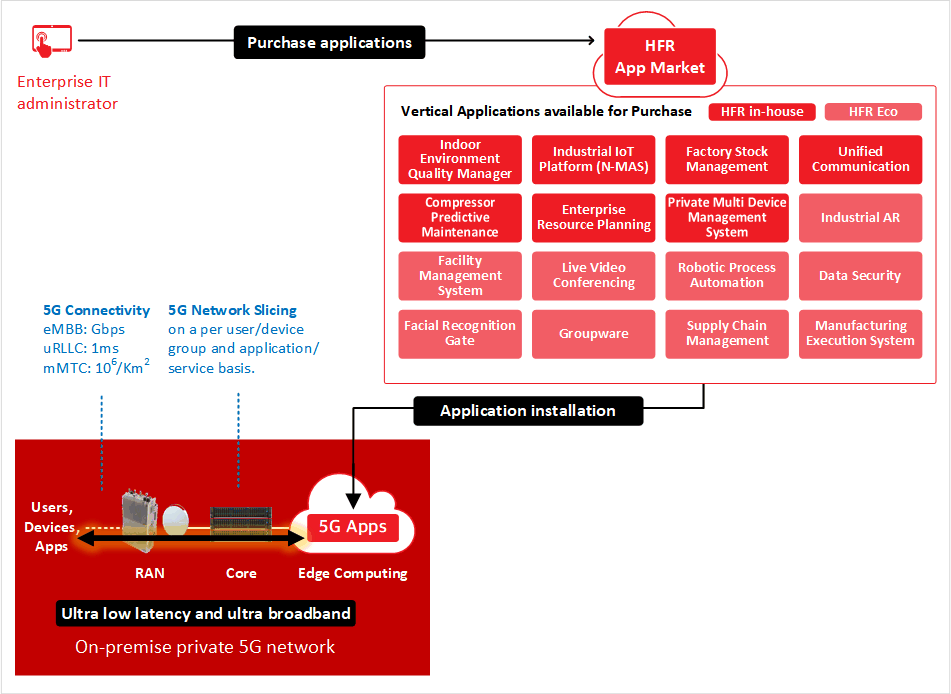 HFR provides enterprise-specific application services for helping their digital transformation.

Enterprises can install and use their own applications on the HFR's my5G platform, and can purchase various enterprise application services on the marketplace provided by my5G. These applications are managed by the my5G business platform and provide various billing policies, SLA assurance, usage and quality monitoring for each application. HFR develops enterprise applications in-house, and is expanding the ecosystem through cooperation with various application developers.
Business Platform is a key enabler of private 5G service, which offers customer management, service management, resource management, various billing features, and usage & quality monitoring.

The platform consists of two portals: Self-Care and Admin Portals.


Self-Care Portal enables enterprise customers to monitor their devices & services' status, near real-time usage monitoring per device and product subscription, register and manage devices.

Admin Portal provides service providers with holistic features for their private 5G service operation, including customers & services management, resource (numbers and devices) management and pricing plan management.
For more information, contact:
Peter K. Cho, Global CTO of HFR Networks Inc
peter.cho@hfrnetworks.com
HFR Networks, Inc.
740 E. Campbell Road, Suite 900, Richardson, TX 75081 USA
Tel: +1 972-803-5703
Sales: info@hfrnetworks.com
HFR Headquarters
Hana EZ tower 5F, 10, Seongnam-daero 43beon-gil, Bundang-gu, Seongnam-si, Gyeonggi-do, Republic of Korea, 13636
Tel: +82 31-712-7768
Fax: +82 31-712-7948
Sales: my5G@hfrnet.com