| | |
| --- | --- |
| Republic of Korea Navy | |
<The second fleet of the Republic of Korea Navy>
The Republic of Korea Navy deployed a private 5G network and MEC (Unmanned patrol, remote driving and AI Vision) at the second fleet in December 2022.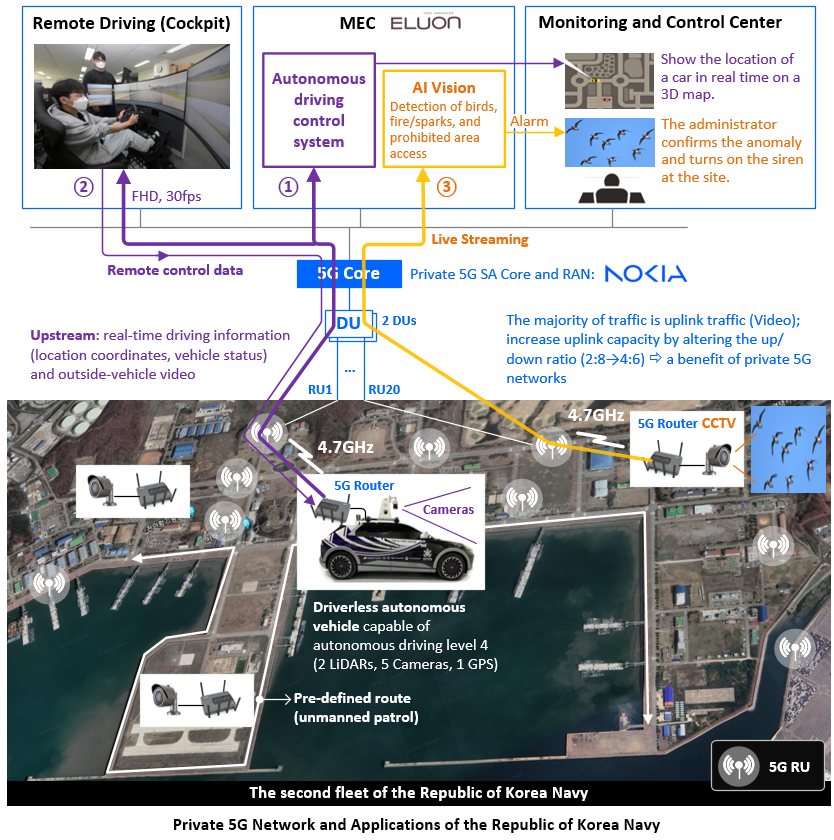 Why did the Republic of Korea Navy build a private 5G network?
Security: a closed network fully independent from the commercial communication network is required to prevent external leakage of internal data.
Low-latency: the Navy deploys a 5G network and MEC on-premise to support ultra-low latency applications such as remote driving (vehicle control via remote cockpit).
Full Control: applications utilized by the Navy, such as remote driving and AI Vision, necessitate a substantial uplink capacity. Because MNOs' public 5G networks are intended for services such as video streaming and gaming, they feature high downlink capabilities. Because the Navy is unable to adjust the uplink/downlink ratio of public 5G, it cannot implement a private 5G network based on the public network. A private 5G network deployed with private 5G frequencies, on the other hand, allows the Navy to boost uplink capacity by altering the uplink and downlink ratio by itself (2:8→4:6).
Private 5G network built by the Republic of Korea Navy
builds a full set of 5G network at the Navy site (on-premise model): One 5G Core, 2 DUs, 20 RUs, and MEC are installed
The Navy was allocated a private 5G frequency (4.7GHz: 4.72-4.82 GHz) by the government in October 2022.

The Navy begins private 5G planning in April 2022 and completes private 5G network deployment in December 2022.

System Integration (design, build 5G network): KT

Private 5G vendor: Nokia (5G Core, 5G RAN), Mexus (5G Router), Eluon (MEC)
Private 5G applications of the Republic of Korea Navy
| | | | |
| --- | --- | --- | --- |
| | ① Unmanned patrol | A driverless autonomous vehicle patrols predefined routes and sends real-time driving information (location coordinates, vehicle status) and outside-vehicle video to the autonomous driving control system on the MEC through a private 5G network. The system displays the vehicle's location, vehicle status, and outside-vehicle video on the monitoring screen. | |
| | ② Remote driving | If an emergency occurs during an unmanned patrol, the driving mode is switched from autonomous driving to remote driving. For example, if AI Vision detects birds, the remote driver in the remote cockpit drives the vehicle to the bird infestation area, and the vehicle emits ultrasonic waves to repel the birds (the bird repeller is mounted on the vehicle). | |
| | ③ AI Vision | CCTV camera video is streamed in real time over a private 5G network to the AI Vision application on the MEC, which detects birds, fires, and access to unauthorized areas and sends an alarm to the monitoring and control center. | |
[References]
KT, "Implementation of Smart Aviation Convergence Service Using Private 5G Networks (Korean)," Private 5G Convergence Service Performance Sharing Conference, Ministry of Science and ICT, 2022.12.20