[Netmanias] Dr. Heung-Ryeol You, General Manager at KT's Network Strategy BU, is in charge of spectrum strategies, and is sharing here what he learned at the 21st ITU-R WP 5D meeting closed early February. One of the main topics at the meeting was the 8 key parameters for 5G. Below let's see what has been discussed at the meeting. Before we begin, we would like to thank Dr. You for sharing knowledge.
​As of Q3 2014, LTE service had been launched in 124 countries around the world, and the number of the LTE subscribers reached around 373 million and still counting (source: GSA). This is still not much because, out of the total mobile subscribers, only 5.3% accounts for LTE subscribers. LTE is still in its initial stage, with a long way to go ahead.
Nevertheless, it has been already a year since ITU discussed this matter as a topic after some world's leading countries and companies in the mobile industry first raised concerns regarding the necessity of 5G standardization.
A typical standardization process of IMT at ITU starts with discussing of visions, followed by recommending visions including some key objectives (parameters). For example, for IMT-Advanced (4G) standardization, ITU set a goal of up to approximately 100Mbps for high mobility such as mobile access and up to approximately 1 Gbit/s for low mobility such as nomadic/local wireless access through Recommendation ITU-R M.1645, to encourage research and investigation in the industry.
Similarly, for 5G standardization, ITU first is setting its concept and vision, and also identifying key parameters that best describe 5G. In addition to the 7 parameters previously agreed (user experienced data rate, peak data rate, mobility, latency, connection density, energy efficiency, and spectrum efficiency), traffic volume density/area traffic capacity proposed by China at the 20th ITU-R WP 5D (IMT Working Party) meeting held in October 2014 was agreed as the last parameter.
Despite its initial plan to select just a few essential, indicative, easy-to-understand intuitive parameters, more parameters than in 4G standardization were considered during the actual discussion.
For instance, only two parameters - mobility and peak data rate - were included in 4G vision. In 5G vision, however, three usage scenarios - Enhanced Mobile Broadband than what is currently available, Massive machine type communications, and Ultra-Reliable and Low Latency communications - were proposed. As a result, other parameters that satisfy the additional scenarios were added in 5G vision.
That is, connection density and energy efficiency parameters were added for Massive machine type communications. Also for Ultra-Reliable and Low Latency communications, latency parameter was added and enhanced mobile speed was suggested.
When determining the specific values of these parameters, major vendors and some countries who participated in the 21st ITU-R WP 5D meeting had a tendency to set lower targets for greater feasibility. As a result, they reached an agreement on the five parameters, and on deleting 'traffic volume density' from the 8th parameter, 'traffic volume density/area traffic capacity', except on the following three parameters:
Peak data rate: Korea proposed 50Gbps while Chinese and other operators proposed 10Gbps. Tentatively agreed rate: 20Gbps.
User experienced data rate: Korea proposed 1Gbps while other countries and operators proposed 100Mbps.
Spectrum efficiency: Most countries and operators wanted a 2~3 times greater efficiency than in 4G except for China who wanted 5 times greater efficiency.
​The 8 parameters and their values are as seen in the table below. Please note that the specific values in the table are not requirements, but only proposed values for drawing the figure and R&D, and thus are subject to change.
<Table 1> 8 Parameters in 5G* identified by ITU-R WP 5D
Key Parameters

Values for 5G* from 21th meeting

Reference value for IMT-Advanced

User Experienced Data Rate

100 Mbps – 1 Gbps

[100 Mbps (urban/suburban),

1 Gbps (hotspots)]

10 Mbps (urban/suburban)

Peak Data Rate

20 Gbps

1 Gbps

Mobility

500 km/h

350 km/h

Latency

1 ms (radio interface)

10 ms (radio interface)

Connection Density

106 per km2 (scenario required)

105 per km2

Energy Efficiency

100 x greater than IMT-Advanced (for network)

Spectrum Efficiency

2/3/5 x greater than IMT-Advanced

Area Traffic Capacity

10 Mbps/km2

0.1 Mbps/km2

---

blue: agreed at the 21st meeting

* "IMT-2020" in ITU-R term
In addition, ITU presented the following figure that compares enhancement of key capabilities from IMT-Advanced to 5G to help better understand the improvements to be achieved in 5G: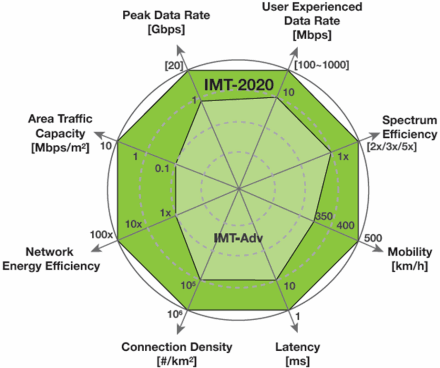 Also, it presented the following figure that shows the importance of key capabilities in different usage scenarios: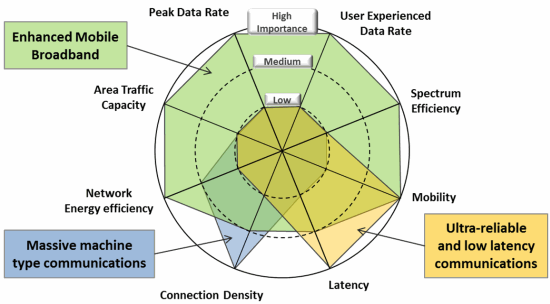 5G vision that includes the foregoing 8 parameters is to be finalized at the 22nd ITU-R WP 5D meeting to be held in June 2015. Once it is finalized, minimum technical performance requirements of 5G will be suggested, and accordingly 5G specifications proposal will begin to be submitted at the end of 2017.
After evaluating the proposed 5G specifications proposal and consensus building, 5G specifications will be finalized in late 2020.

About author


Dr. Heung-Ryeol You (heungryeol.you@kt.com)
General Manager, KT
In charge of Spectrum Strategies at KT's Network Strategy BU

Acting as chairman of TTA PG901(Radio Resource Project Group), Spectrum Forum Spectrum Usage and Cooperation Working Group, vice chairman of TTA WG9062(CJK IMT Working Group)

Participating in as a member of 5G Spectrum Policy Study Group, Korea WRC-15 Preparation Group, and Korea ITU-R WP5D Study Group of MISP, 5G Forum, Spectrum Forum, etc.

Research interests: 700MHz, 5G & 4G spectrum, CR/TV White Space
​