| | |
| --- | --- |
| Newgens (SI Company) | |
In November 2022, Newgens (Korean SI company) was approved by the government as a private 5G common carrier, allowing it to provide private 5G services to corporate customers.


Newgens was allocated a private 5G frequency of 4.7 GHz (4.72-4.82GHz), 28GHz (28.9-29.5GHz) by the government and built a private 5G network at Lotter World, South Korea's largest amusement park in December 2022.

Newgens built a 28GHz private 5G network in the area where the Atlantis attraction is located in Lotte World, and Lotte World will provide an immersive parallel reality experience service using motion sensors, cameras, and motion simulators.

<Atlantis in Lotte World: Speed 72Km/h>
| | | |
| --- | --- | --- |
| | The use of private 5G technology in the 28GHz band enabled real-time large-capacity video (4K: uplink 40Mbps, 8K: 200Mbps) and motion data transmission of rides, which was previously impossible with conventional Wi-Fi. | |
Case Study: Lotte World (Korea's largest amusement park)
Private 5G network deployment model: 5G Core Control Plane Sharing

Customer premise(at Lotte World): RU, DU, CU, UPF

Cloud: 5GC CP (5G Core Control Plane)

Private 5G frequency: 4.7GHz (4.72-4.82GHz: for Anchor/Coverage) and 28GHz (28.9-20.5GHz: for eMBB/URLLC Data)
Private 5G frequency acquisition date: 2022.11.28
Private 5G vendor: Ericsson EP5G
Private 5G applications: an immersive parallel reality experience service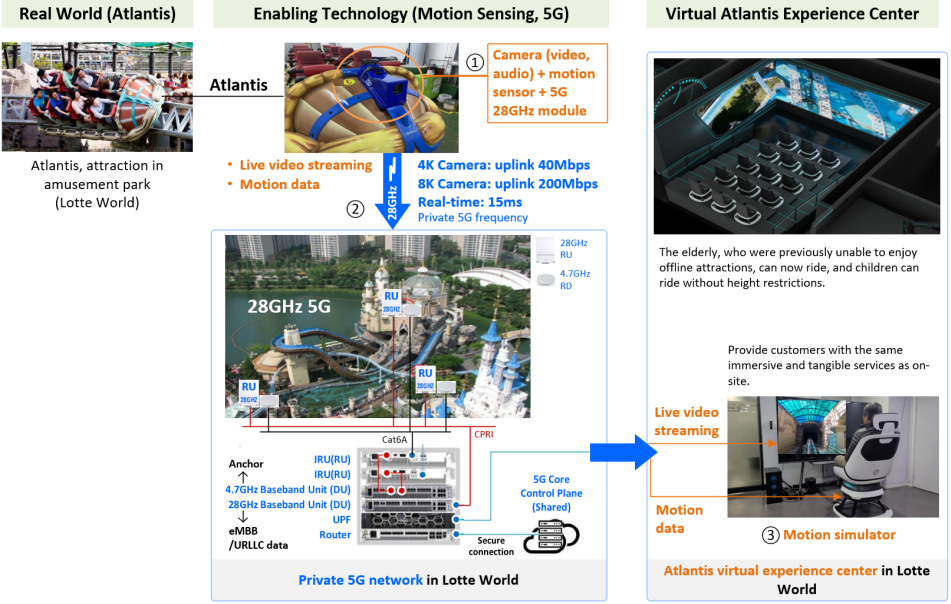 Immersive parallel reality experience service
① Atlantis, a ride at Lotte World, is equipped with a 5G 28GHz transmission module with built-in camera and motion sensor.
② The transmission module sends video and motion data to the motion simulator through a private 5G network.
③ Visitors seated in the motion simulator can virtually experience the realistic attraction.
The elderly, who were previously unable to enjoy offline attractions, can now ride, and children can ride without height restrictions.
Lotte World's Private 5G network and application