Earlier this year in May, the South Korean Ministry of Science, ICT, and Future Planning (MSIP) adjusted the maximum transmit power in the 900 MHz unlicensed band from 10 mW to 200 mW, offering frequencies dedicated for wide area IoT purpose. Initially, 6.5 MHz (917 - 923.5 MHz) was offered, and additional 6 MHz (940 - 946 MHz) is scheduled to be offered in the 2nd half of the year.
The deregulation, intended to promote the new IoT industry and new services in it, allowed for the unlicensed band to support wide area coverage. This enabled deployment of a more 'economical' network, consequently paving the way for the strong foundation of an IoT-dedicated network.
Fueled by the government's policy to stimulate the IoT industry, SK Telecom completed deployment of a nationwide IoT-dedicated LoRa network in 920 MHz in June, and announced the commercialization of the network in early July.
As the company had already had an LTE-M network commercialized earlier in March, the addition of the LoRa network allowed the company to operate a nationwide hybrid network, efficiently distributing IoT service data traffic based on their needs - delivering traffic requiring real-time transmission of medium/large data through the LTE-M network, and those requiring infrequent transmission of ultra-small data through the LoRa network.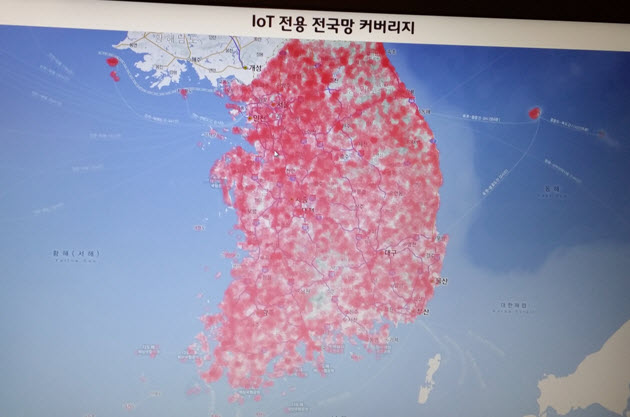 Figure 1. Coverage of the nationwide LoRa-based IoT-dedicated network
Although it has a hybrid IoT network, the company's main focus is still on the LoRa network, a wide-area IoT network that operates on unlicensed spectrum, because it can easily and efficiently connect small things, which will soon become the majority of things in the future.
Upon the launch of LoRa network, SK Telecom announced the details of i) LoRa service plans, ii) LoRa service to be released in 2H 2016, and iii) partnership policies for LoRa ecosystem expansion.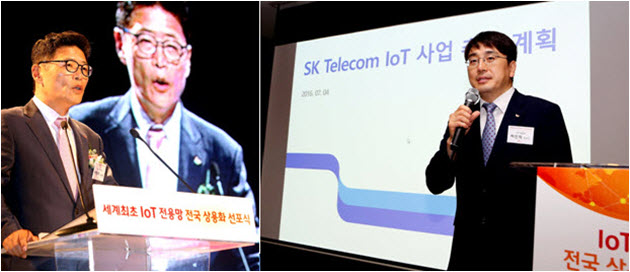 Figure 2. Hyunghee Lee, President of Mobile Network Business, left, announces the commercialization of LoRa network, and Inhyok Cha, Head of IoT Solution Business Division explains the company's IoT business plan.
In the initial stage, the main focus of LoRa service will be B2B (and B2G). The LoRa IoT service plans released by the company are B2B service plans, starting from KRW 350 (USD 0.31) per month - very low compared to the conventional M2M services'.
The company's distribution of free 100,000 LoRa modules since July will also likely promote introduction of a wide range of LoRa devices in the market. Inexpensive service plans will lower the barrier to entry for customers, and release of more LoRa devices will accelerate the beginning of IoT era in earnest.
Since its LTE service launch in 2011, SK Telecom has posted higher ARPU and revenues thanks to an increase in LTE subscriptions, which has a higher ARPU than 2G/3G. Recently, however, there has been stagnation in the company's ARPU growth and revenue declines in the mobile sector.
So, the operator chose platform business, including IoT, as its next generation growth engine secondary to the primary mobile sector, and has aggressively promoted it. Of all IoT sectors, the company is targeting the Internet of Small Things (IoST) sector, specifically focusing on metering, tracking and monitoring & control. More than 20 IoST services, including Gas AMI and Safe Watch (shown in the figure below), will become available in the market by the end of the year.
Figure 3. LoRa devices for AMI (left) and Safe watch (right)
To lower the entry barrier in the IoT sector, inexpensive service plans are essential. Connecting countless small things spread everywhere requires a network that i) has coverage as wide as the current mobile network, but ii) needs much less power and costs. So, the first step for operators to take would be to choose an LPWA technology that best fits their needs and policies.
SK Telecom, ambitious to take the lead in the IoST market, chose LoRA because it is an open source LPWA solution, AND gives faster time-to-market delivery .
Immediately after the government announcement in March about the scheduled adjustment of maximum transmit power in 900MHz band, SK Telecom began deployment of a nationwide LoRa network and completed it in just three months at lower costs – simply by adding LoRa base stations right on to existing 3G/LTE cell sites, and leveraging the legacy 3G/LTE network as LoRa backhaul.
The operator has an excellent pool of local LoRa module manufacturers (Idolink, Wisol and Solu M), and has already established a close relationship with more than 150 partners . In the IoT industry, it takes more than one player to keep things rolling.
SK Telecom, well aware of that, has proposed a variety of revenue sharing policies, which would let partners who develop and offer services through SK Telecom's module, access line and platform take a significant portion (up to 85% according to SK Telecom) of profits generated.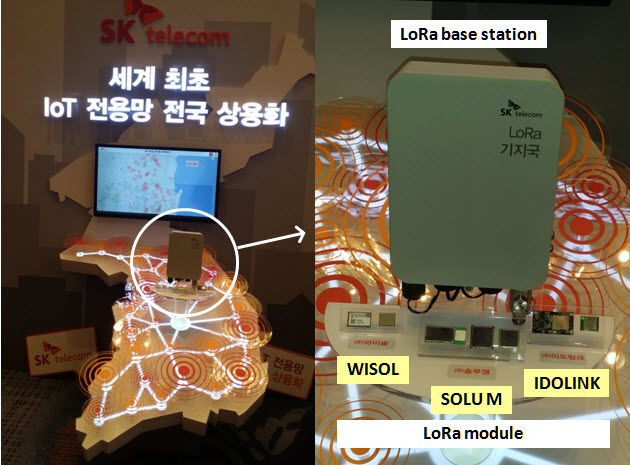 Figure 4. LoRa base station and modules
(base stations provided by Samsung, SK Telesys and Contela, and modules by Idolink, Wisol and Solu M)
SK Telecom has so far established an solid IoT infrastructure by rolling out ThingPlug, the world's first oneM2M-based open IoT platform in June 2015, and launching a nationwide LoRa-based, IoT-dedicated nework a year later.
Now, the company is diligently seeking ways to facilitate the expansion of the LoRa ecosystem, through provision of free LoRa modules for device manufacturers, affordable service plans for customers, and revenue sharing policies for potential partners. As the ecosystem grows, SK Telecom's ultimate goal in IoT business is to generate profits from platform, sell big data shared while offering IoT services and develop more value-added mash-up services by utilizing the big data.
Netmanias has recently published a report titled "SK Telecom's Massive IoT Deployment through LoRa for Small Things" (available for purchase), which provides in-depth analysis of IoT strategies, and covers details of transition to small things, LoRa-based services, and LoRa ecosystem expansion plans of the company.
The report will also provide valuable insight into how SK Telecom, who declared a transition from mobile network operator to platform player, will utilize IoT as its next generation growth engine to overcome ARPU stagnation and declining sales in mobile.