The Internet of things can potentially offer 50 Billion connected devices by 2020. Let's break down some of the numbers for Communication Service Providers and other industries driving the CONNECTED EVERYTHING vision. Some recent studies indicate that the major players in the connectivity fabric will be fixed & short range technologies.
Let us add, Tier 1 operators in North America and Europe are pitching the idea of 5G as the next fixed broadband service which, if realized, will add to cellular relevance & extend further outreach in the IoT sector.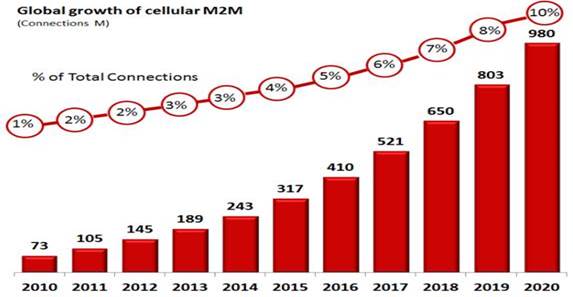 Current connectivity models range from Bluetooth covering a personal area of ~10m, to Wifi extending reach to local Area Networks of ~100m. The real value of the Mobile IoT service resides in technologies covering Wide Area Networks ~ 10-100's miles. Cellular networks have been providing WAN coverage with licensed, secure and reliable spectrums.
While 3gpp is formulating and building on LPWA (NB-IOT, eMTC and EC-GSM-IoT) offerings, there is also a need for new connectivity models to fulfill the value driven solutions which will make up the majority of the IoT market
3gpp Path Towards Massive IoT

To support the further growth and development of the Internet of Things, the mobile industry is developing and standardizing a new class of technologies. These Low Power Wide Area (LPWA) networks will support devices requiring low mobility, low power consumption, long range and low cost.
LPWA technologies are expected to serve a diverse range of industry verticals and support a range of applications and deployment scenarios, where existing mobile technologies may not be the best placed for connectivity . For this write up, we plan to cover some of the non-cellular technologies.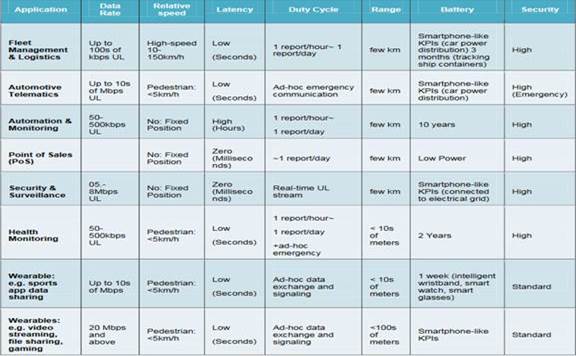 The emerging three-tier architecture for the IoT is comprised of sensors, gateways and the cloud. One of the challenges that IoT architecture has to contend with is robustness and reliability on the WAN network.
Because the magnitude of IoT footprint is larger than current WAN networks, it's unfeasible to build a traditional dedicated or private network. Software-defined technologies and orchestration models will play a significant role as overlays on top of a variety of physical transport links.
LPWAN (low-power wide area network)
For the next few years, low power wide area (LPWA) networks will play an important role in connecting a range of devices that require low mobility, low power (~10 years) and low cost (~$5 modules).
According to Machina Research, LPWA networks will potentially support up to 7.4 billion connections by 2020, across a diverse range of industries such as automotive, utilities and health. LPWAN's have the potential to enable a much wider range of M2M and IoT applications, which have been constrained by budgets and power issues.
The industrial and commercial IoT applications/services will greatly benefit from LPWAN. The huge numbers of connected devices will use Power Saving Modes (PSM) and Extended Discontinuous Reception (eDRX) supportive modules as needed.
Let's look at a few key initiatives in the non-cellular LPWAN space.
LPWAN Technologies & Used Cases

The vision for LoRa(Long Range) is to provide a technology that empowers other companies to launch a global Internet of Things, It targets key requirements of IoT such as secure bi-directional communication, mobility and localization services.
LoRaWAN defines the communication protocol and system architecture for the network while the LoRa physical layer enables the long-range communication link (North America band 902-928MHz). This standard will provide seamless interoperability among smart Things without the need of complex local installations and gives back the freedom to the user, developer, and businesses enabling the roll out of Internet of Things.
LoRaWAN network architecture is typically laid out in a star-of-stars topology in which gateway is a transparent bridge relaying messages between end-devices and a central network server in the backend. The intelligence and complexity is pushed to the network server which manages the network and will filter redundant received packets, perform security checks, schedule acknowledgments through the optimal gateway, and perform adaptive data rate, etc.
If a node is mobile or moving there is no handover needed from gateway to gateway, which is a critical feature to enable asset tracking applications–a major target application vertical for IoT.
To maximize both battery life of the end-devices and overall network capacity, the LoRaWAN network server is managing the data rate and RF output for each end-device individually by means of an adaptive data rate (ADR) scheme. LoRa is the physical layer or the wireless modulation utilized to create the long range communication link.
LoRa is based on chirp spread spectrum modulation, which maintains the same low power characteristics as FSK modulation, but significantly increases the communication range. Chirp spread spectrum has been used in military and space communication for decades due to the long communication distances that can be achieved and robustness to interference, but LoRa is the first low cost implementation for commercial usage. The alliance claims that LoRa and LoRaWAN have a link budget greater than any other standardized communication technology.
The French based company has the vision to become a global IoT operator by powering the IoT with the simplest communication solution. It deploys LPWAN's using Ultra Narrow Band (UNB) technology that works in conjunction with hardware that manufacturers can integrate into their products.
In terms of compatibility, the network takes a similar approach to traditional GSM networks - it relays on unlicensed spectrums, particularly the 900 MHz band in the US. The Sigfox network "whispers" data rather than "shouts" it, according to the Sigfox president of North America Allen Proithis.
This enables the devices using the network to conserve and extend battery life. Thomas Nicholls, executive vice president of communications for Sigfox, says its technology makes for sensors that can "go to sleep" when not transmitting data, consuming energy only when they need to.
As an example Sigfox claims a car theft warning system that uses its technology lasts five years on just two AA batteries. Sigfox aims to be present in more than 30 countries by the end of the year.
There is a lot of interest shown by CSP's towards non-cellular LPWAN's, Korean operator SK Telecom has the goal of establishing a global roaming network for IoT services based on LoRa (used case - luggage tracking). It's LoRa network covers 99% of the population. The telco expects to connect over 4 million devices to its IoT-dedicated networks by the end of 2017.
LoRa and Sigfox both have completed deployments across various countries in Europe. The companies target to cover 100 major cities in the United States by EOY, 2016. Vodafone on the other hands has a very aggressive approach against unlicensed LPWAN's - 'Crush' LoRa & SigFox with NB-IOT.
Cisco has also put it's weight behind LoRa and is introducing gateways that can take in data from sensors and other small Internet of Things devices and send it back to an enterprise or cloud. The company has already run LoRaWAN trials, including a smart-city deployment in Dubai.
Even though LoRa & SigFox have the advantage of faster to the market, the 3gpp's NB-IoT looms over this fast moving market and will catch up very quickly considering LTE infrastructure is widely deployed by CSP's (not to mention the 2G deployments for EC-GSM-IoT based services) and the cellular mobile industry represents a huge and mature ecosystem, incorporating chipset, device and network equipment vendors, operators, application providers and many others.
The global cellular ecosystem is governed by the 3GPP standardization forum, which guarantees broad industry support for future development. A better approach, perhaps, would be complementing each other and using both technologies instead of competing with each other. SK telecom and KPN are investing in both technologies citing benefits of this licensed & unlicensed marriage.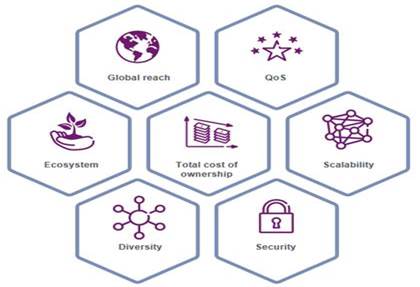 Watch out for

Google & Facebook's

connectivity ambitions - Something interesting is around the corner.

LPWAN's have the potential to play a significant role in

Smart Automotive & Fleet management

(Security & Tracking, Car monitoring, Assistance and Insurance).

LPWAN's will tune into a lot of Smart city IoT services & Applications.

Coauthor - Zeeshan Jahangir
References - LoRa Alliance, SigFox, 3Gpp, Google, Ericsson
Disclaimer - The opinions and thoughts expressed here represent our own and are NOT those of our employer, any associations, or any volunteer organizations I am a member of.