SK Telecom on September 12th announced that together with Nokia, it has successfully implemented the world's first cloud-based SDRAN (Software-Defined RAN) - also known as Cloud RAN - over a real commercial LTE network through a demonstration performed in its Network IT Convergence R&D center.
"SK Telecom today announced that together with Nokia, it has successfully implemented the world's first cloud-based SDRAN (Software-Defined RAN) - also known as Cloud RAN - in a commercial network.
SDRAN enables traditional base station functions to be implemented on a general-purpose IT server, and its distinctive features include functional split between real time and non-real time processing functions, Ethernet-based interface, and intelligent operation.

A functional split of the protocol in the baseband processing is the architecture of SDRAN, and this relegates parts of the DU (Digital Unit) functions to the RRU (Remote Radio Unit). By doing so, traffic can be scaled more effectively and multiple connectivity scenarios can be efficiently deployed without immediate additional investments in transport or baseband capacity.

Until now, a designated interface has been used for data transmission between the DU and the RRU, but with the new SDRAN, a more broadly used Ethernet-based DU-RU interface is optimized for the communication environment and used for more efficient network configuration. The interface also better handles signal delays, so that when a delay occurs, it adjusts the timing of data transmission and prevents a slowdown in transmission speed. Accordingly, customers benefit from better data quality.
"
[SK Telecom Press Release, September 12]
Below, we will look into this demonstration. For the demonstration, SK Telecom configured SDRAN using Nokia's Airscale base station and Airframe solution as seen below, and conducted a field test of interworking with the EPC Core network deployed in its commercial network.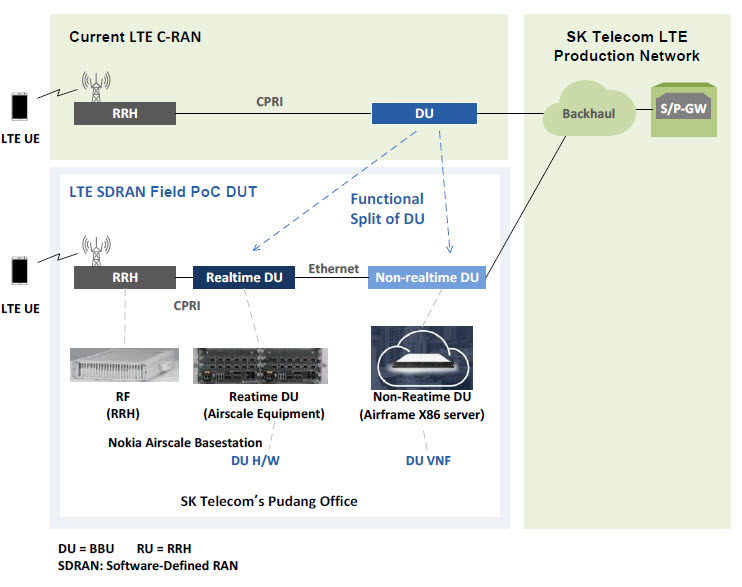 SK Telecom's SDRAN Field Implementation Configuration
With its C-RAN/Fronthaul running since back in 2011, the operator has successfully managed to have most of its LTE traffic be delivered through C-RAN. C-RAN, with a great advantage of reduced cell-site operation costs as well as easier interference control like CoMP, has been loved by not only SK Telecom, but also KT and LG U+ as their RAN solutions. ❶ One of the biggest drawbacks with C-RAN though is too high CPRI transport capacity required between DU and RU.
Another concern is related to the evolving architecture of RAN: from D-RAN where DUs and RUs are colocated in cell sites, to C-RAN where DUs are relocated/ centralized to COs, and then on to vRAN (SDRAN) where DUs, which used to be vendor-specific telecom equipment, are virtualized and placed onto X86 server.
And here the question is whether x86 servers will be able to accommodate all the features that DUs have or not. ❷ That is, can hardware solutions with such powerful, high-performing devices like DSP and FPGA be replaced by software without compromising performance? Will virtualized software solutions perform as well as hardware?