Before we begin

Earlier in late June, SK Telecom completed deployment of a nationwide LoRa network in Korea. A few weeks later, it announced LoRa service plans (ranging from KRW 350 (USD 0.30) to KRW 2,000 (USD 1.72) per month excluding VAT) while offering free LoRa modules for accelerated commercialization of LoRa services (see 'SK Telecom's IoT Target and Strategies: LoRa-based IoT' posted on the Netmanias blog page).

During a press conference held during the LoRa Alliance™ All Members Meeting in Seoul, South Korea on October 13, Inhyok Cha, Head of IoT Solution Business Division at SK Telecom, confirmed there were 36 LoRa-based IoT services under development and another 20 to arrive by the end of year.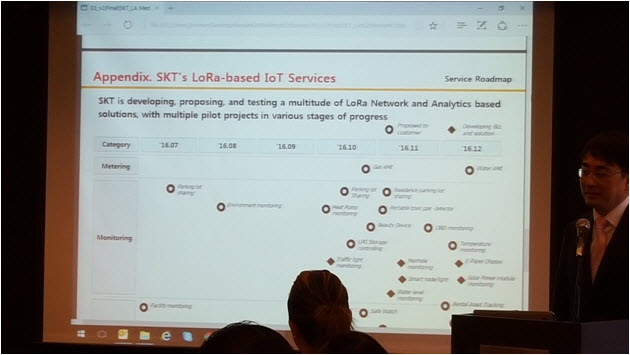 Inhyok Cha, Head of IoT Solution Business Division is giving a presentation on 'SK Telecom IoT Business' at a LoRa Alliance All Members Meeting press conference held in Seoul

According to the company's Q3 report released on October 27th, 24 new services (e.g. gas/electricity) are ready to be offered through the company's hybrid IoT network (LTE-M + LoRa), and over 35 products are scheduled to launch by the end of the year. It also plans to team up with over 1,000 companies for development of new IoT services.
At the press release on November 7th, SK Telecom unveiled its first commercial LoRa service to be offered through Gper, a location tracking device debuted by SPACOSA on November 1st, over its newly deployed LoRa network. The company also shared a plan to commercialize more than 30 LoRa services that will be delivered through LoRa-enabled devices from many manufacturers like Safe Watch and portable wireless gas detector by the end of the year.

Initially, SK Telecom's first commercial LoRa service was due to be launched in Q3 as announced in the company's roadmap shared in July at the 'Declaration of LoRa Network Commercialization' ceremony. The release of Gper was delayed due to unexpected issues relating device authentication encountered in the course of testing over the LoRa network, and the resulting HW modification. As a result, the first commercial LoRa service of the company was a couple of months overdue. However, with the technological know-how accumulated (in respect of open testbed support, interworking with ThingPlug, field test, etc.) while dealing with these issues, SK Telecom is now better poised to have any future LoRa services launched in time.

At 'IoT Korea Exhibition 2016' held at Coex in Seoul last month (October 12th through 14th), SK Telecom held an exhibition titled 'What is LoRa?', presenting a variety of IoT services and technologies, including some market-ready solutions, as to be explained below.
I. LoRa Services/Solutions

■ Environment monitoring (SK techx)
Environment monitoring solutions, running on SK techx's 'Weather Planet' platform, connect sensors (for climate observation, fine dust, soil temperature and humidity, water level, etc.) to the IoT network and collect/analyze data from the sensors for real-time monitoring.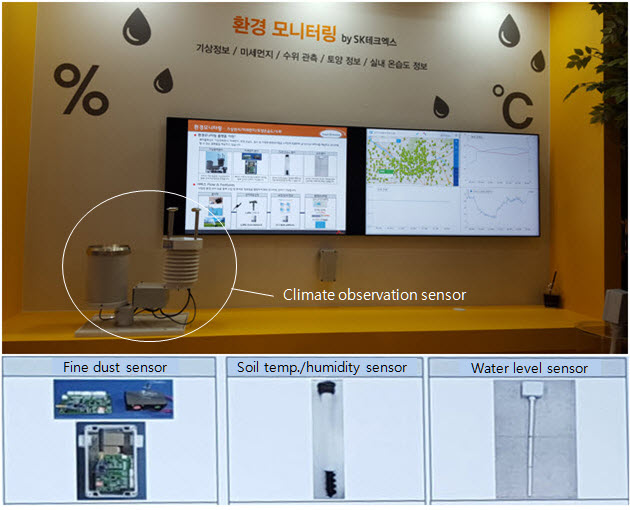 Climate observation sensor: Obtains weather information across the nation through climate observation network leveraging base station infrastructure

Fine dust sensor: A battery-operated, low-cost sensor monitors fine dust levels in real-time

Soil temperature/humidity sensor: Provides real-time soil temperature/humidity data for improved crop productivity

Water level sensor: Monitors water levels in real-time and predicts floods
A climate observation sensor connects to the 3G/LTE network while others (i.e. fine dust, soil temperature/humidity, and water level sensors) connect to the LoRa network.

■ Portable gas detector (LK Technet)
This portable gas detector by LK Technet is already in use at the SKC Ulsan plant and will be at SK Energy facilities as well soon in December. The LoRa-friendly detector supports GPS and iBeacon and performs real-time gas leakage monitoring, checking oxygen/hydrocarbon levels. The detector is relatively high-priced because the gas sensor itself is expensive.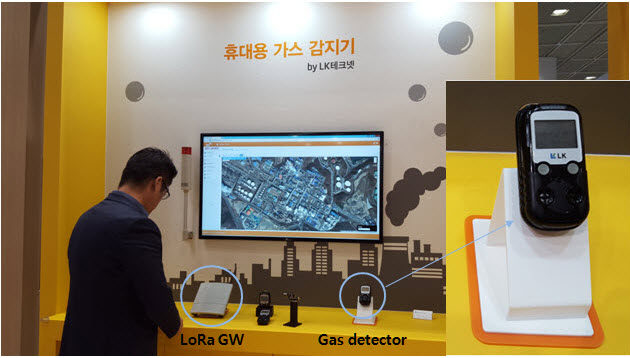 ■ Underground utilities monitoring (Nable)
Nable presented a manhole monitoring solution designed for detection of the internal state of manholes and maintenance of manholes. The solution is expected to drastically reduce the need of dispatching human resources, lowering maintenance costs and possible accidents.
Use case examples:
Sensors detecting gas, water leakage, flood, and leakage current can be attached onto the bottom of manholes for monitoring

Gyro sensors can be attached onto manhole covers for monitoring theft, unauthorized work, etc.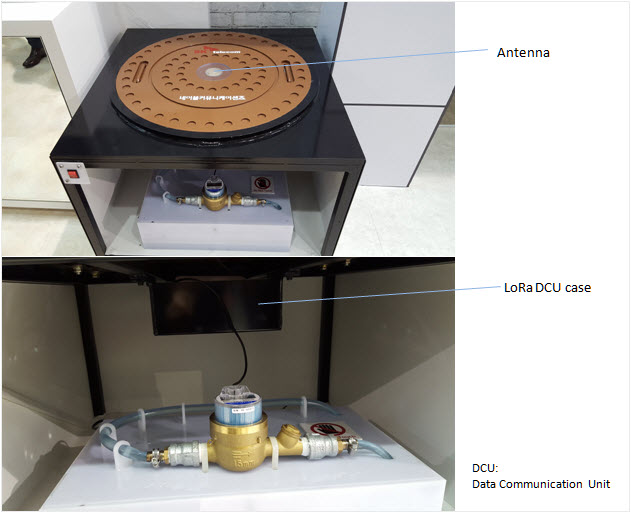 A built-in DCU case with a LoRa module and sensors is attached right underneath of the manhole cover, where an antenna is attached right on it.

■ Gper - GPS tracker (Spacosa) – launched on November 1st
On November 1st, Spacosa launched Gper, a location tracking device that can be used for locating senior citizens with Alzheimer, children, school buses, cars, motor-cycles, bikes, etc. Gper tracking service, the first LoRa commercial tracking service, will be offered through an app named FAMY on Gper (KRW 49,800 (USD 42.75) each). SK Telecom's LoRa network will be used for the service, but subscribers of any network operators can use the service by paying Spacosa KRW 5,500 (USD 4.72) per month, which includes the LoRa connection fee to be paid to SK Telecom.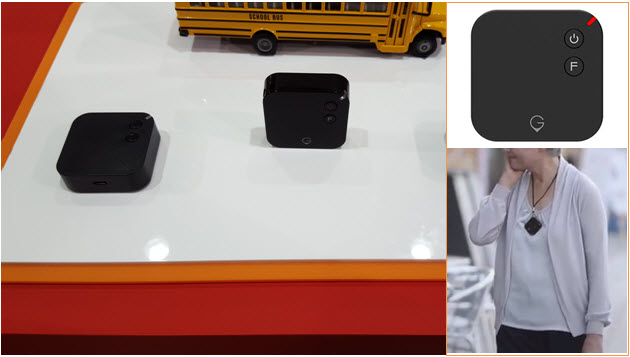 In addition to this B2C tracking service, Gper, if used with 'CATCH LOC', a location cloud solution, can serve B2B purposes as well, monitoring and managing the locations of human resources, freight, vehicles and assets.
■ Safe Watch (Nable)
Safe Watch, a LoRa wearable by Nable, connects to the LoRa network, offering safety-related services like emergency alerts, location tracking, mobile route tracking, call emergency contacts, etc. The device (with up to one year of battery life) will become available for purchase at KRW 99,000 (USD 84.98) by the end of the month. The monthly connection fee will be KRW 550 (USD 0.47).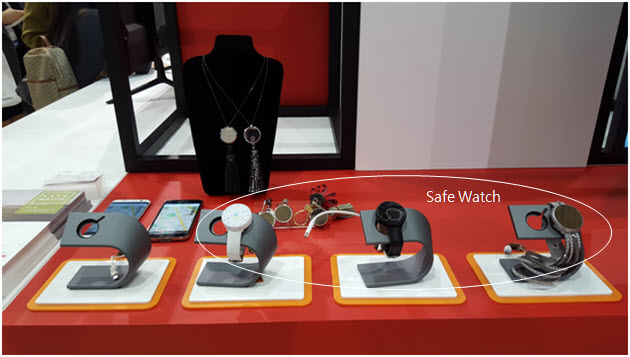 ■ Zoo band & Keyco (SoluM)
Zoo bands and Keyco by SoluM, a LoRa module developer for SK Telecom, are another LoRa wearable GPS trackers to be commercialized in the beginning of next year.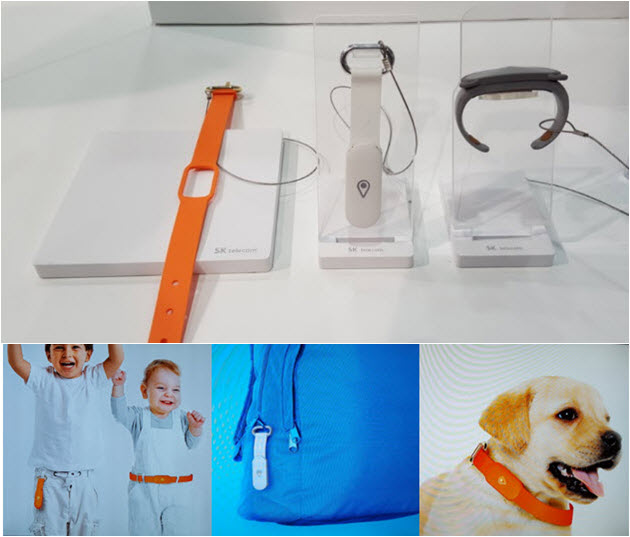 ■ GPS tracker (WiSOL)
WiSOL, another LoRa module developer for SK Telecom, also aims to present a LoRa GPS tracker in the beginning of next year. LoRa door security solution and LoRa PIR security sensor were exhibited as well.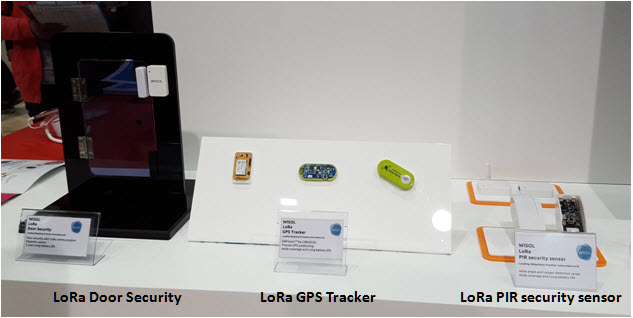 ■ Real-time power usage monitoring solution (SICOMS)
SICOMS introduced LoRa Smart Control Meter, LoRa Smart Plug and LoRa Smart Sensor.
Use case examples:
LoRa Smart Control Meter – Supports safety functions like automatic power shutdown in case of power overload by monitoring power usage in real-time and analyzing usage patterns.

LoRa Smart Plug – Monitors power consumption by product and supports features like ON/OFF, standby power shut-off, overload protection.

LoRa Smart Sensor – Collects data on environment (temperature, humidity, CO2, fine dust, etc.) through sensors installed in GW of LoRa smart plugs.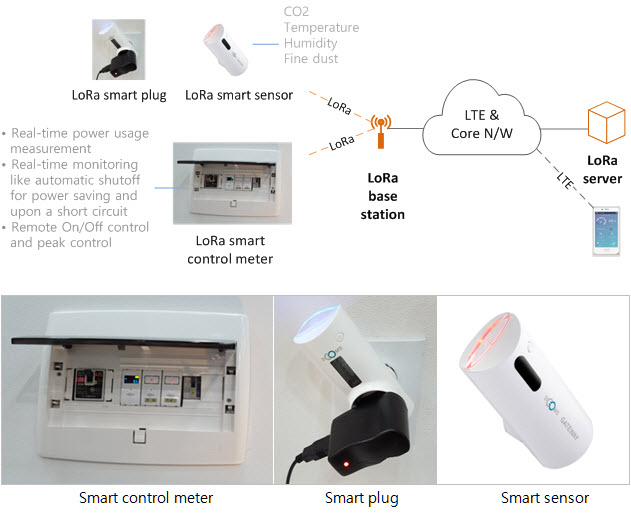 ■ Smart EHS solution
Smart EHS solution is a one-stop tag solution that enables management of safety, assets and environment by leveraging smart devices configured with different tags and sensors, smart APs and a smart EHS platform. Smart devices presented at the exhibit include different types of tags and gas detection sensors. So far, Bluetooth Low Energy (BLE)-friendly smart devices were mostly used, but now more LoRa-friendly devices are being introduced. At the exhibit, LoRa equipment like a LoRa-based gas detection sensor and a LoRa-friendly AP (BLE/LTE/WiFi/LoRa) were presented.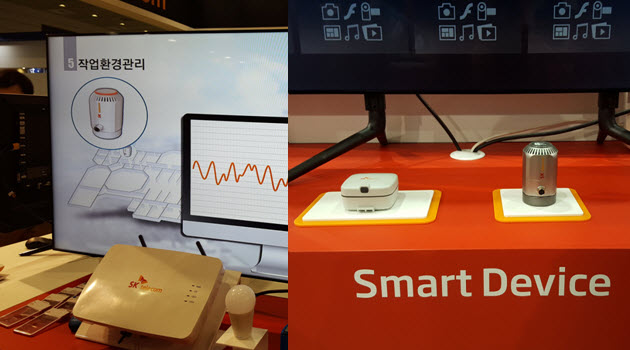 ■ LoRa modules and base stations
SK Telecom has been presenting LoRa base station (by Samsung, Contela and SK Telesys) and LoRa modules (by WiSOL, Idolink, SoluM) through many events including the 'Commercial LoRa Network launch event'. This time, two new base inbuilding base stations were introduced.
The company set aside KRW 100 billion (USD 85.84 million) for deployment of its IoT-dedicated LoRa network – KRW 50 billion (USD 42.92 million) this year for deployment of a nationwide LoRa network and the rest next year for reduction of shadowing areas like inside buildings and underground. Once inbuilding LoRa base stations are fully deployed, LoRa will become a more popular option for indoors.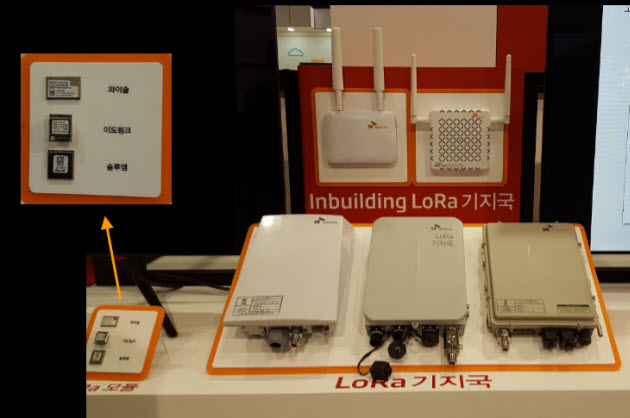 ■ LoRa + BLE Combo module
Also, a LoRa+BLE module developed by SK Telecom itself was presented. The module can update LoRa F/W, manage the status of LoRa devices using BLE, and strengthen security functions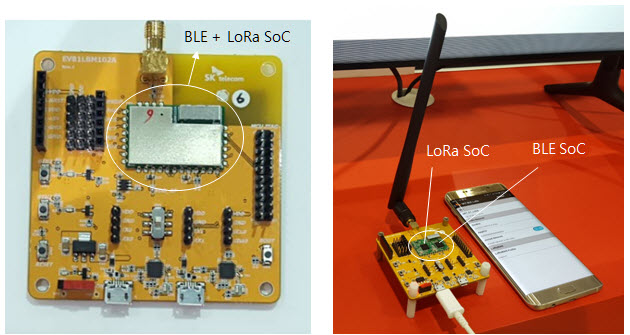 ■ LoRa roaming
SK Telecom, who has been aggressively making an effort to standardize LoRa roaming, demonstrated LoRa roaming between Europe (Grenoble, France) and Korea (Seoul) by showing how a travel bag with a trackable LoRa GPS device in France was located from Korea in its previous demonstration.

17 more countries including France and Netherland are known to join SK Telecom in deploying a nationwide LoRa network soon. SK Telecom aims to team up with Orange Telecom, Actility and others to complete roaming testing using standardized technologies by the end of the year in the hope of launching commercial roaming service next year.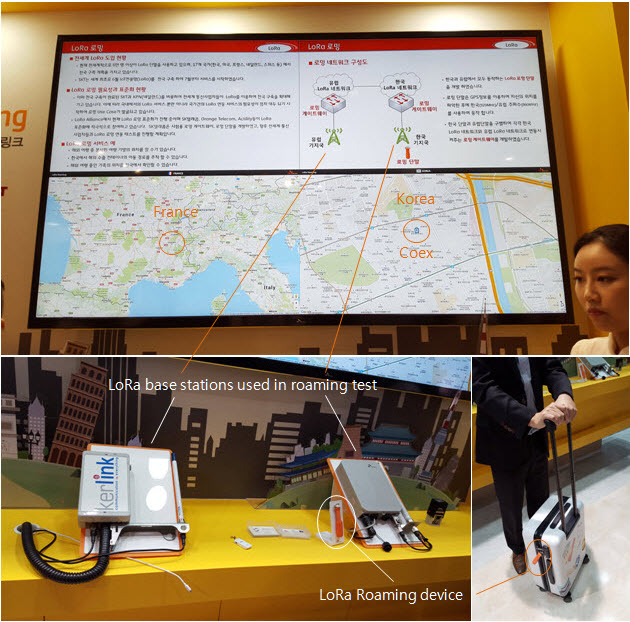 II. Miscellaneous

Other noteworthy solutions presented in the exhibit are: town broadcast over LTE-M and Smart Home solution.
Town broadcast over LTE-M
Smart Home products/solutions
Smart Home devices that offer smart home services are controlled by ThingPlug, Be-Me, Artificial Intelligence (AI) platforms, etc.
ThingPlug (IoT connectivity) – Provides connectivity needed to control smart home devices and collect their status data.

Be-Me Platform (Context-aware and machine learning) - Recognizes context data such as users' locations and living patterns in the house and analyzes the data to provide custom service to the users.

NUGU (Voice recognition and AI) - Analyzes the intents of speakers through Natural Language Processing (NLP) and performs in-depth learning through Deep Neutral Network (DNN).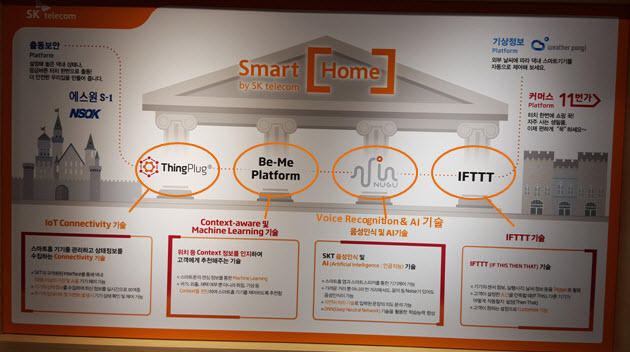 SK Telecom is actively expanding the LoRa ecosystem through partnership with home remodeling companies, home network service providers, home service providers, multi-family housing builders, etc. By the end of 2016, 64 Smart Home devices from 60 partners are expected to arrive.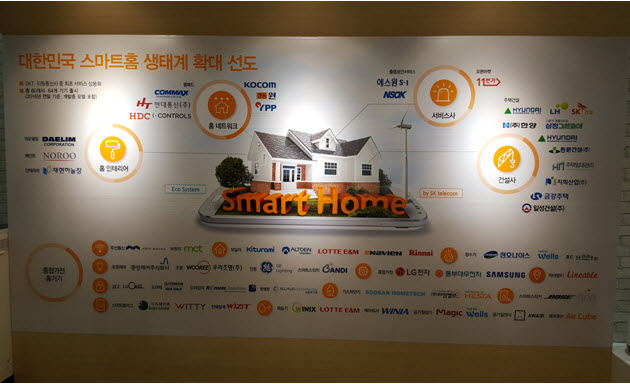 Last week on November 3rd, KT and LG U+ announced their partnership to launch a commercial NB-IoT network in Q1 next year and then go nationwide by the end of the year. The partnership was launched apparently to compete with SK Telecom who, with the nation's only LoRa network , got the Internet of Small Things (IoST) race started. No details about the partnership were shared.

As witnessed in the cases of the LTE-M and LoRa networks, even after a commercial IoT network is ready, it takes months for commercial IoT devices and services to be actually launched in the market. This is because additional procedures, for example, testing and verification of interworking with the network and platform, have to be completed first. We will have to wait and see if the planned deployment of commercial NB-IoT network next year will actually lead to proliferation of IoT service as expected, making the competition among the three operators to secure a share of the new market even fiercer.

Next year will certainly provide a lot to see in the IoT sector. SK Telecom who entered the market first geared with LoRa will be taking the second step while allied KT and LG U+ are following close on the heels of SK Telecom through early commercialization of NB-IoT. Also SK Telecom's strategies for NB-IoT commercialization will be unveiled. In many aspects, 2017 will be the year that opens up the IoT industry and market.