SK Telecom faces concerns about market stagnation
As the largest mobile operator in South Korea, SK Telecom has been the first in the world to present innovative LTE services like LTE-A and LTE CA every year since its LTE service launch in 2011.
The operator has posted higher ARPU and revenues thanks to an increase in LTE subscriptions, which has a higher ARPU than 2G/3G. However, recent years have seen a stagnation in mobile subscription growth, and LTE subscribers who were once responsible for high ARPU are now switching to more affordable phones and plans. This has slowed mobile ARPU growth, consequently affecting the company's revenue.
The operator, with most of its profits coming from the sale of mobile phones and service plans (connection fees), is now in desperate need of new services and business models that can reverse the downward trend of the heavily smartphone-dependent mobile industry.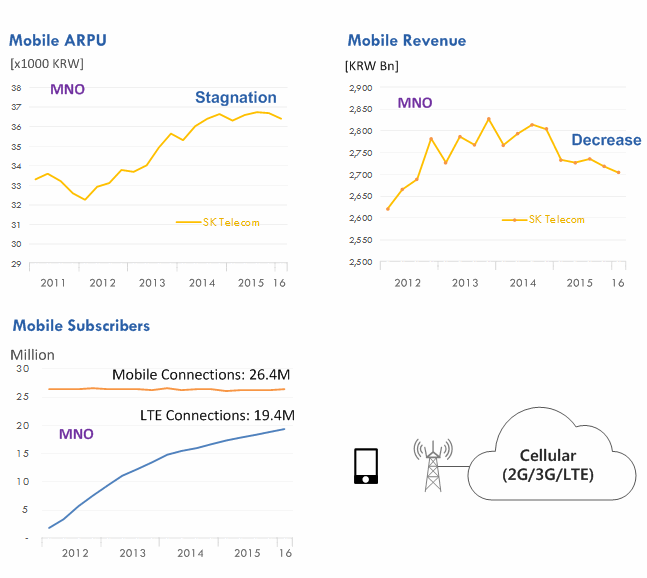 Figure 1. SK Telecom's concern: Market stagnation and downward growth
SK Telecom's transition to small things

After designating IoT as a new growth engine to help it recover from sales decline in LTE, the operator has been spending years conducting vigorous research and evaluation to find answers to questions like, "Which specific IoT market to focus on? What underlying technologies are needed? What strategies to use to expand the IoT ecosystem?" It has since decided on which IoT markets to focus on and how, and will be launching new IoT solutions starting this year.

SK Telecom foresees a tremendous number of "small things" (e.g. low power-consuming computing devices for measuring/metering small and simple data like temperature, humidity, usage) dominating the market in the near future, creating new business values through small/tiny-volume data they constantly generate. The Internet of Small Things (IoST) is predicted to have high marketability and fast market formation. For these reasons, the operator has decided to dedicate its resources to IoST.
To this end, the operator has completed the deployment of a nationwide LoRa-based, IoST-dedicated network in the end of June, finishing the task in just three months. In an effort to promote the formation of an SK Telecom-centered IoST ecosystem, it has also shared an IoST roadmap and some partnership models of the IoST module, device and platform for potential partners.

SK Telecom's target IoT market: IoST
SK Telecom has categorized IoT into the following three areas based on connectivity requirements:
Area 1: Requires high-volume data, real-time connectivity and mobility (e.g. connected car, self-driving car, connected CCTV, etc.)

Area 2: Requires real-time connectivity and mobility, but not high-volume data (e.g. monitoring and tracking service like vehicle tracking, electronic anklet)

Area 3: Does not require frequent data transmission. Low volumes of data will be transferred but this area will have the most IoST devices (e.g. metering, tracking and monitoring & control service with no or low mobility requirement, like gas/water/electricity metering, street light monitoring, location-based safety management).
Areas 1 and 2, which require large and medium volume data, real-time connectivity, mobility and 'always on' connectivity, can still be served using the legacy network. However, Area 3 requires a network with very different connectivity features.
Besides, to make the area marketable, a sufficient number of devices have to be in use in the market and service fees have to be low. To this end, devices have to be low-priced (i.e. modules priced lower than $5) and low power consuming (i.e. no re-charging required for 5-10 years), and the network should also be able to support long distance coverage (i.e. up to 10 km or around 6 miles) to keep the base station investment cost low.
Figure 2. Three IoT areas categorized by connectivity requirements
Multi-track IoT network
SK Telecom's strategy for IoT network is to provide IoT networks that are customized for different types of IoT services to ensure connectivity is optimized for each service.
Figure 3. Multi-track IoT network of SK Telecom
Table 1. SK Telecom's multi-track IoT networks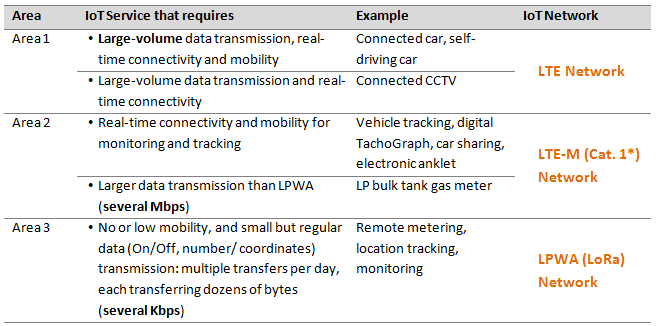 As seen in Table 1,
Area 1 IoT service, requiring large-volume data transmission, real-time connectivity and mobility, will be offered through the legacy cellular network.
Area 2, requiring real-time connectivity, mobility and transmission of data larger than LPWA, will be served through the LTE-M (Cat. 1) network which was launched in March.
Finally, Area 3 (small things), requiring small but regular data transmission, and no or low mobility, will be served through a LoRa-based LPWA network which was launched in the end of June. Unlike the legacy cellular network that is fast but expensive, this low capacity, low power-consuming LPWA network will be able to accommodate a wide selection of small things in a very cost-effective manner.

This way, the operator should be able to satisfy different levels of connectivity requirements of IoT services in a cost-effective manner, building an appropriate environment for various IoT services.