Trend 1: Outdoor Small Cell Growing 50% Faster than Indoor Solutions
The original purpose of small cells was to efficiently reuse spectrum as a capacity solution – not as a replacement for cell towers. However, outdoor small cell use as a coverage solution has grown significantly, both in rural areas and dense urban areas. While low-power small cells are well suited for indoor applications like office buildings and open-air venues like stadiums, high-power small cells are gaining ground in outdoor applications. Carriers have found that it is cheaper to densify and reuse spectrum rather than buy new blocks of spectrum for macrocell coverages. The major takeaway is that network providers and customers are taking a more nuanced view of coverage that includes a mix of small cell types and power levels to provide efficient, reliable coverage and a better handling of capacity.
Small cells still cannot beat the distance and power of macrocells (1 macro tower equals 10-30 small cells), but small cells are a cheap and effective way to patch coverage holes (at least for now—the maintenance and backhaul costs are still significant). Verizon is investing heavily in small cell densification in preparation for 5G and to support larger capacity demands. It has announced that it will begin commercial deployments this year.
Chart: Small cells include a mix of indoor/outdoor and high/low power solutions. Small cells improve network coverage and/or capacity. Wi-Fi is included for comparison, but is not considered small cell.
Only two-thirds of new small cells are indoor, and the rest are deployed in outdoor environments. The United States is a hotbed for telecom innovation, but international demand is growing strongly as well. In the next two years, outdoor small cell is projected to jump 600%. By contrast, indoor/in-building solutions are projected to grow only 400%.
One important point to note: this small cell definition includes femtocells, whose cell radius is usually less than 50 feet and can service about 5 users at once. While femtocells do technically qualify as DRAN small cells, their application differs from other members of the small cell family.
Trend 2: Wi-Fi Starts to Slip
It is surprising to think of Wi-Fi as an obsolete technology, but industry trends show that Wi-Fi may be on a downward slope. It used to be that only a lucky few had access to unlimited data plans, usually grandfathered from years past. Today, unlimited data plans have made a comeback. T-Mobile, Verizon, Sprint, and AT&T all offer unlimited data plans. Slower speeds have replaced overage charges for heavy data users.
LTE's biggest advantage over Wi-Fi is that LTE can be taken anywhere (and Wi-Fi, which is an extension of LAN, will never be as mobile as LTE). As data usage climbs, people expect to use all of their devices everywhere, and finding a Wi-Fi hotspot becomes more of a burden. Coffee shops and public areas are less enthusiastic about footing the bill for Wi-Fi when many customers only buy a cup of coffee and use the network for hours. Wi-Fi technology is fussy and less secure than LTE. As security becomes more and more of an issue, customers are likely to demand LTE-based solutions over Wi-Fi. This trend will accelerate as expanding technology offers more options for less money.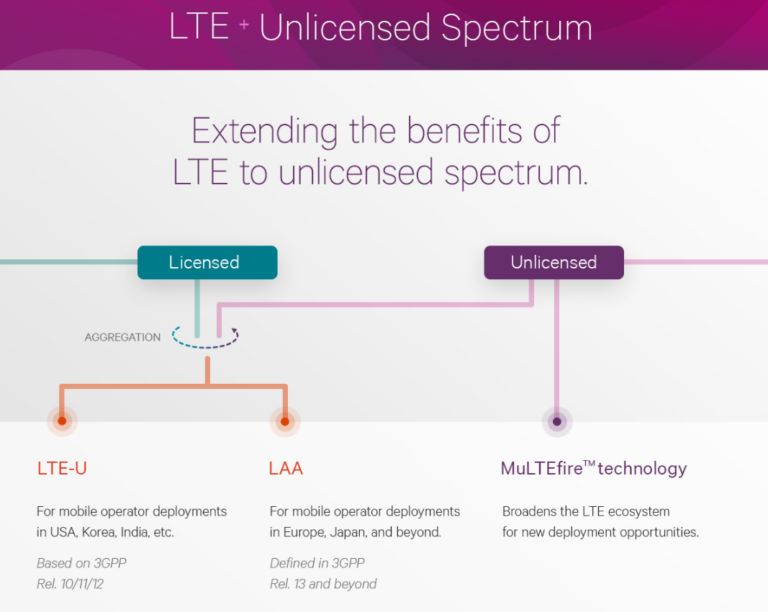 Source: Qualcomm. Overview of key differences in LTE-U, LAA, and MuLTEfire.
Unlimited data is not the only competitor to Wi-Fi. Carriers are rushing to densify networks and expand unlicensed spectrum coverage, a family that includes LTE-U, LAA, and MuLTEfire. Wi-Fi is becoming more of a niche technology than the go-to. LTE-U (deployments in the US, Korea, and India) and LAA (deployments in the EU, Japan, and others) use unlicensed spectrum aggregated with licensed spectrum as a Wi-Fi coexistence strategy. They improve the signal without interfering with Wi-Fi. MuLTEfire, by contrast, is LTE realized fully in unlicensed spectrum, and it poses the most serious threat to Wi-Fi. The technology may advance to the point where customers can install a private LTE router in their homes, just like Wi-Fi but with the added benefits of LTE. If the price is comparable to Wi-Fi coverage, this could make home Wi-Fi coverage obsolete.
All the way back to 1993, data usage has never dropped. Growth has accelerated year over year as carriers continue to throw money into network expansion, mostly on outdoor small cell technology to keep costs down and allow for future compatibility with 5G devices.
5G is projected to unseat (or at least compete strongly) with Wi-Fi, especially when it comes to connected devices. Connected devices are compatible with Wi-Fi and LTE, but 5G is specifically designed for compatibility with connected devices. This may prove to be the downfall of Wi-Fi. One opposing viewpoint is Wi-Fi is not going anywhere. As new technology emerges within LTE, Wi-Fi technology is also evolving. New Wi-Fi technologies are closer to carrier-grade — and carriers still rely heavily on their ability to offload on Wi-Fi.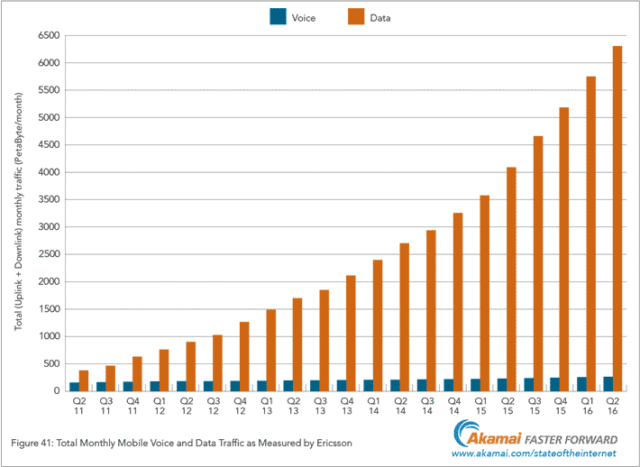 Graph: Mobile voice traffic growth has been flat since 2011, while data consumption has jumped 1300%. Source: Akamai's Q2-2016 State of the Internet Report.
One opposing viewpoint is Wi-Fi is not going anywhere. As new technology emerges within LTE, Wi-Fi technology is also evolving. New Wi-Fi technologies are closer to carrier-grade — and carriers still rely heavily on their ability to offload on Wi-Fi.
Trend 3: Changing Government Regulations
Many regulations are outdated, obsolete, and have no guidelines for the newest technology, including small cells. This hits hardest at the local level, where budgets are tight and laws can be slow to change. Many local municipalities do not have the resources to even revamp obsolete telecom regulations, let alone keep up with wireless technology that is changing at lightning speeds.
Carriers are expecting the FCC to streamline municipal telecom regulations this year to ease the administrative and financial burden of installing small cells, towers, and other network infrastructure. Currently, many cities classify small cells the same as macrocell towers, even though the two technologies have totally different footprints, sizes, and expense. A tower can be hundreds of feet tall, while a small cell can be the size of a lunchbox. However, some cities charge the same fees for both. Some companies have attempted to classify their solutions as public utilities to save themselves hefty permit costs and administrative roadblocks.
Many local municipalities do not have the
resources to revamp telecom regulations, let
alone keep up with wireless technology that is
changing at lightning speeds.

Despite some difficulties, there are success stories. The city of Orlando, FL recently accepted bids for a large-scale small cell installation to improve coverage in the city. Some municipalities, especially in tech-friendly large urban areas, are moving ahead with ambitious small cell projects. Laws are changing to better accommodate new technologies. The city of Philadelphia worked with AT&T and Verizon to deploy a 37-node small cell network in anticipation of Pope Francis's visit in September 2015. The project took only 9 months from start to finish. It was able to proceed thanks to huge public demand and pressure for the city and the telecom companies to work together to achieve a mutual goal.
Predictions for Small Cell Talent
Network providers are facing many challenges for their projects, including a severe talent shortage. We predict the following skills will be in highest demand for 2017 and early 2018:
IoT/M2M and 5G
The distance between IoT and small cell is shrinking. As Wi-Fi dependence begins to drop, network providers will need to build more and more IoT/M2M functionality into network designs (especially as 5G comes closer to being a reality). M2M connections are expected to make up almost half of all connected devices by 2020. Specifically, companies will be looking for people with hands-on experience within the IoT value chain. This includes IoT platform design, smart object design, module design, and integration with 3rd party applications.
Carriers will have to deploy an army of small
cells—possibly on the order of millions—within
the next 10 years.

Because of spectrum limitations, 5G will deploy on a very high frequency, including mmW. This means that traditional cell towers cannot deploy that spectrum, even with advanced beam-forming techniques. Small cells are the only way to deploy the mmW spectrum. This means carriers will have to deploy an army of small cells—possibly on the order of millions—within the next 10 years. Since small cells have design, maintenance, and repair needs just like macrocells, there will be a huge uptick in field work, engineering, construction, and related job duties.
This is one of the biggest looming talent shortages. The IoT/M2M/5G space will create millions of jobs — some estimate over 4 million IoT developer jobs alone by 2020. However, experts also expect that IoT and connected device technology will severely disrupt the labor market. Millions of people who work low-level jobs in fast food, retail, transportation, and supply chain will be displaced.
Standardization & Infrastructure Sharing
Infrastructure sharing is a growing trend while the telecom landscape continues to shift rapidly. There will be a very high demand for employees who can understand and build strategy around shared infrastructure. This will be especially true in the next five years as networks complete coverage expansion projects.
European markets had another record year in 2016 for colocation data center capacity. Colocation promotes standardization and harmony between carriers' data/voice technology, which is good for the consumer and the industry. Demand will continue to increase for employees with a sound understanding of existing 3GPP standards, as well as foresight for how standards may evolve to accommodate emerging technology.
Interference Mitigation Skills
In an increasingly crowded network, interference is one of the top challenges for high-traffic networks. Managing interference and higher spectrum utilization techniques will be a key goal for network providers, integrators, colocation facilities, and product developers, with applications at almost every level. Demand for this skill will rise fastest among design engineers and product managers. Expect strong demand for sales engineers who can explain interference mitigation technology to potential customers.
Public Sector Technical Sales Skills
While private sector companies are scrambling to upgrade their networks, the public sector is more uneven in its acceptance of new telecom technology. With the challenge of previously mentioned regulatory hurdles, telecom firms need to arm themselves with persuasive and highly knowledgeable salespeople. A strong salesperson can effectively navigate administrative roadblocks and match municipal requirements with network solutions that work.
By contrast, some public sector entities are way ahead, aggressively updating building and fire codes with new wireless standards. Companies who win key installation deals early on are more likely to enjoy repeat business and maintenance contracts from the same customers.