Last time, we explored SD-WAN by Silver Peak (visit here). Today, we will discuss some key features of Citrix's SD-WAN.

1. Network Measurement

One of the key roles of SD-WAN is to measure the quality of underlay network paths and, based on the results, determine the best paths to use for delivery of each packet.

Citrix's SD-WAN CPE (CloudBridge

) performs real-time, one-way quality measurements of multiple WAN paths. A sending SD-WAN CPE attaches a tag containing <timestamp, sequence number> to each packet (user packet).

Then the receiving SD-WAN CPE reads this Tag to check the quality information of the path like latency, jitter and packet loss. This quality information is updated every time each packet arrives. The receiving CPE provides the sending CPE with feedbacks based on this quality information. During this basically passive monitoring process, all packets exchanged by users are monitored and measured for quality assessment. If there is no user packet (i.e. idle link), 20 health check packets (probe) are sent per second (active monitoring).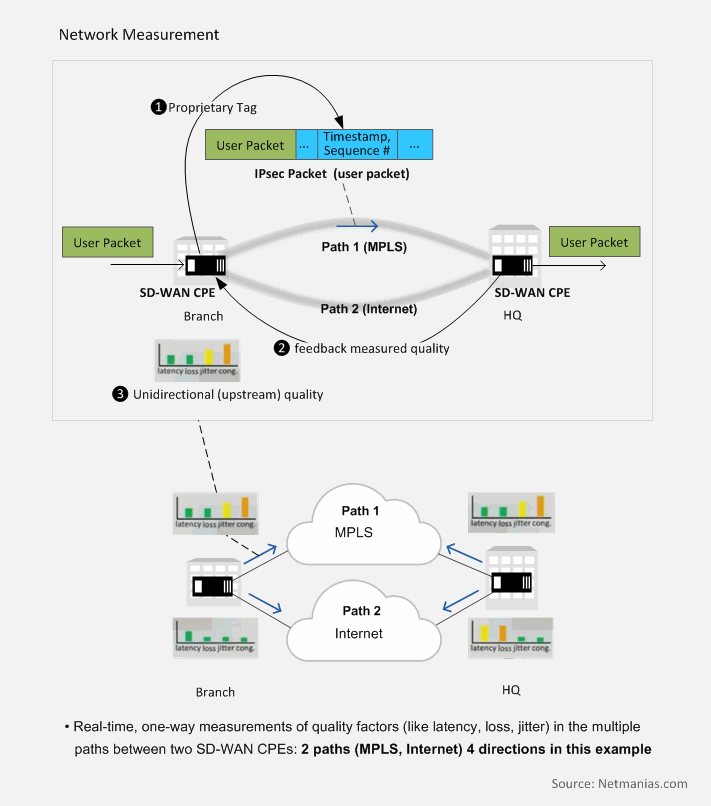 2. Latency-aware Path Selection

To high-priority applications (e.g. real-time applications like VoIP, Skype and video conferencing), WAN paths with low-latency are assigned. For delivery of high-priority application traffic, SD-WAN CPE selects a path with the lowest latency of the moment. In the example below, MPLS path was chosen for VoIP traffic because it had the best latency of the moment.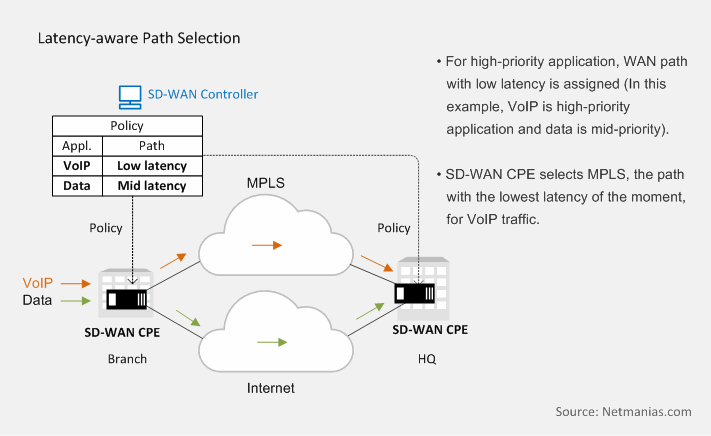 3. Dynamic Path Switching as Network Quality Changes

If MPLS path experiences quality degradation during a VoIP call, for example due to excessive jitter or packet loss, the sending SD-WAN CPE sends the packets to another path with the best quality available of the moment.
In the picture below, VoIP packets were initially sent via MPLS, but then via Internet when quality degradation is detected in the MPLS path. Then again, when the quality in the Internet path is degraded, the path is switched back to MPLS.
The sending SD-WAN CPE dynamically keeping switching paths, ensuring the VoIP packets are delivered through the path with the best quality possible at all time during the call.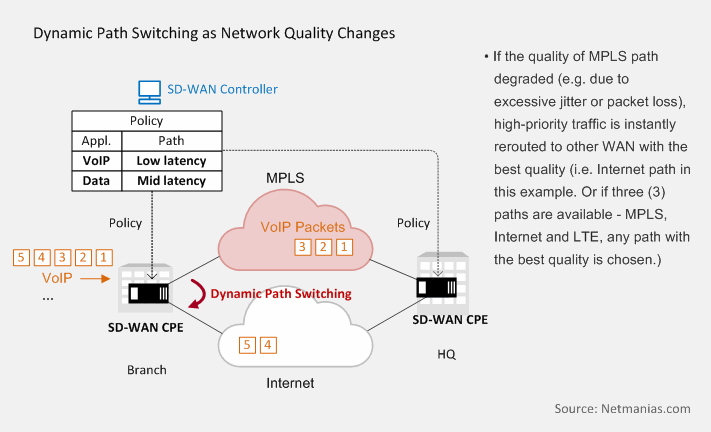 4. Bond Multiple Links

To achieve maximum possible upload/download speeds, Citrix offers a bonding feature that allows packets in a single flow to be delivered through multiple paths. For instance, with this bonding is enabled, when a branch office uploads a file containing packets 1 and 2, packet 1 can be sent through the MPLS path while packet 2 delivered through the Internet path.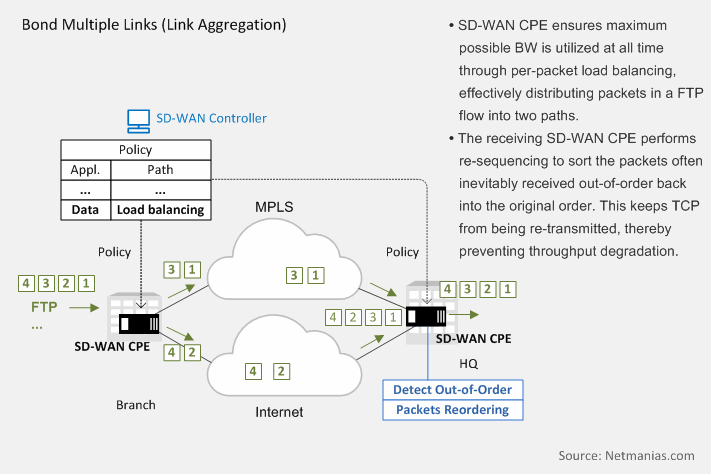 5. Packet duplication for real-time application

Applications like VoIP and Skype are highly sensitive to latency and packet loss. Especially, packet loss can be critical because typically VoIP bearer traffic is UDP and so there is no re-transmission.
Even if packets can be re-transmitted in application layer, that means nothing or little as these applications are real-time application.
Packet loss directly leads to interruption in voice calls. To address this issue and ensure un-interrupted delivery of these sensitive application traffic, Citrix supports Packet duplication, which allows the sending SD-WAN CPE to make copies of packets, send each copy through two WAN paths.
Upon receiving, the receiving SD WAN CPE simply takes the first packet that arrives, and discards the one that comes later.

There is no or little chance of both of paths experiencing packet loss, this solution gives near-zero loss, as claimed by Citrix. Also, because what arrives first is taken wherever they are from, greater performance in terms of latency can be achieved compared to using a single path.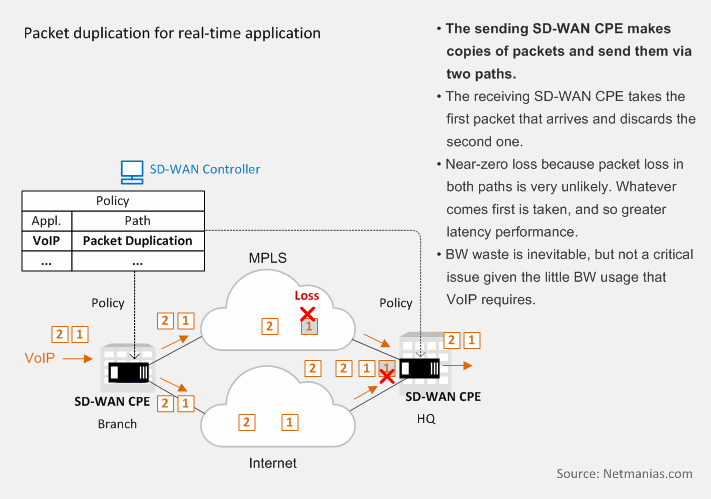 6. Unidirectional Path Selection

In typical SD-WAN implementation, once a path is determined for an application, both upstream and downstream traffic for the application are delivered via the same path. That is, as seen in the picture below, once MPLS is chosen, traffic travels through MPLS in both directions.



In the picture below, the two paths between the HQ and BO, MPLS and Internet, may have different quality in each direction. For example, at any given time, Route 1 (BO ->MPLS->HQ) can have pretty good quality while Route 2 (HQ->MPLS->BO) experiences congestion, or vice versa.

With Citrix's SD-WAN, traffic of an application, upstream or downstream, can be delivered through either WAN path. For instance, in the example scenario below where traffic is light in Routes 1 and 4, but heavy in Routes 2 and 3, Citrix's SD-WAN automatically selects MPLS path for traffic traveling from BO to HQ, and Internet path for traffic from HQ to BO. Then as the network quality of the four paths changes over time, it dynamically switches paths accordingly.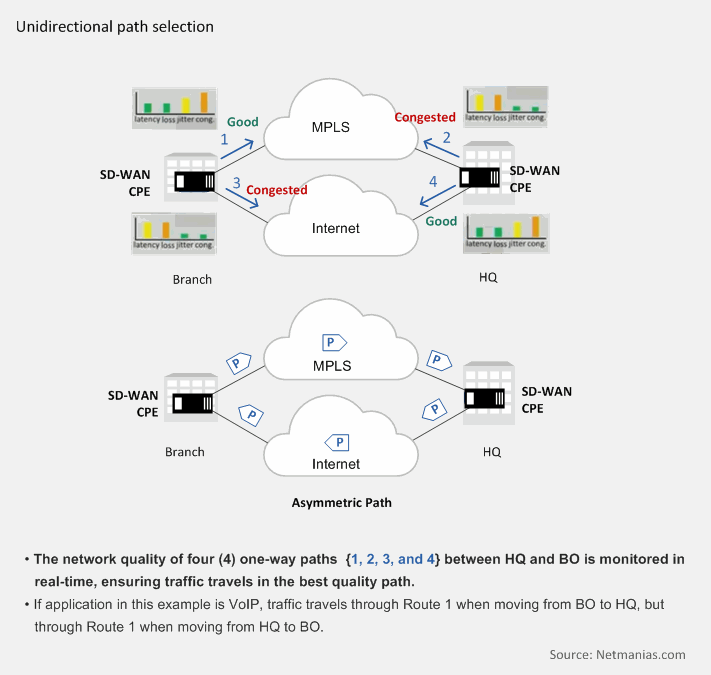 What has come to my mind while exploring solutions by SD-WAN vendors was "Wow, they really do whatever they can, and are determined to try anything plausible."

After all, it's software-defined. So sky is the limit. And that's the beauty of SD-WAN.
See Also, Comparison of the SD-WAN vendor solutions, Netmanias One-Shot