My last article on Latency (click here to view) draws some very good questions from the readers, I am really obliged for it, and one of the question forced me to write this blog, below is the picture taken from my previous for the reference of Latency: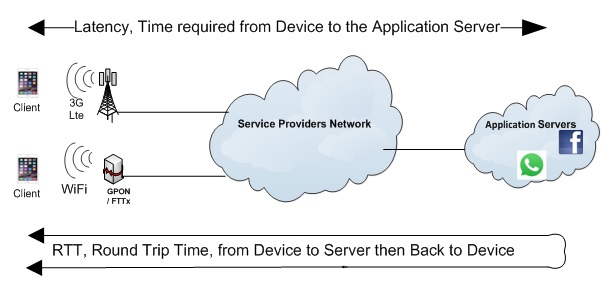 As I had mentioned PING as a tool in my blog so some friends asked that how much is Ping accurate; and some readers with advance knowledge even suggested that it is not wise to use Ping to find issues in the network as you may not know that how the network will be treating PING requests.
I will try to shed some light on Ping and its usage in the telecom network operations and troubleshooting.
Technically speaking Ping is an ICMP (Internet Control Message Protocol) echo message, ICMP is a protocol that routers or other networking devices use to send error messages to each other, the user send an Echo request with an IP address or a web address, e.g. c:>ping www.linkedin.com
Once the server receives the Echo request it responds with a Echo reply message and the user device shows the Round Trip Time with some other information like max/min/Avg RTT, number of packets sent and received and packet drops.
You can use ping with some other instructions as well, for example you can force to send some specific number of ping requests, or packets, etc.
In the below picture you can see a sample ping response, also I have shown the options that you can use with ping: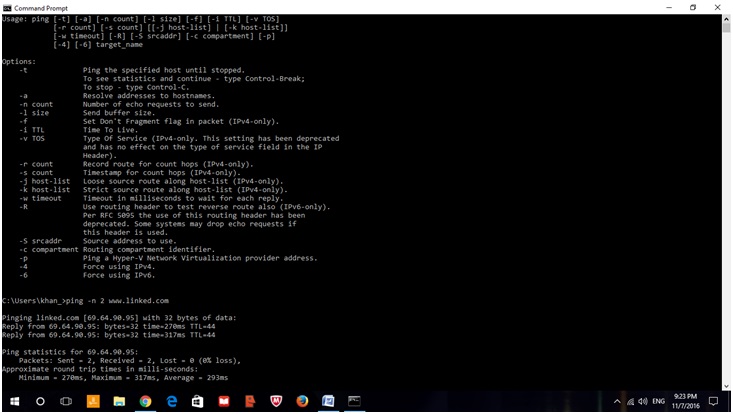 In the sample you can see that I have used ping with 2 packets, both sent and received so no packet drops, however the RTT is quite bad, which is quite normal at my home WiFi :-(
After this "Brief" introduction let us get back to the topic that should we use Ping or not? If you want to check your network health then you have at least four options:
1: Put active network probes on suitable points: Network Probes are active equipment that sits within your network and real network live traffic is passed through them, these probes generates a lot of data for you and you can check your network health of many levels, like for different services, different geographical areas, chronologically they can show a very big trend if you have a large data storage.
There are two drawbacks, 1: these probes cost a lot. 2: you need experienced people to analyze and correlate this data with other network performance KPIs.
2: You can enable the active management of the networking devices. The devices may exchange a lot of messages with each other, if enabled, and based on these messages some tools can be used to extract information like network utilization, delay, etc.
The drawback in this solution is that it is not very diverse, there are very few number of parameters that can be enabled, also you are dependent on the vendor of the actual device as it may or may not be possible to see all parameters on the third party tool that you choose to use, also sometimes it is not easy to handshake the device with the third party tool and with the introduction of each new device or its interface you have to engage the third party tool's vendor to add it to your currently monitored network.
3: Use speed tests. Speed tests are good to have some good information about your network health, its use is free and it gives you a swift response about your network. Some speed tests, if they are being used extensively by other users of your network as well, can tell more detailed information about your network and can benchmark it against other networks as well, either locally or globally.
The draw backs in speed tests are few; 1: You can not do almost any configuration as you have to go with whatever it is configured with. 2: You can not see a lot of parameters, it shows you the bandwidth and RTT mainly. 3: some network providers give a high priority to the most used speed test sites, so the result may be biased.
4: Hence our last option is to use Ping. Using ping is free, you can use it to check whatever web server you want to check, you can use it between network devices to know the RTT between two routers within your network or outside of your network, its use us simple and it is always available, do not need internet connection like speed tests.
The draw back of Ping is that it tells the RTT only, it does not tell you about any other network performance parameters. Your network may not be giving a good Quality of Service to Ping so if the network is congested then Ping packets may be dropped.
However practically speaking the drawbacks of Ping are the reason of its success, it can only tell latency and this is what we want it to use for, also it tells your surely if you have connectivity with the Pinged device or not. The network may be dropping its packets due to congestion which means that you can know one more thing about the network health, if ping packets are being dropped it means that some part of your actual traffic should also be dropping so you can raise the issue and get your network fixed.
As a matter of fact, Ping is the most reliable operational tool, all the operational staff managing the networks around the world understand Ping as the last resort. If you raise any connectivity issue to your operations they will ask you about the Ping result :-)