1. What is "LTE-Unlicensed"? And what's the big deal about it?
2. Korean Operators' Position (KT, SK Telecom and LG U+)
3. Discussion on Regulatory Requirements
4. LTE Advocates vs. Wi-Fi Advocates
1. What is "LTE-Unlicensed"? And what's the big deal about it?
Now, people are talking about LTE-Unlicensed. It sure sounds new and interesting. We all know what LTE and Wi-Fi are and how they work. For LTE, all network operators in the world do their business by paying their local governments billions of dollars of license fees for frequencies, and providing commercial LTE services to their paid subscribers using the frequencies. On the other hand, for Wi-Fi, nobody needs to pay to purchase frequencies, and anyone can develop a market on their own by taking advantage of the unlicensed frequencies.
Also from a user's perspective, the difference between the two is clear - you pay for LTE service, but not for Wi-Fi. So, Wi-Fi has been more attractive to users. As network operators are becoming more interested in this unlicensed frequency bands, the past two years have witnessed some territorial disputes between the two. In Korea, LG U+ demonstrated LTE-U last month, and announced its plan to commercialize the service next year. Having developed a sudden but keen interest in this matter, Netmanias made a visit to "LTE-Unlicensed and Wi-Fi Workshop" held by the Korean Institute of Communications and Information Sciences (KICS) on November 12, and would like to share what we learned and heard from the operators, vendors, labs/research centers, etc. with our readers.

Earlier in September, the 3GPP RAN plenary meeting approved Licensed-Assisted Access using LTE (LAA) as a Study Item (SI) of Release 13. This approval provoked active discussion on how to use unlicensed band for LTE service. The target band was 5 GHz. The SI work is to be completed by next June, and its standardization is to be finalized by the end of 2017.
As discussion on LAA (or LTE-Unlicensed (LTE-U) as called in this post) gets heated, LTE advocates welcomed the news, but Wi-Fi advocates expressed their concerns. LTE advocates seem delighted by the fact they can have more frequencies available for FREE. Especially to those operators who have been under pressure of lowering data plan rates despite the ever-soaring traffic, it certainly was a tempting idea although they, trying to find out the intention of the government who actually manages radio resources, seem to try to look nonchalant about the news.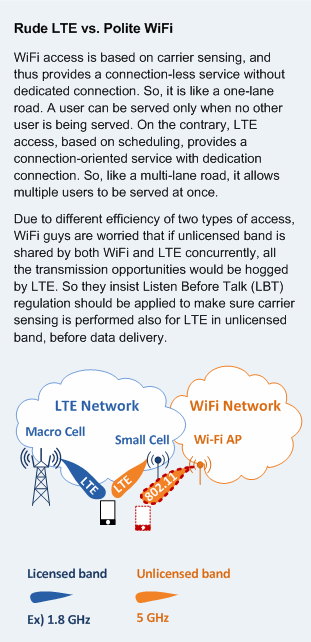 On the other hand, Wi-Fi advocates are concerned about possible degradation of Wi-Fi communication which may be caused when unlicensed band is shared by Wi-Fi and LTE services, and thus data transmission opportunities are hogged by LTE. For LTE service, carrier sensing is not required. But Wi-Fi service requires channel sensing to make sure no other user is using the same channel. This puts Wi-Fi at a big disadvantage at the transmission opportunity battle.
The LTE advocates, aware of this issue, claimed that they can come up with a win-win solution that would allow both LTE and Wi-Fi to coexist, and share unlicensed band harmoniously, and fairly. But, it does not sound convincing enough to assure the other party.
In order for LTE and Wi-Fi to be able to coexist, issues relating to the governments' frequency management/policy as well as technical issues should be addressed. This is because each country has different Wi-Fi bands and radio regulatory requirements on 5 GHz unlicensed band. To make 5 GHz Wi-Fi band global, global harmonization may be needed - Wi-Fi band allocations should be adjusted and technology standards should be revised accordingly. We will have to wait and see whether this LTE-U can be a potential for LTE advocates but a potential concern for Wi-Fi advocates, or it can be a win-win solution for both sides.
3GPP LAA (Licensed-Assisted Access using LTE)

Then, what is LAA that 3GPP approved in September? LAA is a new technology that combines a LTE licensed band and an LTE unlicensed band using carrier aggregation (CA), while still anchoring off licensed band. So, UE will always attach to a licensed band to access its network for services, and eNB will offload traffic in the licensed band to the unlicensed band through CA of the two bands depending on the conditions at eNB. During CA, the licensed band works as an anchor, serving as a Primary Cell (PCell) while the unlicensed band serves just as a Secondary Cell (SCell). That is, the unlicensed band can only be activated through CA, and cannot be involved in LTE communication independently.

The key issue with LAA is Wi-Fi-LTE coexistence in unlicensed band. Design targets and options for LAA operation are to be defined considering the regulations on 5GHz band.
The figure below illustrates three CA types to be discussed here.
(a) Using existing licensed bands
(b) Involving inter-Radio Access Technologies (RAT)
(c) Using licensed and unlicensed bands as discussed in LAA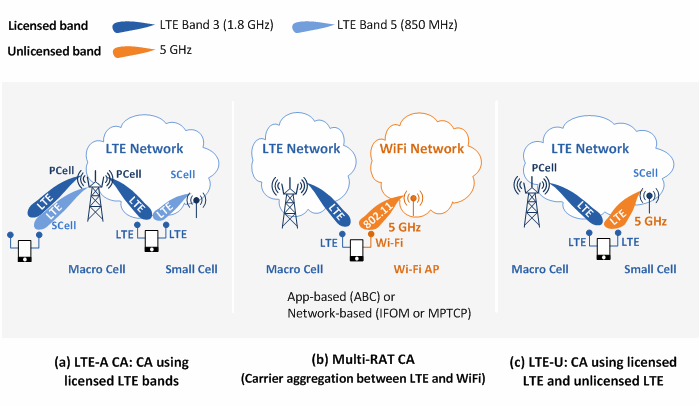 Figure 1. Comparison of LTE-A CA, Multi-RAT CA and LTE-U
2. Korean Operators' Position
3. Discussion on Regulatory Requirements
4. LTE Advocates vs. Wi-Fi Advocates