China Mobile's 4G TD-LTE system works in TDD mode while Korean LTE works in FDD mode. China Mobile owns a total of 130 MHz of TD-LTE commercial frequency, which consists of the following three bands (In China, frequency is given for free by the government, and thus costs nothing, as opposed to most countries including Korea where it costs an enormous amount):
Band 39 (1.9 GHz): 20MHz

Band 40 (2.3 GHz): 50 MHz for indoor only

Band 41 (2.6 GHz): 60 MHz
At MWCS 2015, China Mobile presented a step-by-step evolution plan designed to achieve: i) acceleration of user speeds from 110 Mbps (@20MHz), the current maximum with TD-LTE, to 1 Gbps through LTE-Advanced technology, ii) 5Gbps through 4.5G technology, and finally iii) 10 Gbps through 5G technology.
The key driver of such LTE evolution was Carrier Aggregation (CA). Specific technologies to be used for each step are as follows:
LTE [currently achieving 110Mbps]: TM8, 64QAM, UL CoMP

LTE-Advanced [aimed to achieve 1Gbps]: CA, High-order MIMO, DL CoMP, HetNet, Relay

4.5G [aimed to achieve 5Gbps]: 16x20MHz CA, 256QAM, 3D-MIMO

5G [aimed to achieve 10Gbps]: Massive MIMO, 256QAM, Full duplex, Ultra-dense network, etc.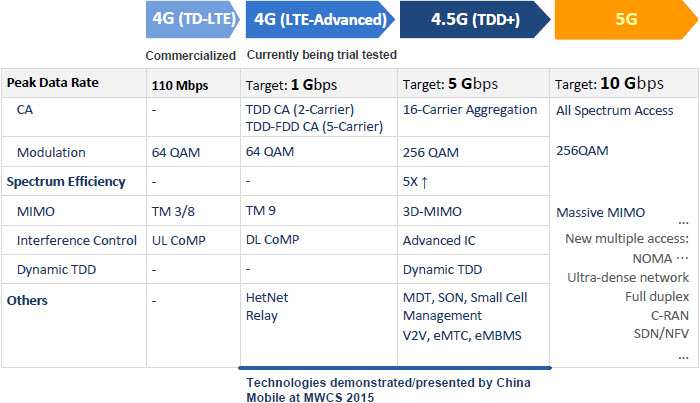 Figure 1. LTE Evolution Technologies demonstrated/presented by China Mobile at MWCS 2015
In the demonstrations and displays of evolved LTE technologies, target data rates of each technology were achieved successfully. For example, China Mobile achieved 1 Gbps, the target peak data rate of LTE-Advanced, by means of CA and high-order MIMO (TM 9). It also demonstrated 5 Gbps, the target rate in 4.5G, by employing enhanced 16-carrier aggregation along with other technologies like high-order modulation (256QAM), 3D-MIMO, advanced interference cancellation, and dynamic TDD. For 5G, the company presented prototypes with new architecture, like massive MIMO-based invisible base station, mini-CRAN, etc. Below, we will discuss the LTE-Advanced and 4.5G-related technologies that the company placed great emphasis on at the event.
LTE-Advanced (Carrier Aggregation)
CA is a technology that can increases user transmission speeds (bps) by multiple times through combining carriers in the same or different bands, and thereby giving wider bandwidths (Hz). This technology has been widely used in Korea, but is still pretty new in China. China Mobile showcased some CA technologies to be commercialized in the country: TDD CA (TDD inter-band dual CA) and TDD-FDD CA.
1. TDD CA
TDD CA was demonstrated in cooperation with Nokia. Two 20 MHz TDD carriers in different bands were aggregated, achieving up to 220 Mbps.
. TDD 20 MHz @2.6 GHz
. TDD 20 MHz @3.5 GHz
2. TDD-FDD CA (2-Carrier Aggregation)
TDD-FDD CA was demonstrated in cooperation with Huawei. A 20 MHz TDD carrier and a 20 MHz FDD carrier were aggregated on a commercial mobile device, achieving up to 260 Mbps (TDD 110 Mbps + FDD 150 Mbps). This indicates China Mobile is working not just on TD-LTE, but on FDD LTE as well.
. FDD 20 MHz @1.8 GHz (Band 3)
. TDD 20 MHz @2.6 GHz (Band 38)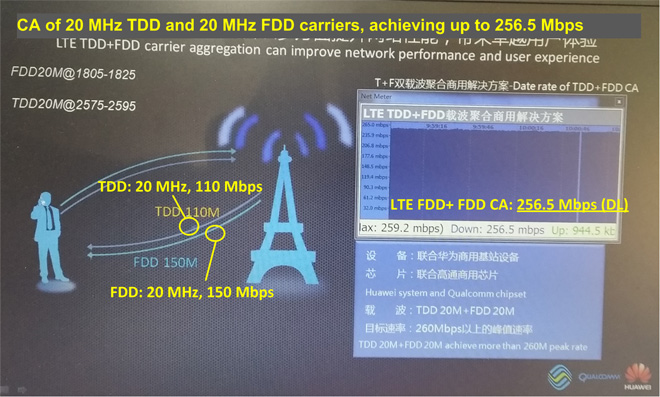 3. TDD-FDD CA (5-Carrier Aggregation) + TM9
In the demonstration, 5-carrier aggregation secured 100 MHz (FDD 40 MHz and TDD 60 MHz), and 4 streams were transmitted by applying transmission mode 9 (TM9), a 3GPP Rel. 10 transmission mode. This combination of technologies achieved 1 Gbps. The 5 carriers used in the demonstration are:
. One 20 MHz FDD carrier @900 MHz (Band 8)
. One 20 MHz FDD carrier @1.8 GHz (Band 3), and
. Three 20 MHz TDD carriers @2.6 GHz (Band 41).