It's been only a year and a half since we excitedly introduced the Evolution of Mobile RAN Architecture in LTE/LTE-A Era (C-RAN) last April. And today we are discussing the same for 5G era already.
Key transitions from 3G to 4G included i) network architecture change from coverage-based to capacity-based, and ii) introduction of new 4G element, X2 interface. Specifically, cells became smaller for enhanced user throughput and network capacity, C-RAN was brought in for more efficient interference coordination between those smaller cells, and point-to-point backhaul was transformed into IP routing network to achieve minimal delay in X2 interfaces where interference coordination data between cells are exchanged.
While commercialized 5G is expected to arrive in 2020 globally, Korean operators are planning to launch 5G trial service in 2018.
Many predict 5G, compared to 4G, will give:
Ultra-high radio speed (20Gbps/UE) - New RAT, mmWave, massive MIMO, massive Aggregation

Ultra-low latency (E2E few msec) - Tectile Internet, autonomous driving, remote controlled machine

Massive connectivity (hundreds of millions of IoT devices)
Among the most talked about use cases of 5G selected by ITU-R and 3GPP are enhanced mobile broadband (mobile speeds up to 20Gbps), massive IoT (5G access by billions of IoT devices like sensor), and mission-critical IoT (Ultra-reliable and low latency communications).
How 5G, with higher technological requirements and distinguished use cases compared to those of 4G, will affect the current mobile network architecture? What changes will it bring?
1. Ultra-High Radio Speed ⇒ Enormous traffic at fronthaul ⇒ New C-RAN/Fronthaul
2. Ultra-High Radio Speed ⇒ Enormous traffic converging into the Core ⇒ Distributed 5G Core
3. Ultra-low latency ⇒ Distributed 5G Core
1. Ultra-High Radio Speed ⇒ Enormous traffic at fronthaul ⇒ New C-RAN/Fronthaul
Currently, all Korean operators use the same 4G RAN architecture, C-RAN (Centralized/Cloud RAN). In C-RAN, BBUs and RRHs are separated from each other, and BBUs are located at central offices (CO) or master cell sites while RRHs are located at cell sites. These separately located units are connected via CRPI interface (i.e. BBU - CPRI port - RRH), with one CPRI port connecting to each RRH. Each RRH has two antennas (2T2R) and has LTE channel bandwidth (BW) of 20MHz. So, the capacity of CPRI interface is 2.45Gbps.
Once massive MIMO is applied, CPRI capacity between BBU and each RRH has to be enhanced drastically. For example, if BW is 20MHz and an RRH has 16 antennas, then 19.66Gbps of CPRI capacity is required between BBU and the RRH. Moreover, if new RAT is used, BW is no longer 20MHz as in 4G LTE, but it will even further extend beyond 100MHz, 400MHz, and so on, eventually requiring tens or hundreds of Gbps of CPRI capacity per RRH.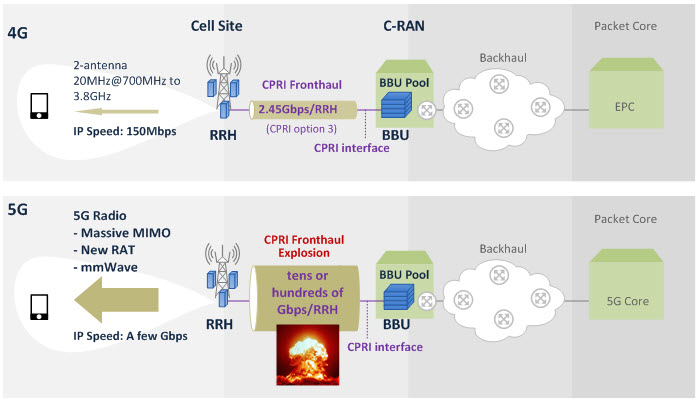 Figure 1. CRPI fronthaul explosion due to untra-high radio speed
The C-RAN/Fronthaul architecture of today will no longer be able to handle such increasing capacity requirement in 5G era (Currently, the maximum transmission capacity per CPRI port is 10Gbps). To overcome this issue, a solution is proposed and is under review. This solution would re-define the functions of BBU and RRH, differently from the way they are defined now (i.e. pulling PHY, at least, down to RRH, thereby significantly reducing transmission capacity), and change the interface between BBU and RRH from Circuit fronthaul (CPRI) to Packet fronthaul (Ethernet).
In the approaching 5G era, BBU and RRH should be re-defined, and fronthaul should be re-built as packet fronthaul. To make these changes, many functional split options have been proposed, each offering trade-offs such as reduced fronthaul capacity, CoMP effect, RAN virtualization gain, etc. These new network solutions are currently being tested by many operators including the Korean big 3, NTT, AT&T, etc., by using equipment by RAN vendors like Nokia. (See Brief Survey - Operator's View on 5G C-RAN/Fronthaul Redefinition)
Figure 2. Functional split between BBU and RRH