Around this time of year, network operators and vendors are in fierce competition in introducing innovative next generation technologies and services with Mobile World Congress (MWC) fast approaching. This year, KT and SK Telecom have already been battling to present the world's first 5G technologies and services faster.
On February 15th, with the MWC 2016 just one week away, Mr. Sung-mok Oh, the head of Network Division at KT, the official telecom operator of the 2018 PyeongChang Winter Olympics, showed the world how much progress KT has made in getting 5G mobile networks and services ready for the event it calls "5G Olympics" where 5G trial services will be introduced.
With 2 years to go until the event, we believe it is worthwhile to check how ready KT is by now. Below, we will discuss status of deploying 5G networks, 5G technology/service development milestone, details of 5G trial services, and 5G strategies by KT.

Deployment of network for the 5G Olympics
KT is aiming to add 35,000 wired communication lines along the communication duct lines (1,391 km long) being placed across the town of the event. It also plans to install over 5,000 Wi-Fi APs, support 4G/5G/WiFi access, and deploy a mobile communication network capable of supporting up to active 250,000 devices concurrently.
The company is also building a cloud-based data center to ensure more efficient and reliable mobile services through more stabilized networks even during traffic spikes with hundreds of thousands of concurrent users. The data center is scheduled to be completed in the first half of the year, and will become fully stabilized after trial operation in the second half of the year.
Deployment of the entire telecommunication network for the Olympics, including transport network, LTE network, broadcasting network, etc., has been completed over 30% as of February, and will be completed 100% by the end of the year. Once completed, the company will begin commercial operation of the network in 2018 after trial operation in 2017. With experiences it will be gaining from operating the 5G Olympics network, KT is looking to launch full-fledged, commercialized 5G in 2020.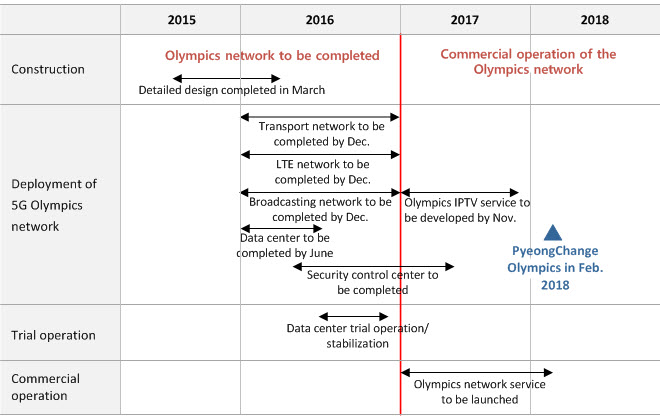 Figure 1. Deployment of the 5G Olympics mobile network - to be completed in 2016 (source: KT)
5G development milestone: 'PyeongChang 5G' vs. '5G'
As we all know, 3GPP Release 8/9 specifications are called LTE specifications, and Release 10/11/12 specifications are called LTE-A specifications. 3GPP is currently defining LTE-A Pro specifications in Release 13/14, and will define 5G specifications in Release 15/16. Specifically, Release 15 will define initial new RAT (Q3 2018), followed by Release 16 which will define full 5G (4Q 2019). So, full commercialization of 5G based on officially finalized global standards will be possible only after 2020. When is it then? It will also depend on the 5G frequency allocation schedule by WRC.
The Olympics will be held in February 2018 which is before finalization of 5G Radio Access Technology (RAT) standards. This puts KT at a risky and tricky situation in terms of costs and efficiency because the actual final 5G standards may be different from what it is to present at the Olympics. So, KT is of course desperate to have 'PyeongChang 5G' (the specifications it will be using at the Olympics) included in global '5G' specifications as much as possible.
Figure 2. PyeongChang 5G specifications (by KT) vs. 5G specifications (by 3GPP)
(source: KT, re-illustrated by Netmanias)
For this reason, KT founded a group named PyeongChang 5G SIG in collaboration with global vendors, to work on 'PyeongChang 5G' specifications. The PyeongChang 5G specifications are known to satisfy some of the 5G key performance indicators derived from ITU-R WP 5D: peak data rate (20 Gbps), radio latency (1 msec), and connection density (1,000,000/Km2).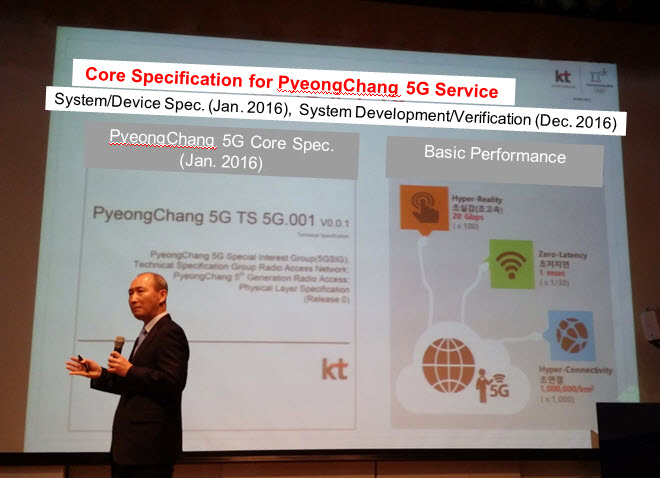 Figure 3. PyeongChang 5G specifications
KT already chose RF and modem chip specifications for PyeongChang 5G back in December 2015, and will choose specifications for 5G system. Based on these specifications, PyeongChang 5G system and device will be developed in time for 5G trial service in 2018.

The company is pursuing a strategy to have these PyeongChang 5G specifications reflected in 3GPP Release 14, and evolved specifications for 5G commercial network (to be proposed) reflected in Release 15. What's important for KT, facing a burden of risky factors as a pathfinder in 5G development, is to develop technologies that can be commercialized and to remain as a leader in 5G standardization.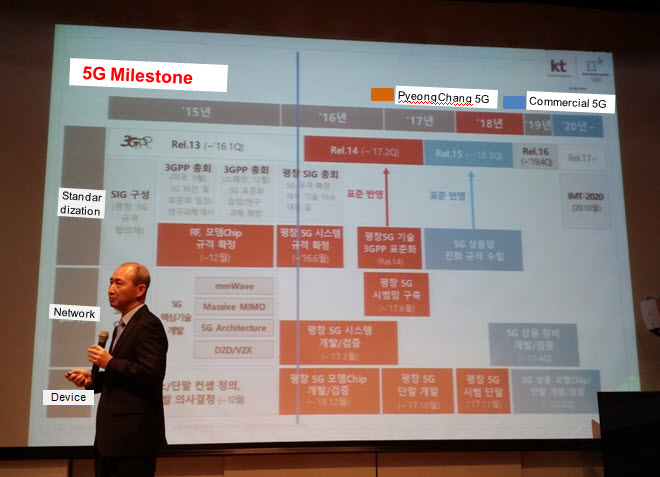 Figure 4. Standards development milestone: PyeongChang 5G vs. 5G
Currently, the modem chip for PyeongChang 5G is available as a FPGA board, but will become small enough to fit in a smartphone by Q2 2016.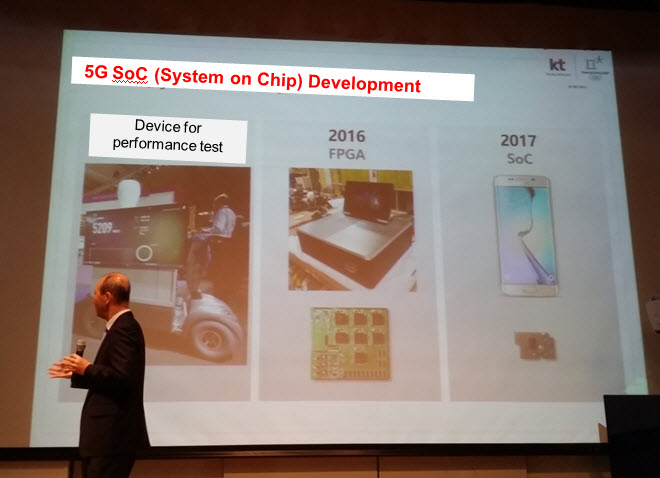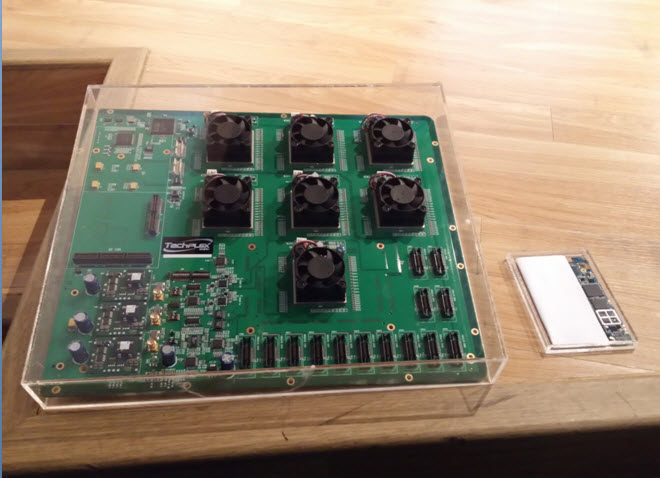 Figure 5. PyeongChang 5G modem chip: FPGA (available in 2016) vs. SoC (to be available in 2017)
5G trial services - Sync View, 360° VR, Hologram Live, 5G Safety and Time Slice
Figure 6 shows the roadmap of 5G service presented by KT.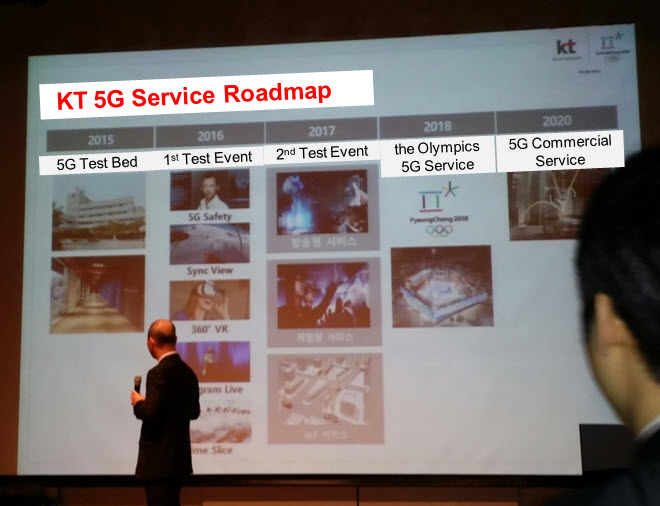 Figure 6. 5G service roadmap by KT
Today, as the 1st testing event, demonstrations (or presentations) of Sync View, 360° VR, Hologram Live, 5G Safety and Time Slice were conducted.* Games were broadcasted using different types of cameras like VR camera, ENG camera, helicam, etc. and drones with signals being transmitted by means of 5G technologies like active antenna, mmWave access, mmWave backhaul, FTTA, etc. KT promised demonstration of more advanced services, like more realistic service, broadcasting service, in the 2nd testing event to be held next year.
* For more information about 5G trial services and featured technologies in the demonstrations today, see Korea ICT News at our website KT's 5G trials for world's first 5G Olympics.
During the demonstration of Hologram Live, KT's VP Sung-mok Oh interviewed Ho-young Cheon, a skier at PyeongChang stadium, projected in 3D.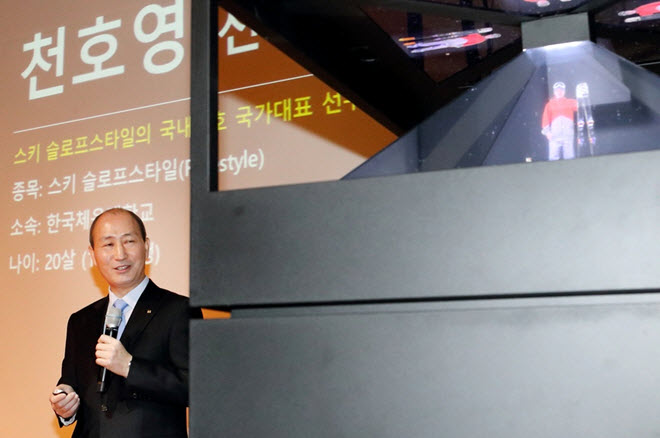 Figure 7. Hologram Live service
Figure 8 shows the 5G Hologram Live monitor used for the demonstration in the right, and 5G mmWave backhaul used for transmitting hologram in the left. According to Mr. Hongbum Cheon at KT, the Hologram Live monitor was designed to be small for in-home use.

Figure 8. Small Hologram Live monitor (in the right) and mmWave backhaul (in the left)
Last week, SK Telecom announced that it will also demonstrate the world's first 20 Gbps-class 5G at MWC, which makes us wonder how KT's PyeongChang 5G will be different from SK Telecom's 5G.

When asked about what makes PyeongChang 5G different, Mr. Sung-mok Oh and Mr. Hongbum Cheon at KT stressed that PyeongChang 5G's 20 Gbps is an E2E rate measured in the actual field in PyeongChang for trial service, as opposed to measured in labs. They also noted that it is based on PyeongChang 5G specifications which were jointly prepared by multiple global vendors, rather than a single vendor.
5G development and commercialization so far have been led by the Korea's big 3 operators and Japan's NTT Docomo who went into it first with an aim to present 5G in 2018 Winter Olympics and 2020 Olympics.
However, due to recent spikes in LTE subscription and traffic, many players are joining the race, including Verizon who is pushing forward with a plan to commercialize 5G in 2017. Instead of waiting until standardization process is completed, Verizon wants to commercialize it first and then have it reflected in standards. KT for sure knows what it means to compete with global leading operators in 5G commercialization.
Table 1. 5G commercialization plan by operator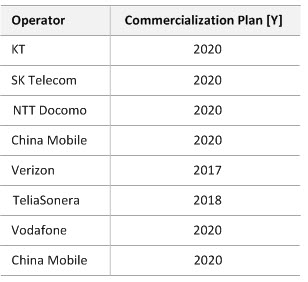 5G is not just about speed, but about bringing innovation to legacy network architecture, service enabling platform, and service. So, how (with what technology) you lead standards is increasingly more important than just develop outperforming technologies based on standards. Hopefully, KT can be an unmatched leader in 5G with vast field experience it will be exclusively gaining from PyeongChang 5G technology development and trial service operation.