Before we begin..
On March 10th, the Ministry of Science, ICT and Future Planning (MSIP) of the South Korea announced it would adjust the output power in unlicensed 900MHz band from the current 10mW to 200mW as an effort to stimulate the emerging IoT-related industry.

The big 3, fueled by the announcement, are aggressively seeking ways to deploy IoT infrastructure. On March 18, SK Telecom revealed a plan to build the world's first nationwide Internet of Small Things (IosT)-dedicated network by the end of the year. The IoST network, a LoRa based Low Power Waide Area Network (LPWAN), will be built as an independent network from LTE network, and will use the current LTE as its mobile backhaul.

On March 28, LG U + also made public that it is releasing an IoST-specific LTE module co-developed with LG Innotek, and will be rolling out an IoT solution featuring the module by the end of the first half. The next day, KT launched a commercialized nationwide LTE-M network that offers IoT/IoST services by leveraging its legacy LTE network.

KT held a press conference to present the 'Plan for promoting IoST business' as it kicked off the project for deployment of its claimed 'world's first' nationwide LTE-M network. At the conference Mr. Jungeon Kim, Head of GiGA IoT Division, shared the company's IoT strategies, 5 key IoST business acceleration programs, and future plans.
Meanwhile, LTE-M services developed by KT so far were demonstrated outside the conference room. In this post, we will discuss KT's strategies on IoT/IoST and LTE-M services based on what was shared in the conference.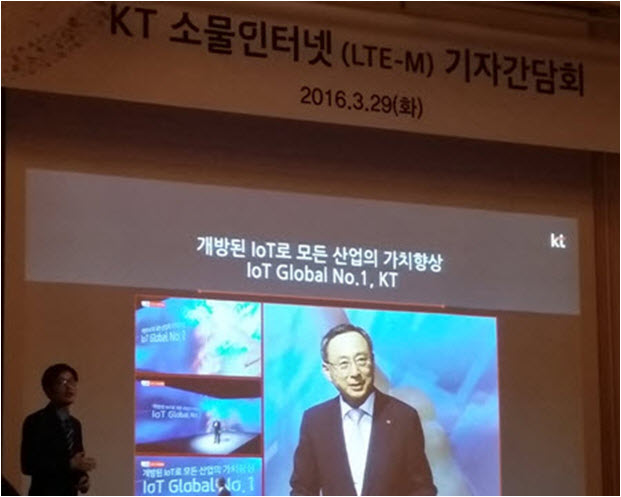 | | | |
| --- | --- | --- |
| | | |
| | KT will supply 100,000 LTE-M modules (featuring Release 8 Cat. 1 and Power Saving Mode) to service providers for free, and will waive service charges until the end of the year. The company will work on commercialization of an Narrow Band IoT (NB-IoT) network, which is more specifically designed for IoST, to have it launched by the next year, and will invest KRW 150 billion (USD 131 million) in NB-IoT–focused network, device and ecosystem development. | |
| | | |
What is IoST?

IoST refers to a network where small solely battery-powered things that deliver small amount of data are connected. All it takes is low-power and low-cost transmission, not ultra-high speed, or high–cost network.

In fact, there are already some IoT services in use like vehicle control service and CCTVs. But, what makes IoST different is that, as it is so small and consumes little power, it can be applied to much smaller, inexpensive things, and can last very long (target life span: over 10 years), operating solely on built-in battery power. It is expected to be so versatile that it can be used in many areas like part tracking, utility metering (water, gas, electricity, etc.).


What is LTE-M? - Global Standard Network Technology

LTE-M, KT's latest initiative for deployment of a commercialized nationwide IoT network, is based on global standards set by 3GPP. For LTE-M, Cat. 1 devices defined in Release 8 are used and Power Saving Mode (PSM) defined in Release 12 is adopted. By leveraging the legacy nationwide LTE network, LTE-M can serve the whole nation effortlessly. Also because it uses licensed bands, there is no quality degradation caused by interference. Besides, it can extend service range globally through roaming.

3GPP has been making efforts to make IoST communication more efficient. It has completed standardization processes for Cat. 0 (in Release 12) and Cat. M (in Release 13), and is now wrapping up the standardization process to make NB-IoT a clean-slate solution (in Release 13).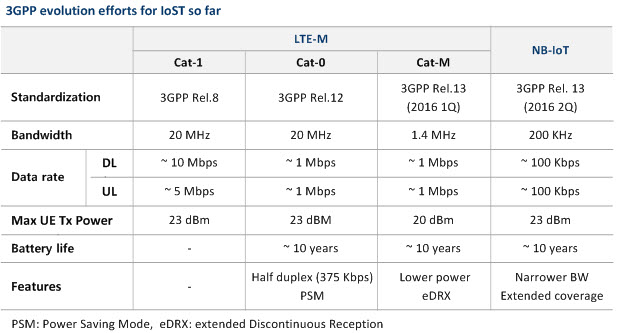 Unlike 3GPP standard-based LTE-M and NB-IoT that use operators' licensed bands, IoST solutions like SIGFOX and LoRa use unlicensed bands. IoST requires LPWAN, and the legacy LTE network is originally and always intended for high speed wideband communication. So, LTE-M and NB-IoT leverage the legacy network by intentionally making the bands narrower and data transmission slower to better suit things/small things. On the other hand, solutions like SIGFOX and LoRa were originally invented specifically for low-power, small-volume data transmission.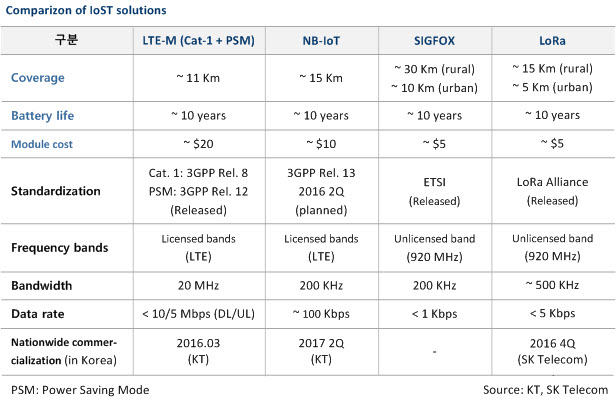 KT's IoT strategies

KT plans to make the best use of its legacy LTE network instead of building a new IoST-dedicated, 3GPP LTE-M-based network for IoST purpose. The company, now with a commercialized, nationwide LTE-M network, will continue to work on building an IoST ecosystem fast, providing 100,000 IoST modules to promote development of IoST-compatible devices, and waiving charges for IoST internet service by the end of the year. In addition, it will develop IoST services and expand their service range in cooperation with GiGA IoT Alliance. Next year, moving forward to NB-IoT, it will be investing KRW 150 billion (USD 131 million) in NB-IoT.


KT's IoST business acceleration programs

Along with the launch of the nationwide LTE-M network, KT shared a roadmap for IoST business acceleration programs designed to build a sound industrial ecosystem.

1. Nationwide network commercialization

IoST business acceleration will begin with deployment of a nationwide IoST network. At the conference, KT announced the launch of its claimed 'world's first' nationwide LTE-M network service.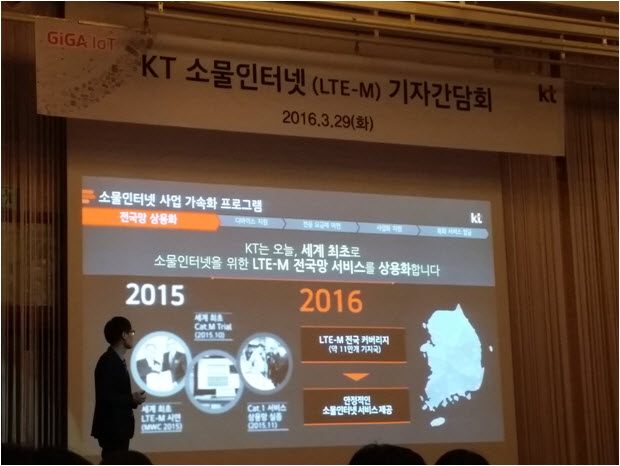 Feb. 2015: LTE-M demonstration at the MWC 2015

Oct. 2015: Cat. M lab test

Nov. 2015: Cat. 1 demonstration in commercial network (in Daejeon)

Mar. 2016: Nationwide LTE-M (Cat. 1) network commercialized, at 1.8 GHz across over 110,000 base stations nationwide.

2. Device support

KT has completed development of modules for LTE-M in cooperation with Telit, Techplex and AM Telecom. It will be providing 100,000 LTE-M modules to IoST service developers for free so that they can use the modules for IoST-compatible device development.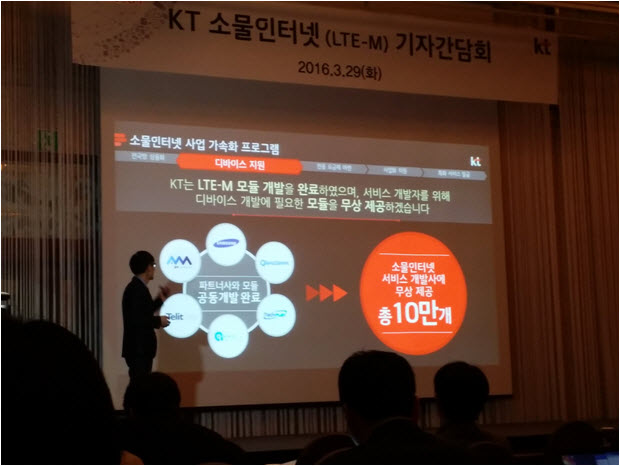 LTE-M-dedicated module co-developed by KT, Telit, Techplex and AM Telecom

Provision of 100,000 LTE-M modules to IoST service developers for free

3. IoST plans

KT has not finalized the details of IoST service plan yet, but will do in 2Q 2016. To promote IoST service, service charges will be waived by the end of the year.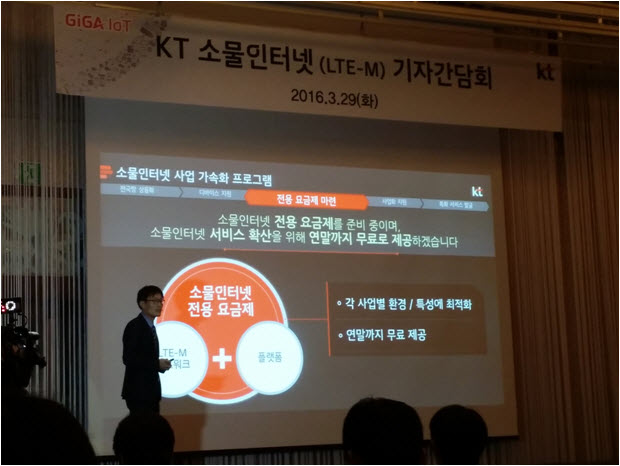 4. IoST business promotion

KT will support and promote new IoST businesses by the members of GiGA IoT Alliance through direct investment, investment in fund, and funds by Gyeonggi Center for Creative Economy & Innovation.
5. Discovery of specialized services

Some specialized IoST services like bicycle anti-theft service, smart metering, smart blood box, etc. were presented.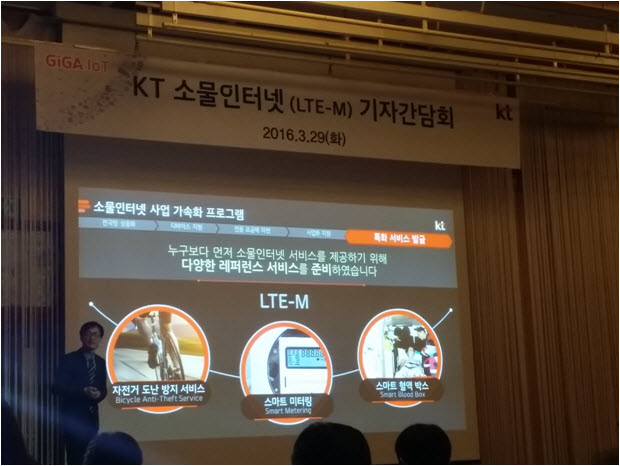 Bicycle anti-theft service: anti-theft alarm and real-time location tracking

Smart metering: mostly electricity metering for now, but water and gas metering will be available soon. Can also be used to monitor LPG tank deterioration, and freshness and remaining amount of beer in barrel, and more.

Smart blood box: Sample and blood location tracking, and real-time blood temperature check

Future plans

Next year, KT will commercialize NB-IoT defined in Release 13, offering more advanced IoST service. It will make investment of KRW 150 billion (USD 131 million) in NB-IoT and connect 4 million things by 2018.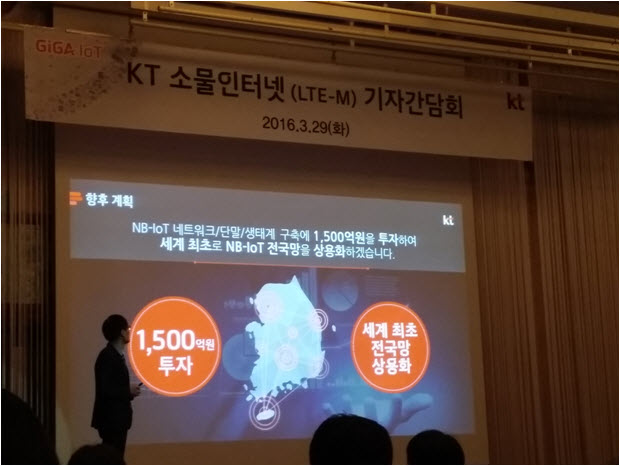 2016 3Q: NB-IoT field trial

2017: Nationwide NB-IoT network to be commercialized

KRW 150 billion (USD 131 million) investment in NB-IoT network/device/ecosystem development

2018: Connecting 4 million IoST things
Q&A

In the Q&A session by KT's IoST division held at the end of Mr. Jungeon Kim's presentation on 'Plan for promoting IoST businesss', the following questions and answers were exchanged:

[Q] Are there IoST service plans yet?
[A] Finalizing the details of IoST service plans that are customer-friendly takes time. We are planning to finalize them in Q2. We got a big picture now.
- Charge by connectivity basis
- To be combined with IoT platform (IoTMakers)
- Connectivity and IoT platform to be bundled for charging

[Q] There are Cat.1, Cat.0 and Cat.M as device categories for LTE-M. KT particularly chose Cat. 1. What about Cat. 0 and M then?
[A] It's not just Cat.1, but Cat. 1 with the power saving mode featured in Cat. 0/M. We could go with Cat. M if we want, but will decide depending on the circumstances.

[Q] I know you have a plan for commercializing NB-IoT. What about LoRa then?
[A] We have no plan for development of LoRa. NB-IoT and LoRa are not complementary.

[Q] Any reason why KT, after decades of dedicating to GiGA, turned attention to slow IoST? Looks like it is a part of an effort to secure diverse revenue sources. Any problem in GiGA's revenue creation?
[A] The ultimate goal of communication is ultra-high speeds and massive connectivity. GiGA offers ultra-high speeds while IoST offers massive connectivity for small things to connect to GiGA infrastructure. IoST means a huge number of connections, not necessarily means small things only. In the future, massive connectivity era will arrive, and IoST will thrive too.

[Q] KT is offering 100,000 modules for free, and waiving service charges by the end of the year. What about profitability?
[A] When we planned to build an IoST ecosystem, we do not focus on short-term profitability. We see mid/long term profitability instead. We will build an IoST ecosystem and nourish it until it becomes a new market. Then we will look for opporutnities to create revenue sources that no one has thought of there.


IoST service demonstration

Outside the conference room, a range of demonstration of LTE-M modules, IoTMakers (an IoT platform by KT), and other IoST services developed by KT based on LTE-M:
Bicycle anti-theft service: Real-time location tracking

Smart blood box: Monitors temperature and location of blood being transported in real-time

Smart container/smart lock

GiGA Vehicle

Smart heavy equipment

Smart lighting: Turns on/off store signs, monitors stores using temperature/humidity/CO2 level/fire sensors.

Industrial G/W and smart factory

Smart metering

• LTE-M Module (Cat. 1 + PSM)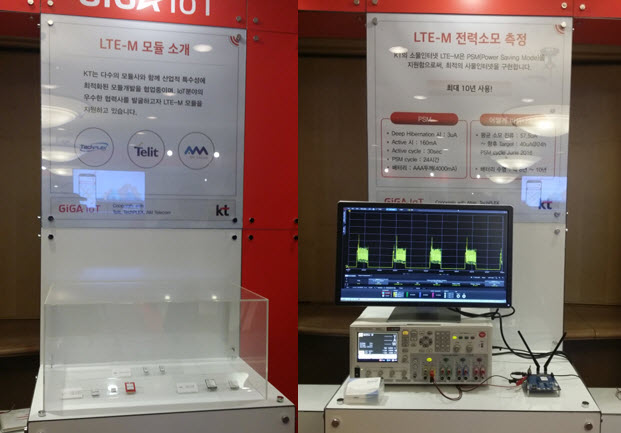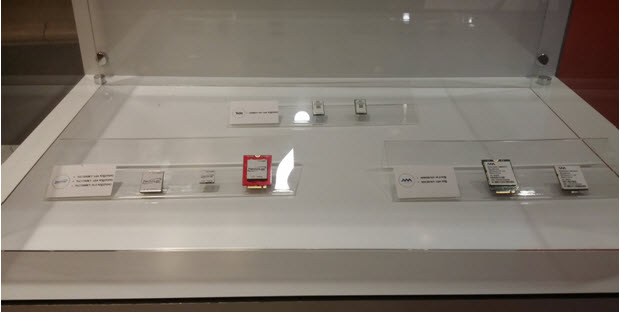 (Telit shown on top, Techplex in the left bottom, and AM Telecom in the right bottom)

• IoT platform: IoTMakers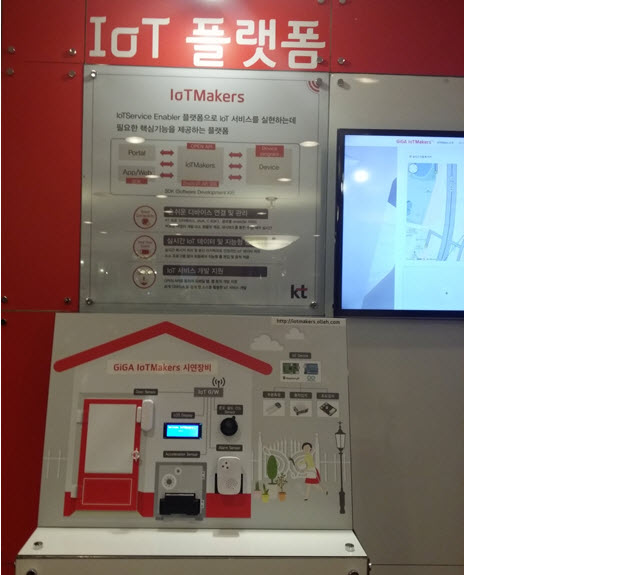 • Bicycle anti-theft solution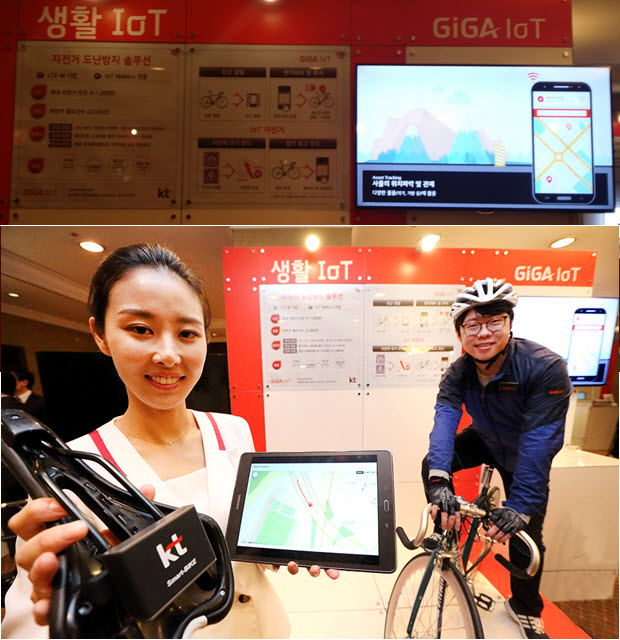 • Smart blood box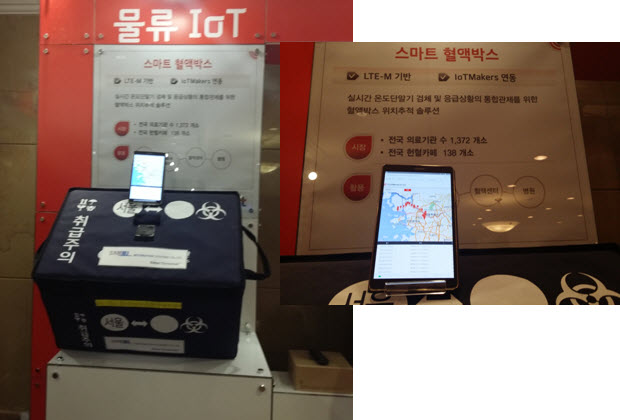 • Smart container/smart lock

• GiGA Vehicle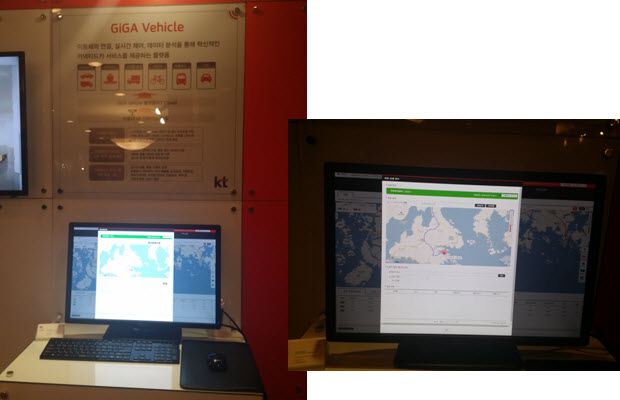 • Smart heavy equipment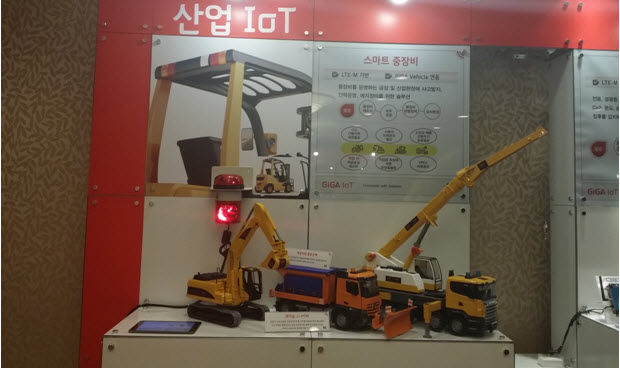 Integrated management of snow removal vehicles

Cable sniper

• Smart lighting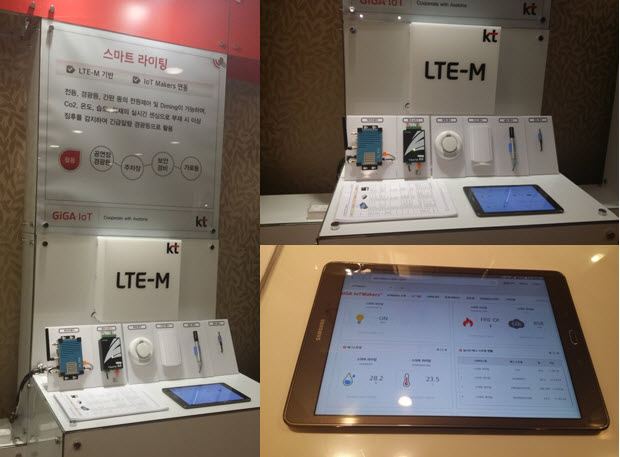 • Industrial G/W and smart factory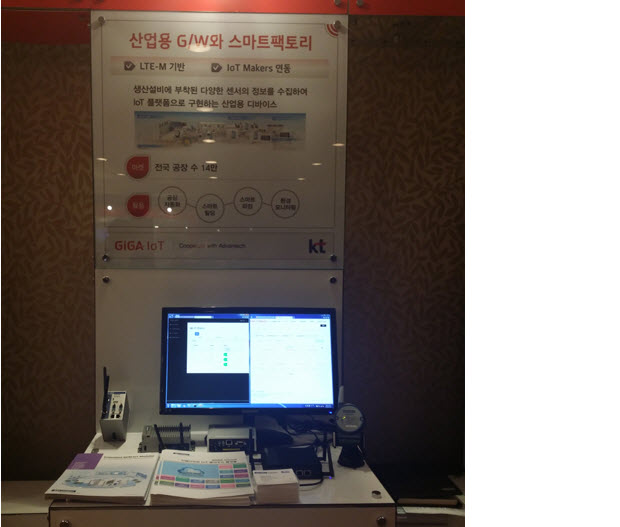 • Smart metering