Blog
Learn more about Netvision Telecom's solutions
Key values provided by MPTCP Proxy
Jan. 05 2016 | Dr. Dr. Byungchun Jeon
Today, more than 95% of mobile traffic, including web, video, SNS, etc., is TCP traffic. MPTCP (Multi-Path TCP) enables a device to create multiple TCP sessions over multiple network interfaces and transmit data in parallel, consequently giving maximized data speeds and increasing redundancy.
Nowadays, most mobile devices have two network interface: cellular and WiFi. MPTCP is already available on some recent smartphones, but there are too few application servers in Internet to offer MPTCP capability. It will likely take pretty long for MPTCP-capable servers to become popular.
Netvision's MP-GW (MPTCP Proxy), installed at the core network of a mobile operator, creates MPTCP session(s) with UE, optimizing paths between UE and MP-GW, while creating normal TCP session(s) with application servers.
It enhances quality of experience (QoE) of mobile device without requiring MPTCP support at the server side. By this mean, an operator can offer a higher bandwidth to its subscribers right away while not waiting for massive MPTCP adoption by CSP.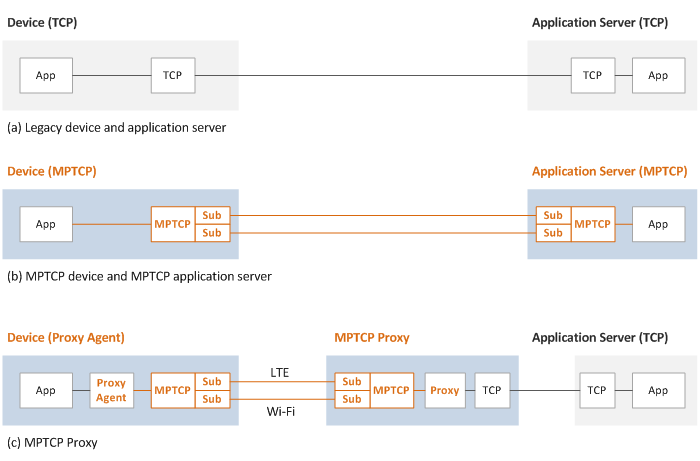 [Fig.1 MPTCP Proxy Concept]
Benefits of Netvision's Multi-Path Aggregation Solution (MPASTM)
• Netvision's MPAS solution based on MPTCP proxy technology makes both users and operators happy – a true win-win situation. Users can download contents through multiple TCP sessions via both LTE and Wi-Fi, which theoretically means data can be downloaded at the sum of their maximum speeds (LTE and Wi-Fi combined). What's even better is that even in case of Wi-Fi congestion in Wi-Fi hot spots, users can still be served uninterruptedly through LTE. Operators are happy because they can provide affordable, differentiated high speed download service, attracting new customers and reaffirming existing customers' loyalty.
• Unlike other LTE/Wi-Fi aggregation solutions that require installing of new LTE-U/LAA or LWA enabled small cells and replacement of user mobile devices, MPAS gives immediate enhancement of download speeds just through upgrading SW on mobile devices and adding MP-GW. With MPAS, traffic is merged in transport layer, and thus no replacement or modification is required in existing networks. So, this solution can be deployed over any existing commercial networks immediately. Also, they can leverage their existing LTE and Wi-Fi infrastructure with no change or addition, investment in building infrastructure for accelerated speeds can be kept minimum.
• MPAS can allow operators to maximize the utilization of network resources in their LTE and Wi-Fi networks, thereby making the networks more efficient. In addition, thanks to its explicit redirect feature (off-path model), operators can uses not only their own Wi-Fi APs, but those provided by other ISPs, like home AP, enterprise AP, municipal AP, etc., as well. This gives the operators a huge advantage of being able to provide LTE and Wi-Fi aggregation service at minimum cost.
• Another benefit of off-path approach, as opposed to in-line (on-path), is that it offers excellent load-balancing and failover, empowering operators to take advantage of TCP proxy resources in a most effective way, and minimize failover-caused service interruption.
• Operators can set various user- specific MPTCP policies, also decide which applications they want to apply MPTCP to, and adjust traffic ratios of LTE and Wi-Fi, giving operators to offer different services and plans.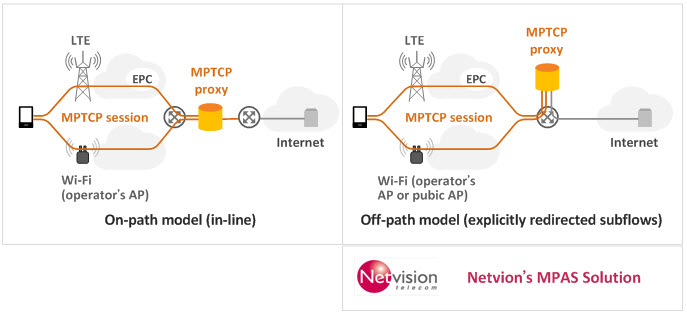 [Fig.2 Netvision's Approach: Off-path MPTCP Proxy]