T5, the world's first 5G-based Connected Car by SK Telecom and BMW, was showcased last month at the BMW Driving Center in Yeongjong Island, Incheon, South Korea.

The Connected Car service was the operator's first service that uses Quantum, its new brand also unveiled on the day. SK Telecom, with the aim to present the world's first 5G commercial service, is expected to launch Connected Car service as soon as its 5G infra becomes ready.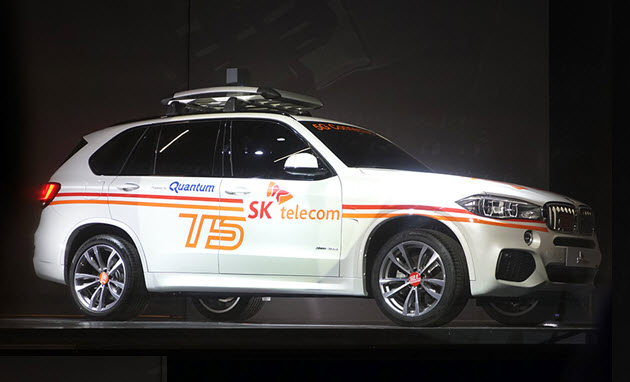 SK Telecom's 5G Connected Car, Quantum 'T5' (source: SK Telecom Blog)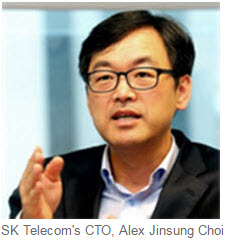 At the demonstration event, Alex Jinsung Choi, SK Telecom's CTO, explained that because 5G will not only bring us faster speeds, but also network infra innovation, intelligent service as well as mission critical service can be supported for sure. He also noted T5, a 5G connected autonomous car platform and service that runs on 5G networks, will eventually evolve into a self-driving car.

In addition, he shared his opinions about Connected Car and self driving car service as follows.

Q) How high are the needs for self-driving cars in the market?
A) One of the most fearless players risking the biggest risk is Tesla, who announced the launch of 100% self-driving cars next year. Another one is Uber, who is currently test-operating self-driving taxis. Uber provides a type of taxi service, but its registered drivers use their own vehicles. So, there certainly are high needs for self-driving cars. Labor charges account for most of its costs. So, no driver means better business performance. Uber has immediate needs for self-driving cars while Tesla is more interested in securing a share of the new market first.
Q) When are they arriving?
A) 5G and self-driving cars will arrive side by side, probably by 2020. A good many automobile manufacturers are reviewing launch before 2020 at CEO level. Tesla will have quick start while other conventional automakers will closely trail it. At this point, nobody know what innovations, including self-driving taxi, Uber can bring us.
Q) Can SK Telecom serve any type of vehicles? Can customers select their network service provider?
A) I think customers will be able to choose a network service provider they want when purchasing a self-driving car. Car purchase and communication service will be two different services in the end while they can be handled together for marketing purpose in the beginning. For those who purchased premium class models, Hyundai Motor Company has been providing a complementary offer that comes with free Internet subscription. So far, it has been simply switching to another network service provider annually – B2B agreement as needed.
Q) What will 5G service plans be like when self-driving cars arrive?
A) Automakers usually give complementary offers of free one ~ two year subscription of connected service to customers who buy a new car, and include the costs in the car price. After this promotional period, there are a lot of options: customers can choose to continue the subscription at their costs, or the subscription fee can be shared by automaker and customer. Or the automaker can take care of it with membership. Or maybe customers can get a bundle plan from their mobile service provider on their own. So many plan options will be available.
Q) I guess the government's issuing and enforcing traffic tickets will be a lot easier.
A) Connected cars will certainly bring us convenience, but critical issues relating to personal information protection as well. These days, all of new technologies have pros and cons. Innovations also carry risks.
Q) Tesla is to enter Korean market next year. Any partnership planned?
A) Of course there will be some partnership.
Q) How hard is collaboration between network operator and automaker?
A) It is actually very hard to connect cars to a communication network. Sufficient trust has not been established between the two, very different industries. Automobiles are mission-critical, which makes collaboration very challenging.
In case a self-driving car using a communication network causes an accident, there will be issues or disputes over who is legally liable for the accident. With no driver involved, it would be challenging for insurance companies to determine who is at fault. Technology-wise, collaboration is challenging too. In general, communication networks have open architecture that is based on standards, but definitely have some closed nature. The automobile industry is even more closed. For the two semi-open industries to work together, a lot of trust has to be built first because they must have their interfaces open to each other, which can be risky.

Given that, this demonstration was a milestone for the industries involved who have overcome many barriers on the way. It was not just technical co-work, but inter-industrial partnership for mission-critical service. And that's why the demonstration was of great significance.
Q) Car-related communication service
A) In a consumer market, the automobile sector is the second most popular and influential sector product that follows the # 1 smartphone sector. Network operators have keen interests in car-related services.
With the advent of Uber, an era has arrived where devices, networks and other transportation services can work together for co-prosperity. You don't need to use smartphone to get a yellow cab. But you have to use it to use Uber. That's what appeals to consumers. The key driving force here is the convenience that using smartphone can bring to consumers. Electric car has made some contribution too as it needs IT service for charging.
Q) Who will serve as a control tower for navigation or in case of emergencies, etc.?
A) Traffic control is controlled by many different agencies: Control centers for local traffic are usually operated by local governments and police agencies while, for highway traffic, they are run by the Korea Expressway Corporation. So, real-time interworking between these agencies is the key to efficient control of traffic. That's why the Intelligent Transportation System (ITS) that makes communication service, IT infra and cloud work together was introduced. So an era is arriving where people can use the dashboard in the care to connect to the Internet in real-time just like they use smartphones to stay connected these days. All thanks to these ever-evolving communication networks of today.
Q) What about personal information protection while sharing it between cars?
A) Personal information will be shared to the extent permitted by the relevant regulations. License plates, faces and other identifiable data will be blurred through real-time de-identification masking.
Q) When multiple cars are shown, which car will be chosen?
A) The policy agency will come up with some solutions for that. They know better than anybody else that they need video data. The policy agency and the Korean Expressway Corporation will be in charge of general traffic control, and SK Telecom will take care of network support, data analysis, masking, data sharing, etc. There are some potential issues and risks relating to personal information protection and related crimes.
Given that, the biggest issue with the commercialization of Connected Car will be regulations, not technologies. Also, consumers' behavior patterns do not change easily, and so it can take a generation until we finally become comfortable with the idea of Connected Car. Most of technical issues, I believe, will be taken care of soon, making other issues like people's interests, regulations, consumer behavior patterns and others more difficult.
Q) SK Telecom has joined 5G Automotive Association (5GAA). Any specific plan or project yet?
A) 5GAA was formed in last September and we joined two months later in November. There is no specific activities or schedules fixed yet. But all members share common interests, there are already some projects set and they will be ready to go as soon as detailed schedules are set. For an alliance to be successful, having tier 1 vendors is critical. 5GAA has a good number of tier 1 vendors, and so we are pretty excited.
Q) Samsung recently acquired Harman. What's your thought about that?
A) I knew it would come someday. I think the timing was great. Harman has great technological prowess. Harman is as reputable as Bosch is in German. It is well-known for car audios and PC speakers. In Apple stores, they have this glass speaker next to the Mac PCs, it is Harman/Kardon speaker, which is very popular.
If Samsung had options, I think Harman was the best option. With its strong infotainment nature, Harman goes well with Samsung's portfolio. Bosch is engaged in self-driving as well, but it is by nature a mechanical auto parts maker. On the other hand, Harman started as an automotive 'electronic' parts maker, and so it makes a better partner to Samsung than Bosch.