2. Classification of LTE Identification
Figure 1 shows, using the LTE network reference model [1], IDs defined and used in some entities and interfaces. Features of these LTE IDs will be explained in terms of their creation time, attribute type (permanent/temporary) and ranges within which they are uniquely identified.
Creation Time: Creation time of an LTE ID can be one of the following:
When commissioned upon equipment installation
When provisioned by the operator before or during service operation
When created on-demand as a user accesses to the network or uses services
LTE IDs commissioned or provisioned are presented with the blue boxes on the corresponding EPS entities in Figure 11.
Type: An LTE ID can have an attribute type, either a permanent value that stays fixed once set, or a temporary one that changes whenever activated. The ones allocated by being commissioned or provisioned have permanent values while others allocated on-demand as a user accesses to the network or uses services have temporary values.
Range (within which IDs are uniquely identified): Each LTE ID is uniquely identified across the world, operator networks, entities or channels.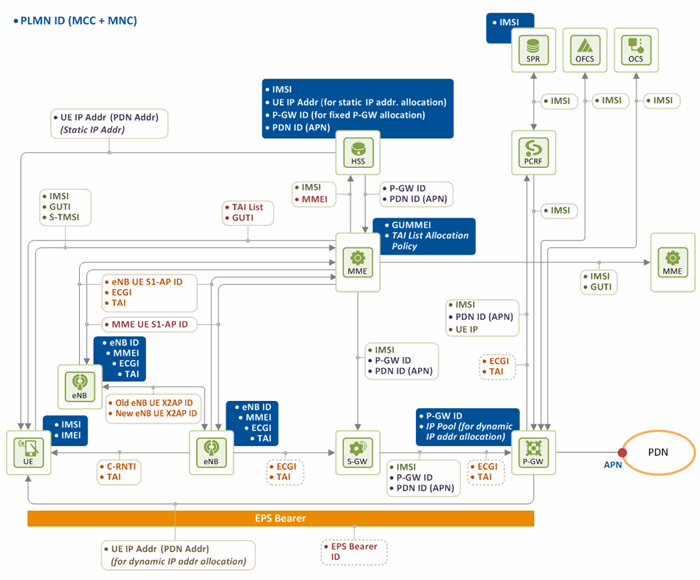 Figure 1. LTE identification
Figure 1 shows different IDs used depending on where LTE identification is actually being performed, i.e., layers, interfaces or geographical areas. For the convenience of description, the IDs shown in Figure 1 are grouped as seen in Table 1.
First, IDs for the EPS entities are grouped into UE IDs, ME IDs and NE IDs. The EPS entities are classified into UEs and NEs. MEs, one of the UE components, are separated from UEs and classified as a separate group.
NEs are the network entities operated by an LTE operator such as MMEs, eNBs and P-GWs. IDs, such as IMSI, GUTI, S-TMSI, IP address, C-RNTI, UE S1AP ID and UE X2AP ID that identify a user, belong to the UE ID group. IDs such IMEI and IMEISV that identify a device belongs to the ME ID group.
And IDs, such as GUMMEI and MMEI for MMEs, Global eNB ID and eNB ID for eNBs, ECGI and ECI for cells, and P-GW ID for P-GWs, belong to the NE ID group. Location IDs, such as TAI and TAC, identify the area where a user is located.
Finally, session/bearer IDs, such as PDN ID(or APN), EPS bearer ID, E-RAB ID, DRB ID, TEID and LBI, are related to user traffic delivery, and identify EPS sessions (PDN connections) and EPS bearers.
This document, the first document in the LTE Identification series, describes LTE IDs for UE and ME shown in gray in Table 1. The second document will explain LTE NE IDs and location IDs which identify location of UEs, and the third document will discuss IDs for EPS session/bearer.
Table 1. Classification of LTE identification