[ Company Profile ]
ubiQuoss

Main Products

FTTH (GPON, EPON)

Mobile Backhaul (Carrier Ethernet Switch)

Founded

2000

Headquarter

Address : 68, Pangyo-ro, 255 beon-gil, Bundang-gu, Seongnam-si, Gyeonggi-do, Korea
ZIP : 463-400

Global offices

Executive Leadership

sang-keun LEE: Founder, President & Chief Executive Officer

Status

Public

Number of Employees

Certificates

Major Customers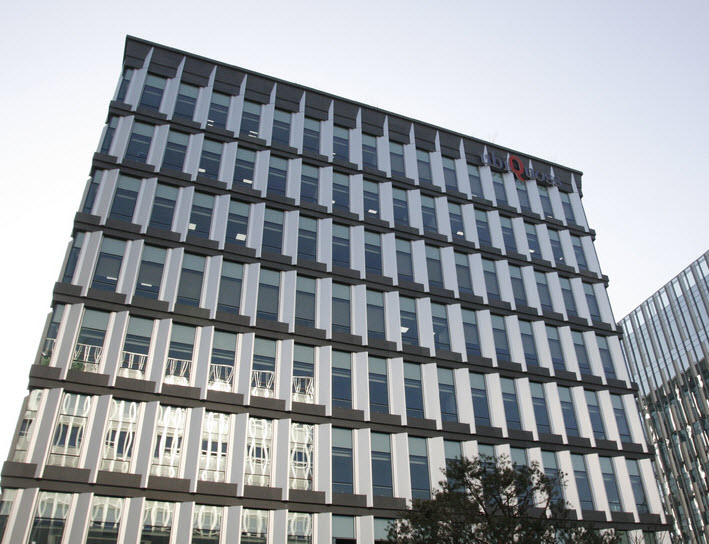 Ubiquoss is supplyingself-developed differentiated products including L2/L3 switches, FTTx, LTE backhaul, high capacity backbone switches to operators such asTelcos, SOs, construction companies, public/enterprise for building network infrastructure. Ubiquoss has suppliedFTTH PON equipment and Ethernet switches to U.S., Europe, and major Asian countries. Ubiquoss is recognized worldwide for its quality products.
The mission of Ubiquoss is to become a reliable supplier that develops innovative technology and improvesnetwork infrastructure, and playsa key role in network industry. Ubiquoss, headquartered in Seoul, Korea,is keep expanding sales network throughout the country and tapping intothe global market taking advantage of great success in domestic network market.
The success of Ubiquoss has been based on development of telecommunications. The company had established Premier Networks with a belief that the new paradigm of IT environment cannot be sustainable without upgrading and expanding the existing network infrastructure. Dreaming of a world consolidated into one through the Internet, the company has focused on developing network equipment, hasbeen leading broadband access market, fixed & wireless network and intelligent network market for high-speed Internet serviceswhile keeps growing along with the advance of ICT era.
The position of Business Unit is to provide competitive products and services in domestic/overseas Electronics & Communications industry, especially in Ethernet and IP based network sector.With growth of Internet and growing importance of LAN, the company has decided to invest into the success of network market by responding to the demands of users.Ubiquoss continues enhancing technologies in major development areas, while service providers are trying to achieve All IP convergence by building reliable network infrastructure with our products.
Ubiquoss, which has built a leadership in the communication service provider market, has kept up with the technologies that can be used for Enterprise WAN, and is rapidly increasing market share.Enterprise Business Unit offers network equipmentfor building LAN and WAN not only to enterprise customers but also to public institutions.Ubiquoss provides the solutions that can satisfy almost all requirements for building LAN, including Fast Ethernet, Gigabit and PoE Switch, IP network platform etc
Ubiquoss offers perfect solutions of high-efficiency and low-cost for carrier and enterprise markets. Ubiquoss products are available through domestic network operators, competitive dealers and distributors.
The company is participating in industry-wide efforts to keep sustainability. Telecommunication industry is accepting Green Technology as a new standard to bring an innovation. JITC, NEBS, TL9000 and ISO14001 will help us to develop and implement sustainable products with improved performance, and accelerate our efforts to preserve environment by decreasing natural resource consumption. Because carrier and enterprise networks are changing into All IP networks and the demand for bandwidth keeps increasing, the need for energy efficient consumption and green technology will play a great role.