[ Company Profile ]
Woori-Net

Main Products

MSPP, PTN

POTN, WDM

Access Gateway

Founded

January 4, 2000

Headquarter

HyunDai F&G Bldg., 4th fl., 853-1, DongCheon-Dong, SuJi-Gu, YongIn-Si, GyeongGi-Do, 448-120 Korea

Global offices
Executive Leadership

CEO: Hyunkuk Chang

Status

Public

Number of Employees

500+

Certificates

Major Customers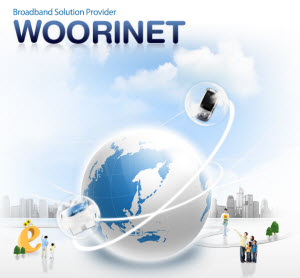 WooriNet was founded in 2000 specializing in the design, manufacturing and supply of the fiber optics transmission systems and has now grown to the capacity of covering the entire wireline network systems market connecting the subscribers to the backbone network of the telecommunications service providers. In 2008, Samsung Electronics ha s transferred all business, design know-how and manufacturing right for access gateway systems to WooriNet and it is the second step-up stage for us.

In case of the wireline access network systems market in particular which WooriNet is now recognized as a forerunner, WooriNet is playing a leading role for the digital convergence supported by its superior technical capacity and proactive R&D in the areas of fiber optics Internet, voice & data integration, and Ethernet access. It is an ultimate goal for WooriNet to provide any and all the solutions so that anybody can access, feel, and act on the digital content with ease and speed in any environment.

In addition, WooriNet plans to put forth an effort in the next generation wireline and wireless integration system for th e preparation of the telecommunications-broadcasting integration. The next generation wireline and wireless access network systems market will be requiring the subscribers to be the initial connection point, in which the networking technology will be consummating from the perspective of the subscribers.

Even as the infrastructure such as the backbone network is well deployed, if not supported by the access network systems technology, it is not very possible to carry out a quality application of the entire network such as utilizing the entire network efficiently providing for all the necessary convenience and security. The access network technology of the above importance is going forward to the next generation, in which the access network and systems are expected of requiring the wireline and wireless integration along with addressing the ubiquitous access environment.

As a preparation, WooriNet has determined to invest aggressively in VoIP, FTTH, etc. capitalizing on the Internet access technology that WooriNet has been accumulating while pursuing the new service creation, highly advanced infrastructure deployment, and the new growth engine promotion.