1. How far have we come on the road to 5G?
There's ongoing international cooperation to build a globally unified 5G standard and industry ecosystem under the framework of ITU and 3GPP. For the first time in the history of mobile technology development, governments, enterprises, and different organisations work together in the development of a new mobile technology standard. There are also plans to start conducting 5G R&D trials in 2017 in some countries like South Korea and China.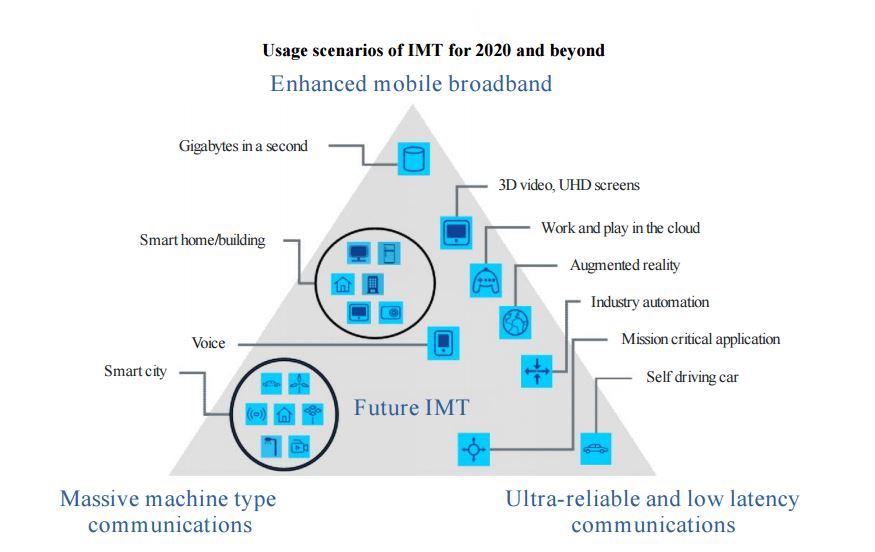 On the standards side, a clear roadmap is shared, by 3GPP, of when the first release of 5G standards (R15) is coming out and the complete release (R16); September 2018 and December 2019 respectively.
Add to the above, a continuous set of promotional activities are taking place worldwide to educate the public on 5G and its benefits for economies.
2. What's the next focus going to be?
Compiling all proposals from different vendors, operators, and organisation to complete the 5G standards as planned.
Also, some focus will be on completing initial R&D trials in 2017 to solidify the business use cases to be proposed for 5G. Proof of concept trials will be planned in 2018 and 2019 based on R15 the first 5G standards release, then commercial pilot networks early 2020, then full-fledge networks based on the final 5G release (R16).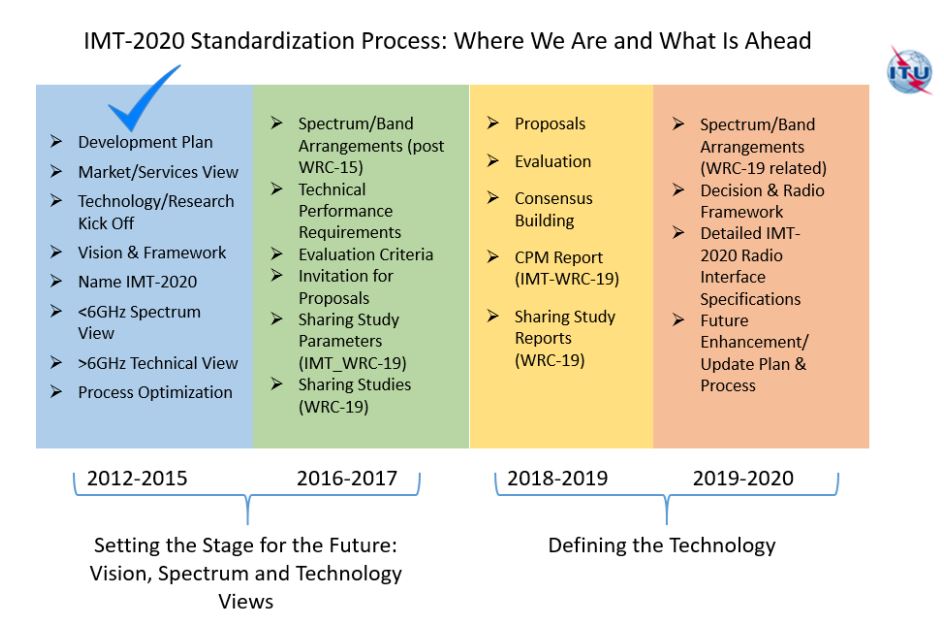 Another important item to focus on is spectrum discussions. Already started, but there will be much more discussions to finalise the spectrum map for 5G around the world.
On a separate note, there will be more work to further strengthen the integration of 5G and vertical industry development by studying more 5G use cases applicable in different industries.
3. What have been the biggest challenges so far?
Although 5G development and realisation process follows almost the same one for 3G and 4G, but the magnitude of 5G, the promises it plans to deliver, and the expectation set by key players in the world, make 5G delivery a big challenge.
The biggest challenges so far are related to standards, spectrum allocation, and use cases definition.
3GPP, being the key entity in driving 5G standards, are receiving proposals from different members on 5G specifications for the core and radio access. They need to consolidate all proposals and agree, in details, how the final network structure and components, including radio interface, will be specified.
Current spectrum allocations and the work of the World Radio-communication Conferences (WRC) indicate that by 2020 the focus will be on frequencies below 6 GHz and some non-harmonised national/regional spectrum above 6 GHz. After that, the focus will shift to the UHF bands 30-100GHz.
On use cases, as mentioned in Q2 above, there will be more work to further strengthen the integration of 5G and vertical industry development by studying more 5G use cases applicable in different industries.
4. Considering the balance sheet so far, do we think 5G can be made commercially available at the time it was initially predicted?
In some markets, like Korea and Japan, there's a high need for high capacity mobile broadband to be deployed by 2020 for the Olympic Games.
This is an ambitious timeline because the wide range of different use cases to be addressed and the new spectrum to be agreed will make standardisation complex and time-consuming. In addition, new spectrum for mobile broadband on higher frequencies (above 6 GHz) is likely to be available only after WRC 2019. These practical considerations mean that 5G will most likely be introduced in phases.
Phase One:
In this phase, the architecture is centred on Evolved Packet Core (EPC) and the deployment of new 5G Radio Access Technologies (RATs) using sub-6 GHz spectrum. This phase (based on 3GPP Release 15 available in September 2018) would also introduce 5G radio via dual connectivity mode with LTE as an anchor and also, depending on progress in 3GPP, as a standalone option. In this scenario the 5G radio is connected to EPC but forward compatibility to the coming 5G core needs to be assured, as well as enabling later releases to be easily backwards compatible with 5G phase one without sacrificing overall 5G performance.
Phase Two:
Phase two will see the introduction of innovative layers and architectural changes beyond those implemented in phase one to enable the full potential of 5G. In this phase, the 3GPP release 16 (available in December 2019) will fully meet the requirements of critical mMTC use cases in terms of lowest latency and highest reliability, as well as important mobile broadband enhancements by providing best quality of experience (QoE) to end users. The new 5G core will also efficiently support massive MTC.
By phasing in new 5G network architecture in this way, mobile operators will be able to make use of their existing deployments to provide higher data rates, better capacity in the near term and at the same time, introduce future-proof network architecture to support new use cases and services in the longer term.
5. When do we think it will be practically feasible to do a large scale roll out of 5G in the MEA markets?
I think the MEA markets will follow global markets, as happened in 4G, by deploying trial 5G networks by end of 2019. At that time, there will be a clear view of what to expect and finalise a good business case around 5G, having seen similar trials in South Korea, China, and Europe.
Those trials will then be upgraded to limited commercial networks some time in 2020. I think a large scale deployment of 5G in MEA will only depend on the readiness of use cases. Let's remember that 5G is the technology medium that will drive digital transformation, but businesses and governments have to be also ready with means to use it.
6. Which have been the biggest milestones yet on the road to 5G development?
I think the biggest milestone was technology awareness. Unlike 3G for example, where people knew about it right before it came out, the 5G case is different. In 5G, you could see high level of cooperation between governments, technology vendors, operators, and different organisations aiming to define and make full use of 5G. I have never seen this level of awareness of a new technology earlier in development phase ever.
On the technology side however, there's a wide agreement on the technical drivers for 5G; namely Carrier Aggregation (CA), Network Function Virtualisation (NFV) and Software Defined Networking (SDN).
5G networks will rely on the above technology concepts to boost the network speed which, in turn, will maximise user's bandwidth.
7. What is going to be a single defining characteristic of 5G networks?
5G will be the first mobile network technology to serve as a true foundation technology for other business sectors/industries; what, in a similar fashion, IT did in the 90s. It was hard to imagine back then a reputable company or organisation running without any IT application or IT infrastructure. This is what 5G will do, and more, beyond 2020. It will become an important infrastructure for economic and social development.
8. Will the current infrastructure and devices work fine with 5G networks? Or is it going to be a massive refresh needed?
The current telecom infrastructure can still work with 5G core network as it is backward compatible. But to deliver on 5G promises, current 2G/3G/4G networks will have to be upgraded, or probably replaced. New 5G RAN (Radio Access Network) architecture with new high frequency power amplifiers and new filters will be developed to handle the mmWave (millimetre wave) traffic processing which is needed to boost data throughput to maximum 20Gbps. This is very much needed to implement massive Machine Type Communications (mMTC) or M2M, and provide connection density of one million devices per km², which are some of the promises of 5G.
Similarly, current devices can still work with pre-5G networks (3G or 4G), but new devices will have to be designed and developed to access and utilise the power of 5G. Even smart applications need to be updated, to cope with the updated smart device hardware, to handle the high speed flow of data within 5G.
Neither devices nor smart applications vendors would want to be the bottle neck in the 5G journey.
9. We do understand 5G standards are not yet worked out; nevertheless, how do we like to define 5G?
Although the 5G standards are not finalised yet, but the goals are very much agreed on, and they are aligning to ITU's IMT-2020 recommendations, which include reduced network latency to 1ms from previous 5ms, 100-times increase in data rates, and connectivity enablement for 100-times more devices among others.
As the importance of Charles Babbage's difference engine to modern computing, 5G will be the foundation layer not only for telecommunication services but for a new era of technology-based services across all sectors and industries. Simply put it, everything will be in touch.
Whether they call it IoT (Internet of Things) or M2M (Machine to Machine) communications, the amount of traffic that billions of devices will generate, or consume, will only require a technology magnitude of 5G to deliver.
The introduction of 5G will accelerate digital transformation in many industry verticals, enabling new use cases in areas like big data, connected cars, smart homes, smart cities, and automation, etc.
Mobile phones and tablets will be able to download full length HD movies in less than 5 seconds, 100 times faster than 4G.!
So 5G is not just a technology, but rather a revolution.