WiFi, a widely used technology for internet connectivity over wireless access. WiFi uses unlicensed spectrum for radio waves, mostly in band of 2.5 GHZ or 5GHz. WiFi has been coping with other wireless access technologies through its rapid advancements. New standards, developed by IEEE, has appeared to keep it a relevant technology with time. It has provided necessary data rates, as for coping with next gen applications. Also there have been significant improvement in reliability and security aspect through WPA2 and WPA3 standards.
WiFi, also being taken to be used on 60GHz band, a millimeter wave unlicensed band.
Millimeter Wave spectrum is much in demand for providing gigabits per seconds.
Millimeter waves are being used to provide high data rates using advance technologies like massive MIMO etc. Apart from required benefits from millimeter wave, there are some drawbacks too. It has fast attenuation at distance and it is likely to be absorbed by the atmosphere too. Therefore it degrades fast with distance and could be used for shorter distance propagation.
At 60 GHz, radio waves will be propagated line of sight (LOS) for better transmission and reception.Due to high data rate advantage of 60GHz spectrum band, WiFi standards are being developed to achieve 10 gbps data rate. This much data rate would be beneficial to create a backbone network using multiple LOS access points in mesh connectivity.
Teragraph is one such network, which is being backed by Facebook. This will provide a city wide backbone network for faster data connectivity in ubiquitous way. This is also being seen as replacement of fiber and a cheaper way of backhauling the data.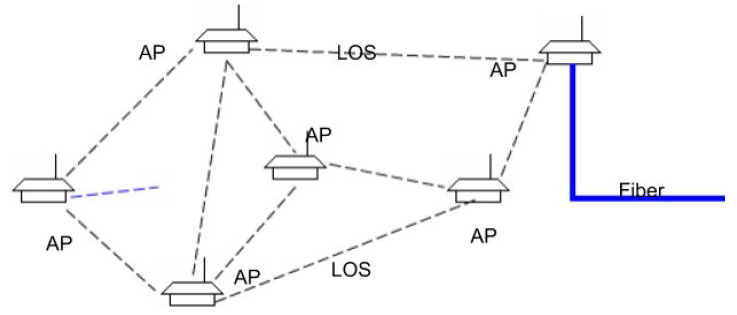 "With Terragraph, our goal is to enable people living in urban areas to access high-quality connectivity that can help create new opportunities and strengthen communities," said Yael Maguire, vice president of connectivity with Facebook.
Facebook working on this in collaboration with Qualcomm, as Qualcomm was supposed to bring the chipset for Wifi new standards - said to be 802.11ay.
The real boost has come with the recent declaration from qualcomm for bringing up its new chipsets QCA64x8 and QCA64x1. Qualcomm is the first-to-market with a 60GHz Wi-Fi solution with optimizations based on the 802.11ay specification, enabling best-in-class 60GHz WiFi speeds and unmatched coverage performance. Qualcomm provides industry-first 802.11ay 60GHz Wi-Fi chipsets includes QCA6438 and QCA6428 for infrastructure and fixed wireless access, and the QCA6421 and QCA6431 for mobile applications.
60GHz WiFi go far beyond high performance throughput, as qualcomms' new chipsets enable unique always-on ambient. It Provides, Wi-Fi sensing capabilities, enabling devices to identify people, objects, movements and precise location without being affected by light conditions. Networking and mobile devices alike can take advantage of these new Wi-Fi sensing features to provide new and differentiated experiences to end users.
Facebook's Terragraph network will be constructed through the development of a multi-node wireless system based on the QCA6438 and QCA6428 chipsets. Comparing with the 2.4GHz and 5GHz bands commonly used in WiFi networks all over the world, mmWave-based 60GHz WiFi is of low interference, bandwidth-rich spectrum that delivers increased wireless capacity, and ultra-low latency.
With gigabit-per-second speeds, the 60 GHz WiFi solutions provides wire-equivalent latencies. It will be enabling mind boggling experiences such as 4K streaming and truly immersive wireless virtual and augmented reality, all while providing high power efficiency to significantly extend battery life.