SK Telecom, the Korean No. 1 telecom operator, launched Btv Mobile service (in SD/HD) offering a variety of live broadcasting and VoD contents for mobile devices in around July 2012. And a year later in July 2013, boosted by the commercialization of LTE-A, it began a "Full HD" streaming service with drastically enhanced video quality. The following is the press release by SK Telecom about its new full HD service.
[June 26, 2013, SK Telecom press release]
With the commercialization of LTE-Advanced, SK Telecom plans to promote ultra-high quality, large volume and multi-channel services including ultra-high quality broadcasting/video contents, multi-networking services, etc... SK Telecom's 'Btv mobile,' an IPTV service with 550,000 paid subscribers, will begin providing full HD (1080p resolution) video streaming service, for the first time in the world, from early July. Full HD video streaming requires a speed of 4 Mbps or above, which is well supported by the LTE-Advanced network.
※ Required speed (bit rate) for each level of video quality - SD: 1 Mbps, HD: 2 Mbps and Full HD: 4~8 Mbps
This post will provide a technical overview of the streaming method used in SK Telecom's Btv Mobile service.
Out of over 70 live TV channels offered by SK Telecom's Btv Mobile service, we selected the five most popular channels available, KBS1, KBS2, EBS, TvN and MLB (MBC and SBS were not available through the service at the time our tests were carried out), and analyzed their streaming as follows:
The Btv Mobile service offered the following 3 video quality levels (full HD, HD and SD):

So, users can manually choose a quality level they want, SD (low quality), HD (high quality) or full HD (ultra-high quality) when watch a video. Though in 3 different levels, the quality of the video delivered was very satisfying in all levels.
The figure below is a screenshot of MLB played back in full HD.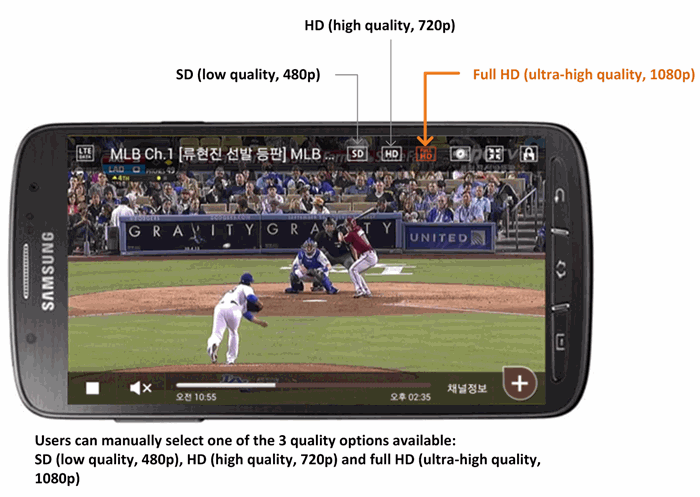 SK Telecom's Btv Mobile service supporting 3 quality levels (Full HD, HD, SD)
Streaming in SK Telecom's Btv Mobile Service based on our Actual Measurements: Summary
We performed an actual measurement of video streaming used in the 3 quality levels (Full HD, HD and SD) offered by SK Telecom's Btv Mobile service. The test environment in the measurement and the analysis result are as follows:

♦ Test environment in the actual measurement
Internet service: SK Telecom LTE-A service
Video service: SK Telecom Btv Mobile service/live broadcasting/KBS1, KBS2, EBS, TvN and MLB channels
Device: Samsung Galaxy S4 LTE-A phone
♦ Analysis result summary
1) Encoding rates
* Our actual measurement found little difference between the bit rates marked in the profiles of the playlist (manifest) file and the actual encoding rates measured (For instance, a chunk file with a profile of BANDWIDTH=4096000 in the playlist had an encoding rate of around 4 Mbps when downloaded).

2) SK Telecom Btv Mobile streaming architecture (e.g. KBS2)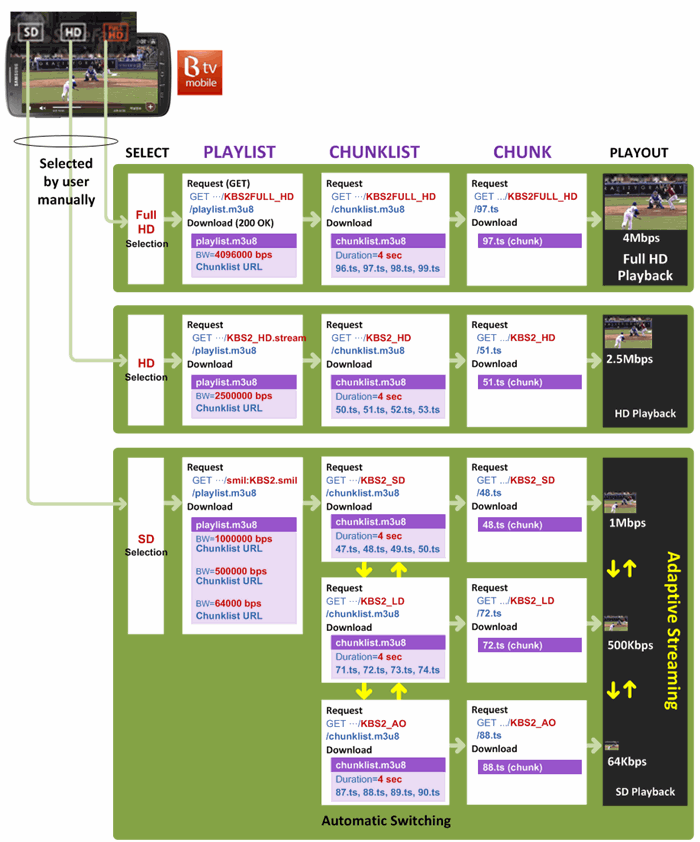 3) Video delivery protocol
SK Telecom Btv Mobile service provides 3 quality modes (full HD, HD and SD). Their encoding rates were about 4 Mbps, 2 Mbps and 1 Mbps, respectively and the codec for all three was H.264.
HTTP Live Streaming (HLS), an Apple's Adaptive Bit-Rate (ABR) streaming protocol, was used for all the three modes.
The chunk duration was 4 seconds in all three modes.
Users can manually switch the video quality into a full HD, SD or HD mode while watching.
No bit rate switching among full HD, SD or HD observed.
None of the 5 channels allowed bit rate switching while streaming in full HD and HD modes, and therefore a video was played only at the quality level initially selected (No Adaptive Streaming).
In case of KBS1, KBS2, EBS and TvN, 3 profiles (1 Mbps, 500 Kbps and 64 Kbps) are provided in an SD mode, allowing automatic bit rate switching depending on the network conditions while watching (Adaptive Streaming)
In case of MLB, no bit rate switching was supported while watching in an SD mode.
No differentiated charging for different quality levels.