2. Cases of Detach
A user uses LTE services after generating an EPS session and default EPS bearer through the initial attach procedures. In some cases, he may detach from the network once done using the services. In other cases, he may be detached by the network while still using services through the network, and becomes unable to stay connected to the network any more.
Once a user is detached from the network, all the network/radio resources allocated to the EPS session and bearer established for the user are released. This release will delete the user's MM context and EPS bearer that have been set to the EPS entities (UE and network nodes). At this time, the EMM state transits from Registered to De-Registered. If the user is properly detached, GUTI, a NAS-level user ID, and the security context that he used to access the network are kept valid in the UE and the MME, so that he can use the same in his next access to the network.
Detach can be triggered by UE or a network. Network-triggered detach is caused by either MME or HSS. Detach can be categorized as one of the following cases depending on where detach triggering is detected:
1) Detach Case 1: UE-initiated Detach
UE can initiate detach:
if UE is turned off
if a USIM card is removed from UE
if UE is attempting to use a non-EPS service (e.g. CS fallback, SMS, etc.)
2) Detach Case 2: MME-initiated Detach
MME-initiated detach can be further divided into explicit detach and implicit detach. In case of explicit detach, MME notifies UE of its intent to detach in advance by sending a Detach Request message, and informs the UE whether it has to attach the network again or not after detach. In case of implicit detach, however, the MME initiates detach procedures without notification (i.e. without sending a Detach Request message) because the UE is not capable of communicating with the MME. MME can initiate:
i) Explicit Detach
for an operator's O&M (Operation & Maintenance) purposes
if re-authentication fails
if it cannot provide the resources allocated to a user
ii) Implicit Detach
if it is not able to communicate with a user because of poor radio link quality (e.g. radio link failure)
3) Detach Case 3: HSS-initiated Detach
HSS can initiate detach:
if the user profile provisioned in HSS is changed, and thus the one saved in MME also has to be changed
if an operator is trying to restrict access by an illegal UE (e.g. a stolen device) to its network
The next three chapters (III, IV and V) describe different detach procedures required in the three detach cases mentioned above. In all three cases, it is assumed a user is in EMM-Registered, ECM-Connected and RRC-Connected state before detach, and services are provided through the default EPS bearer only. Figure 1 illustrates what connections are established, and in what state UE and MME are in user/control planes before and after detach. Before detach, a default EPS bearer and its related control connections are established, and the user is in EMM-Registered, ECM-Connected and RRC-Connected. Then, after detach, the default EPS bearer and all the signaling connections are released, and the user enters EMM-Deregistered, ECM-Idle and RRC-Idle state.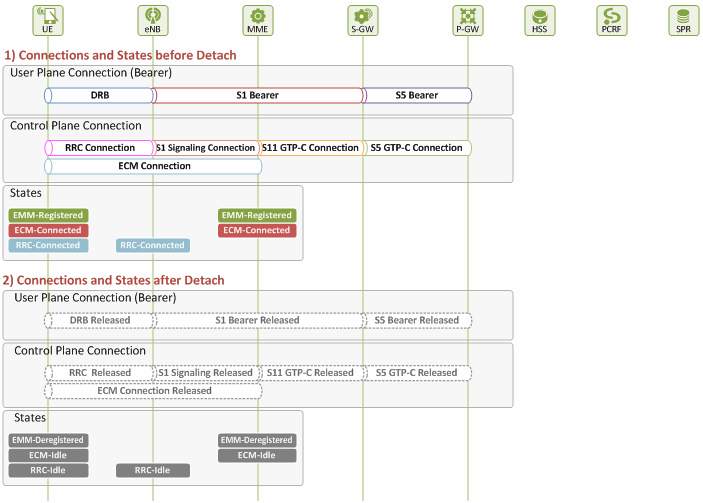 Figure 1. Connections and States before/after Detach