2. Cases of Service Request
When a UE is still registered at a network, but its S1 connection is released due to inactivity, the UE has no radio resources available. That is, the UE is in EMM-Registered, but ECM-Idle state. If, at this time, new traffic is generated from the UE, or from the network to the UE, the UE requests the network for services, transmitting to ECM-Connected state. Then an ECM connection (RRC + S1 signaling connections) and E-RAB (DRB + S1 bearer) are setup in the control and user planes, respectively, allowing the UE to receive or send traffic. In case the network is sending out traffic to a UE, it first informs the UE of such intent so that the user can request for services.
When the UE has new traffic to send, or learns about the network's intent to send new traffic, it sends the MME a Service Request message, transmitting to ECM/RRC-Connected state. Then the UE, by using the allocated radio and network resources, can receive or send traffic. Service requests can be triggered by a UE or by a network, and can be categorized as follows depending on where the new traffic is generated:
• Service Request Case 1: UE-triggered New Traffic
When there is uplink data to be sent from UE to the network
• Service Request Case 2: Network-triggered New Traffic
When there is downlink data to be sent from the network to UE
Figure 1 shows the connections established in the user and control planes, and the states of UE and MME, before and after the service request is made. Before the service request, the user is in EMM-Registered and ECM/RRC-Idle state. Thus, only the resources allocated by EPC are kept unreleased while those allocated by E-UTRAN are already released. In the control plane, S5 GTP-C and S11 GTP-C tunnels remain active while the ECM connection is lost. In the user plane, the S5 bearer and the uplink S1 bearer are kept active while the downlink S1 bearer and the DRB are released.
After the service request, the UE, now with the allocated E-UTRAN resources, is in EMM-Registered and ECM/RRC-Connected. Also, we can see all of the bearers and connections in the EPS bearer (i.e. DRB, S1 bearer and S5 bearer) and the signaling connection (i.e. ECM connection, S11 GTP-C and S5 GTP-C tunnels) are now established to support traffic delivery between the UE and the network (UE through P-GW).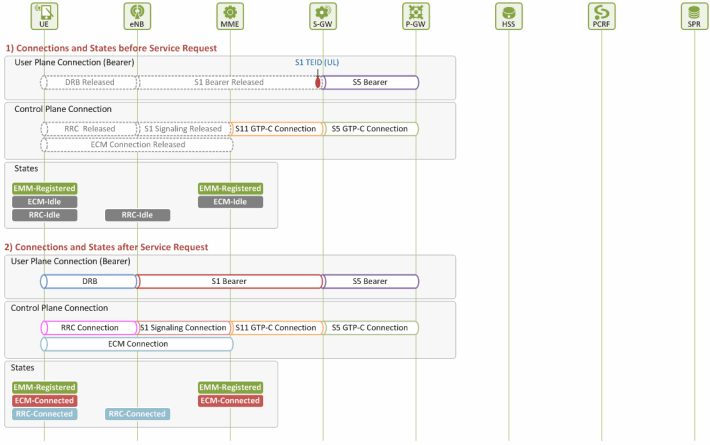 Figure 1. Connections and States before/after Service Request