1. Introduction
In the previous document, "Part I, LTE Identification I" [1], identifications of UE and ME have been described.
This document (Part II, LTE Identification II), as the second document for LTE Identification, explains Network Equipment (NE) and location IDs. Some of the NE to be identified and covered in this document includes eNB, MME and P-GW, which are all EPS entities. Also, a cell - the area covered by an antenna installed in an eNB1 - is discussed with these NE as well. Location IDs include IDs that identify the location of a UE. UEs are registered at TA level in the network. So, TA related IDs are described in this document as location IDs.
In Chapter 2 and Chapter 3, NE IDs and Location IDs are described respectively based on the classification in [1].
In Chapter 4, the overall features of these IDs are briefly summarized.
The scopes and types of the IDs to be dealt with in this document are shown again in Figure 1 and Table 1 previously presented in [1]. The IDs enclosed in dotted boxes (ECGI, TAI) are delivered from the eNB to the PCRF (Policy and Charging Rule Function) in case the policy of an operator requires the eNB to report the location of the UEs that belong to the eNB.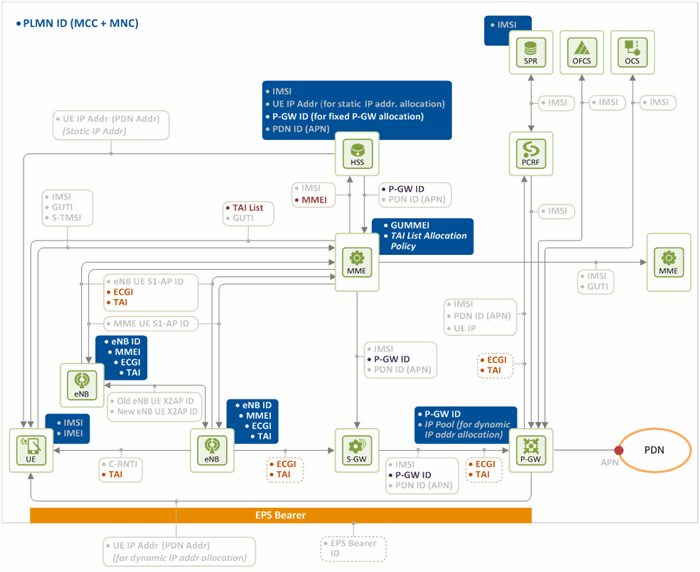 Figure 1. LTE Identification [1]
Table 1. Classification of LTE Identification [1]