LTE evolved Packet Data Gateway (ePDG)
The SMEC LTE ePDG (evolved Packet Data Gateway) is designed to provide seamless integration of WiFi as a subset of LTE RAN with purpose-built hardware platform and/or scalable COTs server based platform which provides mobile operators with the capability to securely and cost effectively integrate untrusted Wi-Fi networks to the mobile packet core, including IMS core networks, using 3GPP ePDG (evolved Packet Data Gateway) for 4G LTE networks.
SMEC LTE ePDG is a carrier-grade, highly scalable, reliable and comprehensive security solution ideally suited for service provider, supporting various authentication and seamless handover voice and video calls between WiFi and LTE networks.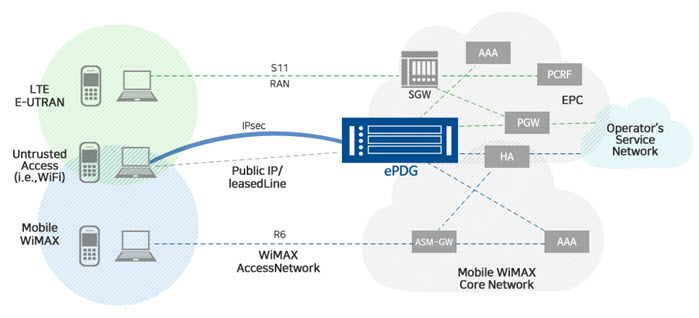 •
3GPP Standard ePDG Solution
•
SWu interface to interwork with WiFi attached UE
•
SWm interface to interwork with 3GPP standard AAA
•
S2b interface to interwork with PGW
•
Hardware-based packet processing engines
•
Scalable COTS Server-based / ATCA standard platforms
•
Multi-tier redundancy ensuring carrier-grade 99.999% availability
Mobile Data Traffic Explosion
With the explosive growth in mobile data traffic, driven by smartphones and tablets, operators are scrambling to deploy solutions to meet the growing demand. While the deployment of Long Term Evolution (LTE) networks has relieved some of the pressure, that alone will not be enough to meet the coming tide created by even higher-definition (HD) video streams and voice over LTE (VoLTE) services.
And while there is no single "silver bullet" solution that will solve everything, there are a number of options available for operators to choose from, such as small cell, WLAN integration, etc. The real question is "How can the operator launch these services economically and without significantly impacting the existing network?"

Introducing SMEC Evolved Packet Data Gateway
The SMEC Evolved Packet Data Gateway (ePDG) enables operators to integrate their 4G Long Term Evolution (LTE) and untrusted access networks that require security, such as WiFi.

Security and Mobility Protocol Support
The SMEC Evolved Packet Gateway(ePDG) establishes secure IPsec tunnels between UE & ePDG via WiFi access network while using IKE to authenticate subscribers through the DIAMETER / RADIUS AAA server connected via Diameter or RADIUS. Using GTP or PMIP connections to the P-GW, the ePDG provides mobility support as the subscriber roams between WiFi and LTE network, across WiFi networks(MOBIKE).

Performance and Hardware
Available in a variety of standards-based Advanced TCA(ATCA) chassis and COTS server platform, the SMEC Evolved Packet Gateway(ePDG) is a highly scalable solution that can seamless range up to over 100 Gbps of IPsec throughput and over a million of concurrent IPsec tunnels.
A NEBS3 compliant solution, the SMEC Evolved Packet Gateway(ePDG) offers fully redundant architecture assuring no single point of failure and guaranteeing five nines (99.999%) high availability.
Benefits
By allowing operators to seamlessly integrate their WiFi access networks with their 4G core networks, the SMEC Evolved Packet Data Gateway(ePDG) enables operators to increase their available bandwidth without deploying additional base stations and to improve their service quality without additional investments. In addition, with its high performance and compact form factor, the ePDG provides comparable performance to larger solutions available on the market, meaning a significantly reduced early stage initial investments (CAPEX). And its efficient design cuts down on the cost of operation (OPEX).

Summary
The SMEC Evolved Packet Data Gateway(ePDG) is the ideal solution for operators seeking a cost-effective solution to securely integrate their WiFi access and 4G core networks.
Specification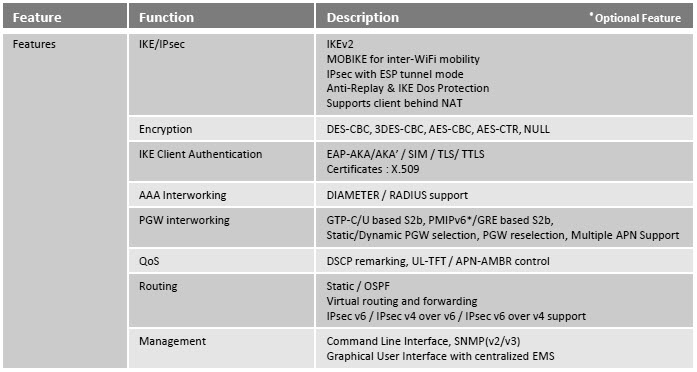 Contact Informations
1462-7 HCN B/D 5F, Seocho-dong, Seocho-gu, Seoul, South Korea, 137-070
TEL: +82-2-581-7384
E-MAIL: connie@esmec.com, tbkim@esmec.com