1. Traditional RAN Architecture and Issues
1.1 Issue No. 1: Degraded service quality and network performance due to inter-cell interference
1.2 Issue No. 2: Increased costs of building and operating cell sites
2. Degradation of service quality and network performance due to inter-cell interference: Prevented
by reducing X2 distance
3. Costs of building and operating cell sites: Reduced by BBU Centralization (C-RAN)
The past few years have seen smartphones rapidly gain popularity and become one of the most loved daily essentials, especially with all of their ever-advancing multimedia processing features. Due to these advanced technologies behind mobile devices, the size of contents (video, music, picture, etc.) that users can enjoy on the devices are growing bigger and bigger every day (e.g. for videos, resolution SD (480p) → HD (720p) → now Full HD (1080p), and encoding rates, 500Kbps → 1Mbps → 2Mbps → now 4~8Mbps).
Because of this growth, data traffic in mobile operators' network is soaring, and will do even more so from now on (This is not the same with voice traffic, which has already declined drastically compared to data traffic that is big-sized and steadily increasing).
Then what about the network?
In the previous voice traffic-centric networks, securing coverage for uninterrupted voice services (so that phones can pick up signals) was the most important issue. However, in today's LTE/LTE-A networks that put more focus on data traffic, increasing network capacity to ensure reliable and high data throughputs (rate, Mbps) has become the No. 1 priority. So, now it's clear. It's not coverage, but capacity.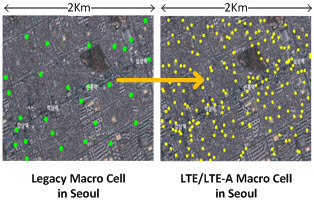 To cover soaring data traffic, network capacity needs to grow as well.1 To this end, LTE/LTE-A macrocells are getting smaller (In some metropolitan cities of Korea, the radius of an LTE/LTE-A cell is merely several hundred meters long). And this results in:


more inter-cell interference, and


higher cost (Capex/Opex) of building and operating smaller and more cell sites.
With these changes, mobile network architectures have evolved to deliver reliable and high quality services to users, and at the same time to reduce the costs of investment in networks. So, it would be worthwhile to look into these trends here in this post.
1.Traditional RAN Architecture and Issues
1.1 Issue No. 1: Degraded service quality and network performance due to inter-cell interference
In LTE/LTE-A networks that use OFDM for wireless access, a mobile device in the border areas of cells, experiences inter-cell interference caused among the neighbor cells that use the same frequency. This of course results in quality degradation.
In order to prevent such quality degradation, CoMP (Coordinated MultiPoint) technology is employed in LTE-A networks. This technology allows each base station to schedule its radio resources in a way that minimizes interference, by exchanging current status information about its devices with its neighbor stations in real time over X2 interface. As a result, the service quality of the device as well as the network performance can be upgraded.
In order for the CoMP to work as designed, a base station must deliver the Channel State Information (CSI) of all the devices in each cell within the station's coverage (for example, information on what radio resources are currently used by each device, how strong or weak the signal that the base station sent is received by each device, and how severely each device is interferred by its neighbor cells, etc.) to the neighbor base stations in real time. If it is not delivered in time, the station's scheduling would be based on outdated and thus meaningless information, failing to achieve significant quality improvement (In the example in Figure 1, 4≠10. If so, it would rather be better not to use CoMP).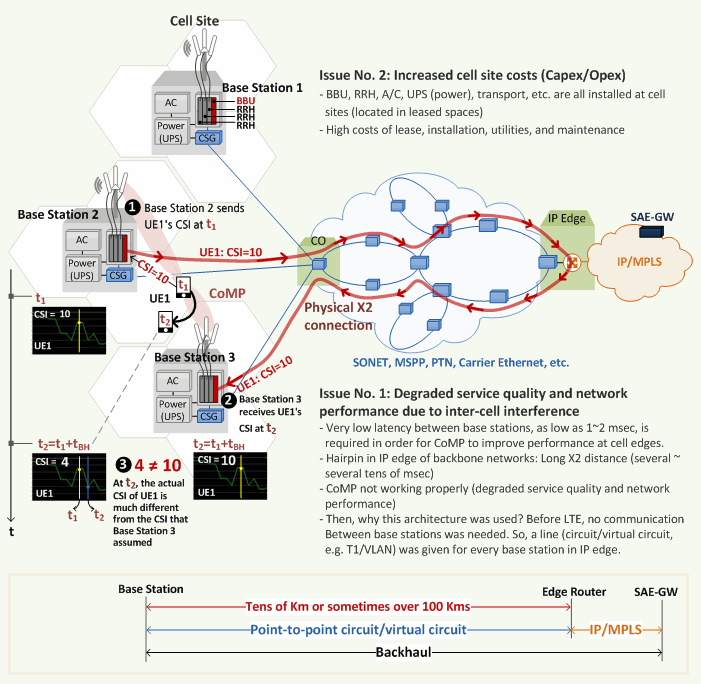 Figure 1. Traditional RAN Architecture and Issues
Especially while a mobile device is moving from place to place, this CSI value changes very fast. So, the latency caused when two base stations exchange the information over X2 interface (X2 delay) should be minimized.
As radio resource scheduling is performed at an interval of 1 ms (which corresponds to the LTE subframe duration), X2 delay of 1 ms would work the best, theoretically.
In the traditional RAN architecture as seen in Figure 1, base stations are located at cell sites, and layer 1 or layer 2 backhaul network, such as TDM, MSPP, PTN, carrier ethernet etc., aggregates base station traffic to IP edge (e.g., router)
In a network with this type of architecture, X2 traffic generated at one base station must be sent through this long backhaul network, and on to IP edge. Then there, the traffic is routed to a base station in the neighbor cell site through the same backhaul network. In general, a base station is tens of kms or sometimes over 100 kms away from IP edge, and there are many hops between them for the traffic to pass.
Thus, X2 delay in this architecture can easily be as high as several ~ tens of msecs, making it very unlikely for CoMP to improve performance at cell edges.
Being based on a long X2 delay is like assuming today's weather will be nice because it was so a week ago, and being based on a short X2 delay is like assuming the same because it was so yesterday.
Therefore, in LTE-A networks, it is inevitable to re-design the backhaul network architecture to ensure minimized the X2 delay.
1.2 Issue No. 2: Increased costs of building and operating cell sites
The traditional RAN has a standalone base station where both Digital Unit (DU) and Radio Unit (RU) are installed at a cell site. Also it is generally installed inside of the medium or large scaled building for stable power supply and air conditioning.
Because of these natures, each cell site must have a base station installed, AND each station must have its own power supply system, A/C, etc. Of course, the more devices and facilities there are, the more spaces and thus the higher costs are required.
In addition to that, installation costs (civil works, labor charges) are increased, network installation takes longer, and monthly electric bill climbs as well.

It will cost N (No. of cell sites) times more.
And that means soaring Capex/Opex costs for building and operating a nation-wide network are unavoidable. Besides, as the network evolves into 4G, 5G and so on, the size of each cell is becoming smaller. Smaller cells mean, to mobile operators, more cell sites to build and operate. And more cell sites means more money.
Let's take a look at the RAN architecture that is designed to reduce X2 delay for improved LTE-A radio performance.
2. Degradation of service quality and network performance due to inter-cell interference: Prevented by reducing X2 distance
3. Costs of building and operating cell sites: Reduced by BBU Centralization (C-RAN)