I recently heard someone in the industry saying "While LG U+'s Vice President Sang-chul Lee is into IoT, KT's Chairman Chang-kyu Hwang is so into 5G. Whatever solution you propose, if it is for KT, it has to have "5G" in its title to, at least, get attention." Of the Korea's big 3 operators, KT has been most aggressive in sharing its strategies, network architecture, core technologies, etc. related to 5G throughout the year.
2015.10.07: Future network strategies for 5G service, DCC 2015

2015.09.17: KT's Perspective on 5G, 3GPP 5G RAN Workshop

2015.09.10: Innovations and Changes towards 5G, 5G vision forum

2015.07.16: KT's 5G Vision & Partnership towards 5G, MWCS 2015

2015.06.08: KT's View on IMT-2020, ITU-T FG on IMT-2020
As the company's big picture of 5G is getting pretty clear over time, it would be worthwhile to look into it based on what has been shared so far.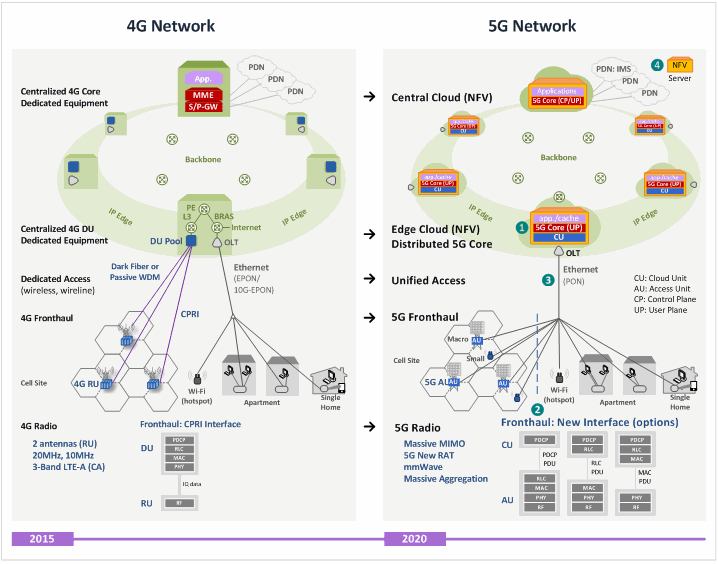 Figure 1. KT's 5G network architecture
ToC
1. Distributing 5G core close to cell sites: More core nodes in the edge
2. 5G RAN: Re-designing of C-RAN and Fronthaul
3. 5G access network to unify wireline and mobile access
4. Software-centric Architecture: 5G RAN and 5G core to be implemented as software on commercial servers

1. Distributing 5G core close to cell sites: More core nodes in the edge

4G LTE network today can be divided into two parts: RAN (eNB) and core network (S/P-GW and MME), and core network is in charge of mobility, authentication and charging. This means all mobile communication traffic has to pass this core network to access services (i.e. Internet or operators' application servers). Currently, KT's core nodes are located in two sites - in Guro and Hyehwa - both in Seoul.

KT's plan for 5G is to distribute these core nodes to over tens of edge nodes that it is operating across the nation. 5G core (or Mobile Core Unit as called by KT) is generally divided into MCU-UP (Core - User Plane) in charge of bearer delivery, and MCU-CP (Core - Control Plane) in charge of control functions. According to the KT's plan, MCU-CP will stay where it is - in the central cloud (NFV) - but MCU-UP will be distributed to its tens of edge nodes nationwide and be installed in edge clouds (NFV).

Then, why KT wants to distribute its 5G core, and turn its centralized core network into a flat and distributed core network? Here is why.
If the core network where bearers are terminated moves down, close to cell sites, application servers follow, naturally.

5G will allow everyone to communicate at the speeds of 1 Gbps, and thus traffic generated from Radio Access Network will skyrocket. Once the core is distributed to local areas, and a variety of associated application servers (e.g. video cache) are moved down along with it, backhaul traffic will significantly decrease, thereby bringing down backhaul investment costs as well.

5G network is supposed to be able to provide ultra-real time services like real-time remote control, auto-driving vehicle, etc. These types of services may cause much lesser traffic than video, but require ultra-low delays - as low as just a few ms of end-to-end delays. These low delays can also be achieved by moving core functions/units closest to users, and placing ultra-real time service servers right where the core functions/units are located.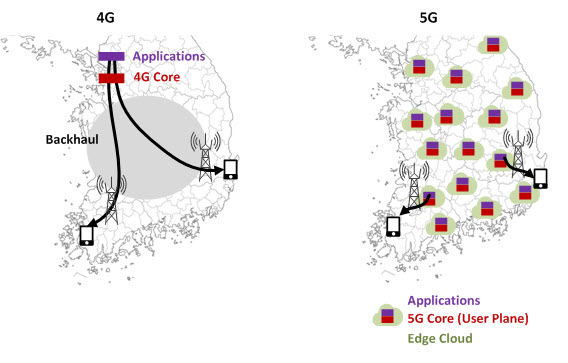 Figure 2. 5G era envisioned by KT - Core nodes (user plane) distributed to tens of edge nodes nationwide
Now, we wonder, "Then will all bearers be terminated at these distributed core units? And so the central core network will no longer exist?" According to KT, not all application services will be served by distributed core units, and where they are served will be determined in fact by what type of applications are served.
The company confirmed, "For example, IMS service will continue to be handled by the central core while ultra-real time services, like real-time remote control or auto-driving vehicle, and video cache will be handled by distributed core units."
So, MCU-CP and MCU-UP will stay in the central cloud, but MCU-UP will be distributed in edge clouds across the nation as well.


2. 5G RAN: Re-designing of C-RAN and Fronthaul

In KT's LTE C-RAN, Digital Unit (DU) and Radio Unit (RU) are connected via dark fiber or passive WDM, and the two units exchange data through CPRI interface. Currently, baseband signals, IQ data, are transmitted between DU and RU, and this requires a tremendous CPRI capacity - over 16 times more than delivered in the form of IP packets. (See Required CPRI link capacities required in the Fronthaul when using different radio technologies (LTE BW, number of antenna, etc.)).

Once 5G era begins and radio capacity expansion technologies like Massive MIMO, mmWave, New RAT, etc. are used, CPRI capacity of tens or hundreds of Gbps will be required per RU (See Mobile Network Architecture for 5G Era - New C-RAN Architecture and Distributed 5G Core).

To address surging costs of CPRI-based fronthaul to be caused because of drastically-increased ultra high capacity of 5G base station, measures have been proposed: i) CPRI (IQ data) compression, ii) CPRI over Ethernet, iii) Analog Radio over Fiber, and iv) function split between DU and RU, etc. KT is specifically looking into the option No. iv) splitting functions between two units. According to a KT representative, KT is now re-defining functions of DU and RU in the current C-RAN, particularly aiming to move baseband functions originally handled by DU to cell sites, and is testing the 3 options shown in ❷ in Figure 1.

With baseband functions moving down to cell sites, KT now uses new terms Cloud Unit (CU) and Access Unit (AU) instead of DU and RU. CU will be installed in edge clouds as virtualized software (commonly known as vRAN) while AU will be installed in cell sites as hardware.

3. 5G access network to unify wireline and mobile access
4. Software-centric Architecture: 5G RAN and 5G core to be implemented as software on commercial servers