Korea Communication Market Data

Pay TV: Pay TV Subscription and Market Share in Korea
| | | |
| --- | --- | --- |
| | Download PDF File: | |
1. Pay TV subscribers in Korea - by platform, 2001 - 2017

2. Pay TV subscribers in Korea - by provider, 2008 - 2017

• Pay TV Platform: IPTV, Cable TV and Satellite TV

• Data: Korea Communication Commission (KCC), MSIT (Ministry of Science and ICT)
| | | |
| --- | --- | --- |
| 1 | Pay TV Subscribers in Korea - by Platform, 2001-2017 | |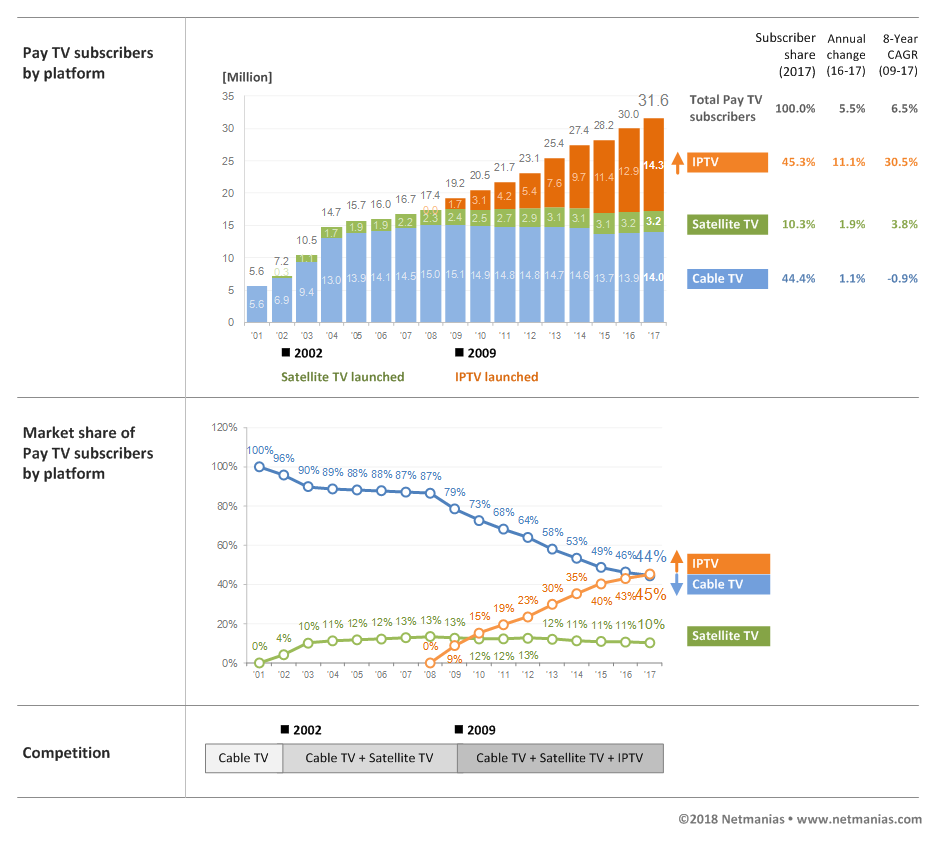 Sources: Korea Communication Commission (KCC), Ministry of Science and ICT (MSIT)
Notes: The number of multi-provider customers who subscribe to more than one pay TV service was duplicated when counting. Business customers (offices, accommodations, etc.) were counted in as well. Figures used in the subscription statistics were based on the number of outlets (i.e. STBs), not households. In accordance with "Notification on verification of subscriber number of Pay TV service" by Ministry of Science and ICT, of all OTS (Olleh TV Skylife: a product that combines KT's IPTV and Skylife's Satellite TV) subscribers, a half of them was considered as KT IPTV subscribers while the other half was calculated as Satellite TV subscribers.
| | | |
| --- | --- | --- |
| 2 | Pay TV Subscribers in Korea - by Provider, 2008-2017 | |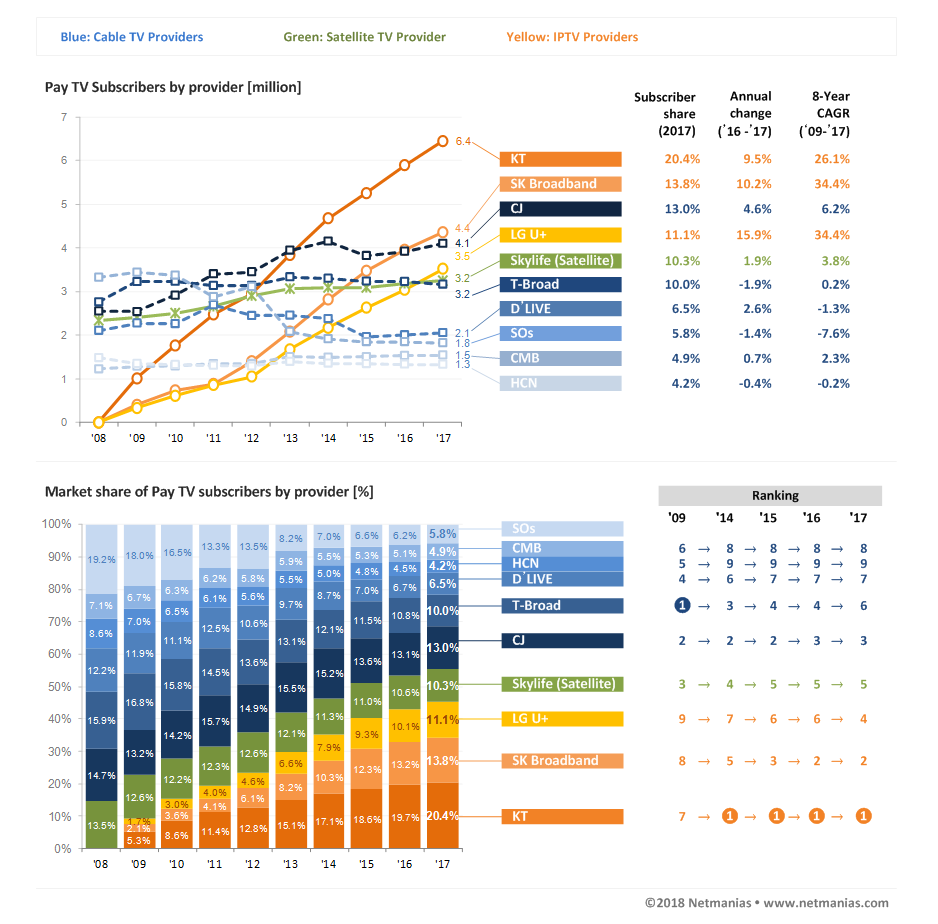 Sources: Korea Communication Commission, Ministry of Science and ICT
In the Pay TV market, KT has remained the No. 1 with the highest market share since 2014. As of 2017 Q4, the company has 6.4 million subscribers, which accounts for 20.4% of the total pay TV subscribers in the nation.
CJ had the second highest share in 2015, but then was outpaced by SK Broadband a year later. Another IPTV provider, LG U+, ranked No. 4 in 2017 Q4, but is predicted to overtake CJ soon within a few years, helping the big 3 telcos to position themselves as the big 3 in IPTV as well.