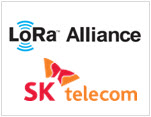 SK Telecom to host a LoRa Alliance meeting in October, driving global standardization
08/13/2016 | By Netmanias
SK Telecom announced it is hosting a global meeting of the LoRa Alliance, an open, non-profit association for promotion of the IoT standard, in Seoul in October, to position itself as a leader in the initiative for making an roaming system for LoRa network, etc. as global standards.
SK Telecom to bring IoT global roaming via LoRa network
07/16/2016 | By NETMANIAS
SK Telecom attended 'South Korea and EU IoT Partnership Conference', held in Nice, France on 12th through 14th, and proposed the cooperation between the two regions to develop a LoRa network roaming system. The proposed system will lead to introduction of various services including location tracking service for international baggage, and more.