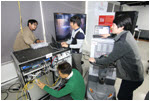 KT opened PyeongChang 5G center equipped with 5G-SIG-based base station/device and service trial equipment
11/18/2016 | By Yunhee Son
KT announced on the 17th that it opened the PyeongChang 5G Center in Alpensia Ski Jumping Center for successful provision of 5G trial services in 2018. A variety of 5G network equipment and devices like 5G-SIG standard-compliant base stations and antennas co-developed with global leading vendors are equipped in the center.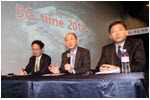 KT's 5G roadmap: Pilot service and standardization by 2018 and world's first commercial service by 2019
11/15/2016 | By Yunhee Son
KT said on the 8th that it would take the lead in global initiative to build 5G ecosystem. KT has actively partnered with global leading vendors in efforts of establishing common 5G specifications and verifying key 5G technologies and systems for introduction of the world's first 5G pilot service.