[Interview with Head of Network R&D Center at SK Telecom] SK Telecom to establish consortiums with global and domestic vendors to lead 5G era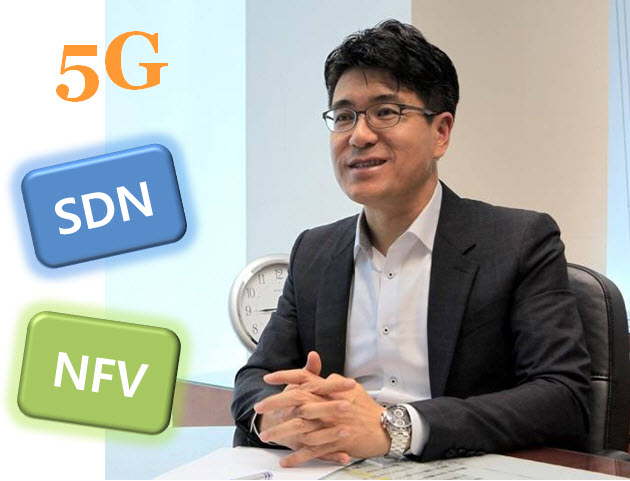 SK Telecom plans to prioritize efforts on implementation of Software Defined Network (SDN) and Network Functions Virtualization (NFV) from the second half of the year with the aim of taking the lead in 5G era.
The company is adopting a two-track strategy. It will cooperate with global equipment vendors while establishing consortiums with SMEs in Korea as well as startups in Silicon Valley, for successful application of SDN and NFV, commonly recognized as essential components of the next generation network, to base stations.
Jinhyo Park, Head of Network R&D Center at SK Telecom, shared the company's plan for SDN and NFV application in the coming 5G era.
He explained "Now that commercialization of SDN and NFV in the LTE core network is completed, we are now moving on to base stations. For virtualization of base stations, we will team up with global leaders, like Nokia and vendors in Silicon Valley, to create a Proof-of-Concept (POC)." He added "Partial application of SDN and NFV will be made to the commercial network in the second half of the year. If satisfying quality is achieved, the application can be expanded to 5G as well."
"For this, we plan to collaborate with Nokia to create a PoC, and establish consortiums with Korean SMEs and Silicon Valley vendors to facilitate introduction of innovative equipment in the end of the year or next year." He added "An approach of combining repeaters from Korean manufacturers with software from Silicon Valley can be adopted."
What the company is attempting to do is to maintain partnership not only with global players like Nokia, Samsung and Ericsson, but also with small-sized, but technologically-advanced vendors. To this end, SK Telecom is also considering partnership with technologically-skilled members of Telco Infra Project (TIP), which it founded with global IT leaders like Facebook for the coming 5G era.
He pointed out "We are to adopt an approach where best quality equipment including hardware, repeater, software, etc. is selected to make a base station, and merchantability is checked through POC. This kind of approach is required during this transition period." He added "SDN and NFV will become basic necessities right from the beginning in the coming 5G era."
He also noted "Many companies will be able to take some portions of market shares which are currently held mostly by major players in the market." "Opening of the SDN and NFV market will give new comers chances to enter the equipment market."
All these measures taken are believed to make the company ready for fully-fledged application of SDN and NFV to base stations from the second half of the year. Once they are applied, SDN/NFV software stack can run on any universal X86 servers, yielding excellent return on investment.
It has been a while since the company implemented SDN and NFV in the LTE core network, using equipment from Samsung Electronics, HPE, Telcoware, etc. It also completed a POC of a service platform co-developed with Cisco that provides a customized network, in its commercial network.
He explained "Implementation of SDN and NFV will give excellent flexibility in terms of network investment. So far, you had to purchase equipment and software together. But, now you can get any inexpensive, safe hardware of your choice, and use it with high-performing software from a Silicon Valley vendor."
What makes SDN and NFV different from existing solutions is that, unlike conventional network systems where hardware and software are inseparable, they allow hardware and software to be separable from each other. As it will be software that will primarily be in charge of controlling network functions, hardware will play a less important role, relatively. Operators will have flexibility in deciding how the two are combined. Also, virtualization of equipment functions will lead to enhanced network flexibility.
Once SDN-compatible environments are introduced, networks can be virtualized and sliced as needed. This means operators can divide their networks into multiple slices/layers, and customize them to offer best-optimized services to their customers.
He explained further "When it comes to utilizing resources, we will also be able to optimize them for different services like IoT, video, audio, etc. through virtualization, instead of having to use the whole resources." "For global roaming, for instance, we can provide our overseas partners with virtualized and customized slicing services so that our customers can still be served with the same quality service anywhere they go."