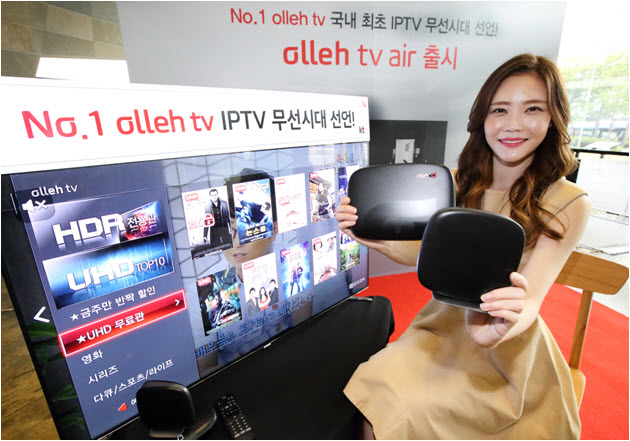 A model holds olleh tv air, currently available as an external device for modem or set-top box. A built-in version of the device will become available next year.
At a launching event for 'olleh tv air' held at KT Square in Seoul on the 18th, KT presented the nation's first innovative solution that lets users enjoy wireless IPTV service with UHD quality anywhere at home.
Wireless devices, like smartphone, tablet PC and laptops, provide great flexibility in where to use them. However, IPTV, a wired service, has poor flexibility in mobility because, to relocate IPTV, wiring work is required to connect the Internet modem and IPTV set-top box.
'olleh tv air' is a external device that allows for wireless connection between Internet modem and IPTV set-top box (up to 50 meter apart in general) via Wi-Fi. Unlike conventional IPTVs that leverage wired broadcasting, it uses wireless broadcasting, which eliminates the need of extra wiring work. So, users can now move IPTV anywhere they want without having to call AS team
The new olleh tv air service was made possible by the following three innovative 'GiGA technologies' of the operator:
Broadband UHD video traffic QoS technology that enables 'wireless' transmission of UHD video for the first time in the world
Wireless broadband wave-2 and automatic access technology that allows for reliable, giga-level data transmission
Smart channel selection technology that eliminates wireless interference with neighboring Wi-Fi, and automatically converts the Wi-Fi channel best optimized for IPTV first, providing seamless, uninterrupted service anywhere at home.
To make it even more mobile, olleh tv air was designed to be purposely compact, 12.0ⅹ12.5ⅹ3.1 cm, even with four built-in antennas. The operator plans to present a new model that features built-in olleh tv air in the set-top box and modem by the end of 2017.
Any standard olleh tv live plan subscribers can purchase the olleh tv air from any of the local dealers or customer centers of the company at KRW99,000 (USD88, VAT not included). It is available for free to new subscribers of a bundle plan (Internet and IPTV).
Vice President Hee-kwan Yoo at KT's Media Business Unit explained that "olleh tv air eliminates the mobility restriction IPTV used to have even in smart home environment. We are certain that it will become an innovative service that allows users to enjoy IPTV anywhere."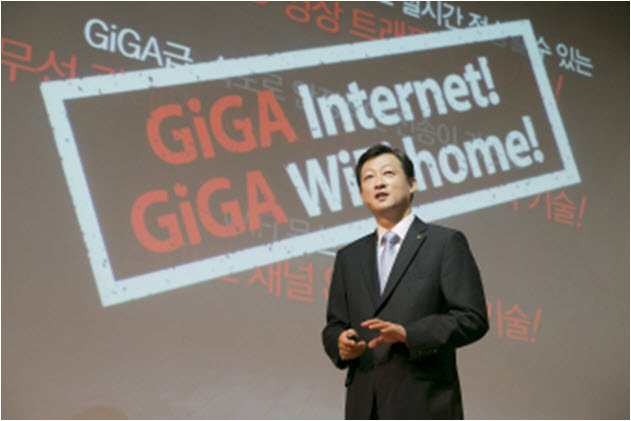 <olleh tv Evolution Milestone>