KT on the 30th August rolled out 'dovido', a how-to video platform designed to help anyone to make and generate revenues out of video content easily, and shared its strategies for content platform business at a press conference.
Making profits out of your own video got easier than ever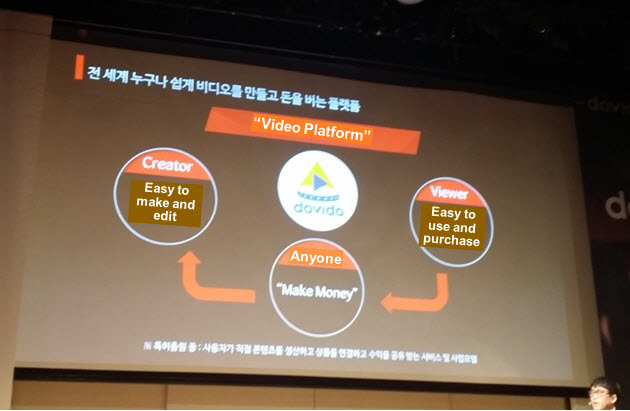 ■ KT's strategies for platform business
Unlike in the communication business, operators have to compete with IT companies in the platform business. KT aims to expand from the restricted domestic market to global markets, with focus on O2O, video and SNS – three areas found to have great potential in the mid and long term, and a low barrier to market entry.
Global Market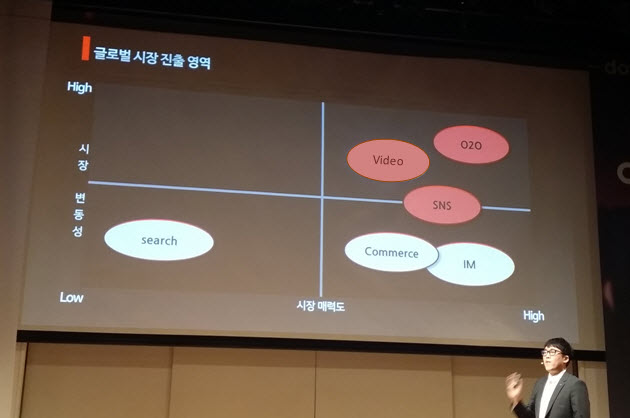 (x-axis: Marekt Potential, y-axis: Market Variability)
In July, KT launched an O2O service named '100C' targeting China, one of the biggest markets in the world with a population of 14 billion.
dovido (combination of 'do' + 'video' + 'do') showcased at the press conference is a video platform that offers a mobile one-stop studio which can be used by anyone, not just experts, to perform various tasks, from video-taping, editing, searching, to associated product commerce.
■ What brought dovido?
dovido was introduced because of changes in video content consumption witnessed recently.
According to Google's consumer survey (YouTube statistics) conducted in 2015, clips of 'how-to' video, like how to use a product and service, have increased by 70% year on year.
According to 'Key Consumption Trends in Global Mobile Video Markets' survey by STRABASE in 2015, UCC tutorial video content (29%) has risen to the fourth most popular content category, following music video (49%), humor (49%) and movie preview (41%).
■ Selling points
According to the company, the five selling points that would help it enter the market are:
Ease to make video content
Global video commerce
Wide range of revenue models
Interest-based video curation
Instant purchase
• Easy to make video content
dovido brings PC-based video making to mobile. It offers everything you need to produce a video, from video-recording guide, templates, subtitle, narration, to free background music, efficiently simplifying the entire content-making process of video-recording and editing, and practically allowing anyone to make videos themselves.
Selling point #1
Anyone can make video content like professionals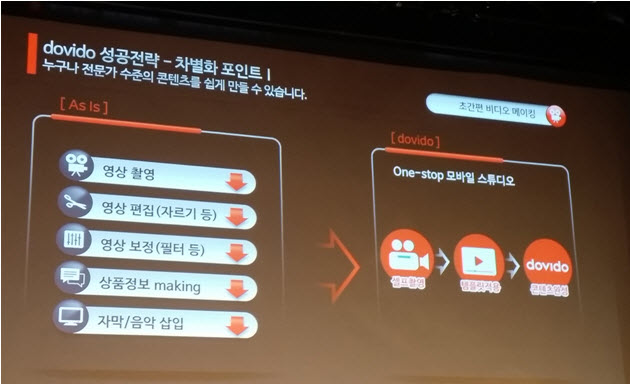 [As Is] >> [dovido]
Video taping One-stop mobile studio:
Video editing (cut, delete, etc.) Video taping >> Template use >> Content created
Video correction (filter, etc.)
Making product info.
Inserting subtitle/music
One of the biggest merits is the platform which makes video content making and editing so much easier compared to conventional ways where post-production editing is very challenging. Because dovido offers video editing feature, recorded content can be easily edited. The operator aims to compete YouTube as Instram outperformed Facebook with its amazingly mobile-friendly photo sharing platform.
​• Global video commerce
dovido lets anyone sell products to customers around the world even when they do not have their own online business or products to sell. If users select products displayed while they are editing their videos on the dovido platform and upload them, the selected products are displayed with Buy button next to them while the videos are being played.
In general, dovido is intended for open market, but KT has teamed up with Koreanmall and arranged beauty products and international shipping.
• Wide range of revenue models
To content providers, profits from selling products linked with their content are given in addition to ad revenues generated based on content views. Those who have gained certain level of popularity can create PPL video content that features products to sell, generating additional revenues.
Selling point #3
Additional revenues from product sales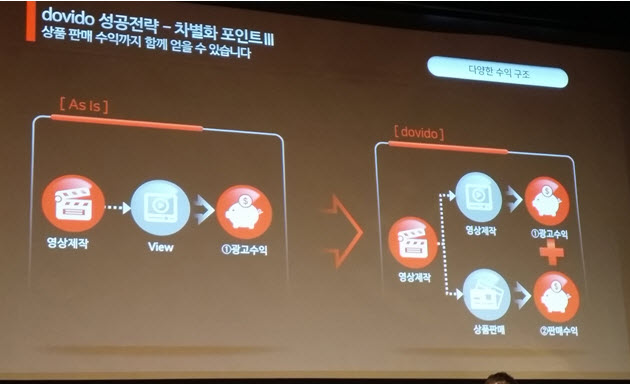 Video production >> Video production
--> advertisement sales --> advertisement sales + product sales
• Interest-based video curation
In addition, dovido offers powerful video search based on KT's big data analysis, and contents curation of KT Music genie and olleh tv. Unlike conventional video search, dovido provides a much easier and faster way to search videos by leveraging naration data stored in DB.
Selling point #4
Enjoy interest-based video faster and easier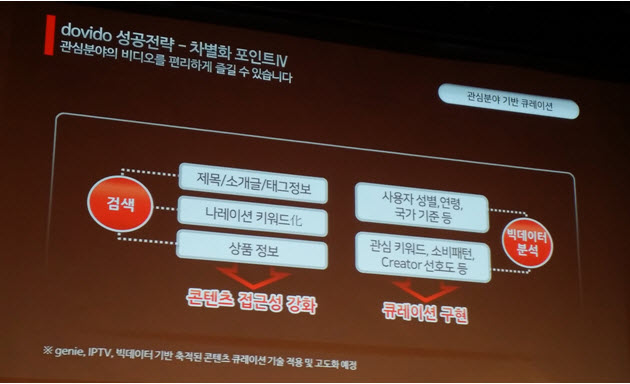 • Instant purchase
Viewers can purchase products while watching videos instead of searching and purchasing products after finishing videos.
Selling point #5
Instant purchase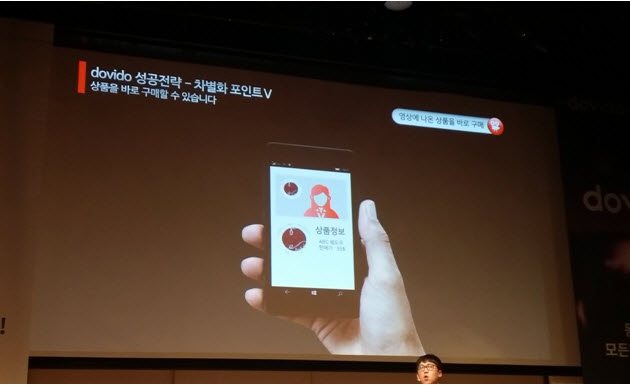 ■ Going global
Initially, Korean wave-related, 'K-beauty' video content will be offered mostly in China, followed by content relating to living, cooking, etc. over time.
■ Goal
KT aims to attract 10 million seed users in Asia by the end of 2017 first, and then 200 million users in North America and Europe by 2020 as it positions itself as a global player.
dovido roadmap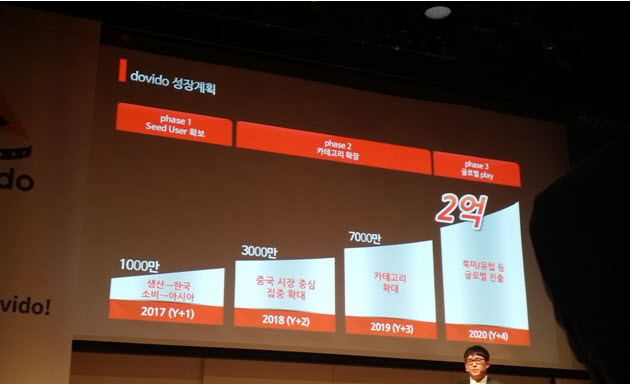 Hyungwook Kim, Director of Planning at the Platform Service Business Unit of KT, said, "For a platform provider, a global business model is a must, not an option, especially in the highly competitive and restricted domestic market." He added, "KT, with dovido , will establish a new growth footing that goes beyond the communications sector and continue to develop and promote promising platform businesses in the future."
dovido will become available to download from August 30 on Google Play, and from early September on Apple App Store.