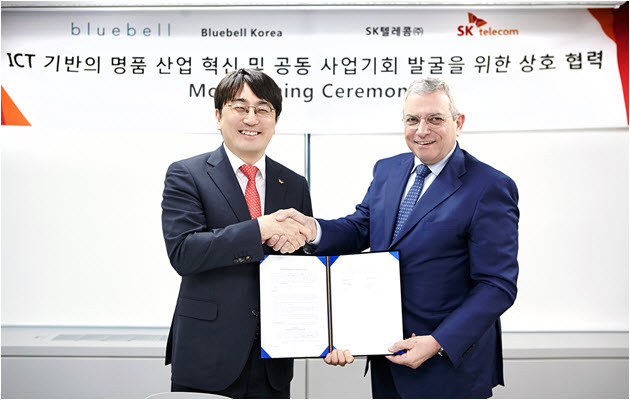 SK Telecom today announced that it signed a Memorandum of Understanding (MOU) with Bluebell Korea to cooperate for the development of new business opportunities by bringing cutting-edge ICT to the luxury retail industry.
The MOU signing ceremony was attended by Cha In-hyok, Executive Vice President and Head of IoT Business Division of SK Telecom, and Daniel Mayran, CEO and President of Bluebell Korea.
Bluebell Group is a leading operator of luxury brands in Asia, which also specializes in consulting. The group has eight branches in Asia distributing products from over 100 brands. Bluebell Korea is in charge of distributing luxury goods to duty free shops and shopping malls in Asia.
Under the MOU, SK Telecom and Bluebell Korea will work together to build an O2O (offline to online) platform to enhance travelers' shopping convenience; bring innovative changes to luxury goods stores and distribution channels; and develop luxury goods based on ICT.
In particular, SK Telecom plans to apply its industry-leading ICT – including its cloud-based digital signage platform 'Smart Signage' and IoT-based location tracking solution – to luxury brand stores and goods so as to increase customer loyalty and sales of luxury brands.
The luxury industry has so far strictly adhered to the craftsmanship of products and traditional sales channels – i.e. offline stores. However, a slowdown in market growth coupled with the rise of young, tech-savvy consumers who are taking up a growing share of luxury spending is driving new changes in the conservative industry.
"Through the MOU with Bluebell Korea, SK Telecom expects to bring innovative changes to the luxury market through the application of its state-of-the-art ICT including IoT technologies," said Cha In-hyok, Executive Vice President and Head of IoT Business Division at SK Telecom. "The convergence between ICT and the luxury retail industry will not only create new business opportunities for both parties but also deliver enhanced value and experience for customers."