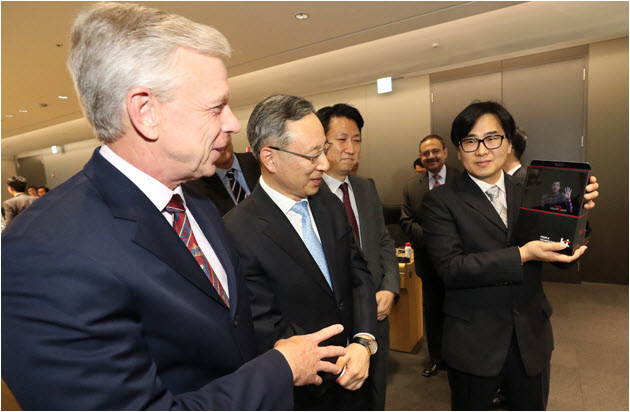 KT revealed that CEO Hwang Chang-Gyu and American Verizon CEO Lowell McAdam met on April 3rd afternoon at the KT Gwanghwamun building to present results of both sides from recent 5G cooperation and commit to continual cooperation on 5G technology.
Both sides showed a successful real time hologram video call via global interworking of 5G network for the first time in the world in this meeting. Inasmuch, they displayed results of 5G cooperation and presented the new paradigm of foreign and domestic 5G business models.
■ Demonstration of the World's First Korean-American 5G Network Internationally connected Real-Time Hologram Video Call
KT and Verizon succeeded in real-time hologram international video call by interworking 28GHz based 5G communications network dispatched each in Gwanghwamun and New Jersey with joint 5G standards. It was the first time in the world that a demonstration of real-time newly built commutation video call through international interworking of each different 5G network occurred.
KT and Verizon have jointly enacted 5G wireless access technology standards which is a core technology that defines the interworking of frequency, transfer system, terminals, etc. and base stations in their steady joint cooperation in the 5G field from last February. They are set to complete establishment of hardware standards soon and plan to discuss software standards.
It is expected that the actualization of technology which has undergone standardization with America's largest telecommunications carrier Verizon will have an important effect on leading competition for 5G international standardization. Furthermore, as both side's 5G global interworking was realized right after the adoption of 28GHz based 5G technology as the international standard at the past 3GPP Wireless Assembly, KT and Verizon revealed their wish for continual cooperation with each other for present technology standards.
Meanwhile, in this demonstration, AI terminals showed that it could also be used in the development of 5G technology as shown with KT AI TV Giga Genie being used for hologram video shooting.
■ Presentation of a New Paradigm Regarding the 5G Era's Everyday Use Business Model
The successful demonstration of this hologram has proved to the world that in an ultra-high speed, mass storage, low-delay 5G network environment, telecommunications service has no limits on its level of tangible development, and can even present the evolution of the future of communications.
When the low-cost, popular tablet that was used with a terminal for a 5G hologram video call between KT and Verizon CEO's and Verizon employees in the U.S. was compared with large size, high-cost, exclusive terminals of the past, the former proved to be far more conducive for everyday use.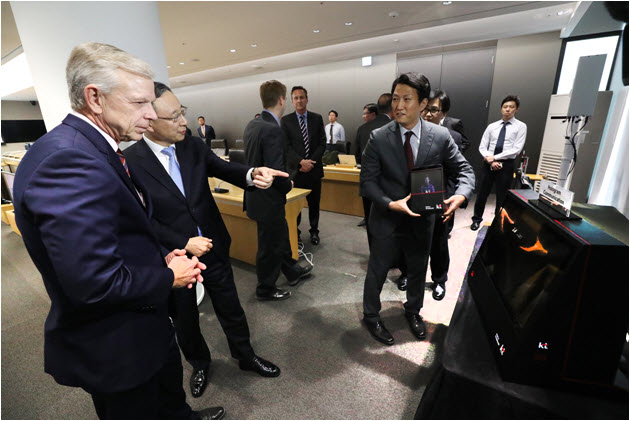 Also on this day, the global circuit component via both side's Orchestrator (a system that automates virtual network preparation, composition and management) interworking also succeeded for the first time in the world. A 5G core technology called SDI (Software Defined Infrastructure) made it possible for the international leased circuit component which currently takes an average of 10 days to build to be automatically composed in just 10 minutes.
In order to compose a leased circuit, many people personally went on-site and adjusted network and hardware equipment, requiring high cost and time consumption. However, if SDI technology were applied, the network equipment would be virtualized as a software base and the international network would be able to be composed speedily as a frequent invention in the center. It is predicted that with this bringing time and manpower and cost reduction innovation, change will be possible in the international circuit market.
Through this demonstration, KT and Verizon's SDI technology proved to reach a substantial level. Meanwhile, both sides defined communications carrier SDI Orchestrator interworking standards and realized interworking functions. Henceforth, they plan to jointly propose international standards for connection technology and push forward ecosystem expansion.
In the case that SDI technology will be commercialized, it is expected to bring a ripple effect industrially. According to market research firm SDxCentral, the market size for 2020 NFV/SDN is $105 billion (at least 117 group members). As such, it is predicted that there will be an economic effect that occurs through software virtualization technology actualization in the future.
On this day, both sides successfully showed services such as global leased circuit via global 5G interworking, hologram service and virtual software infrastructure interworking. As a result, they continued discussions on materialization of 5G era everyday use services.
■ KT CEO Hwang Chang-Gyu states, "Let's expand both sides' 5G technology cooperation to a level of service."
In January 2016, both KT and Verizon CEO's met at CES and exchanged aggressive cooperative intentions for the future infrastructure field arising from 5G. Afterwards in June 2016, they signed a "Future Infrastructure and Technology Cooperation MOU".
As both sides are telecommunications partners that strategically shared 5G standards, KT is putting in tremendous effort in PyeongChang Winter Olympics infrastructure building and various tangible services and solutions development with the 5G standards made public last year as the background. Verizon has planned trial services and began field tests in 11 regions including California to provide North America's first 5G commercial service with common standards via cooperation from both sides as the background. Meanwhile, both sides have continued 5G infrastructure and service excavation research.
With this type of cooperation as the foundation, KT CEO Hwang Chang-Gyu has not stopped at results thus far, but further extended existing 5G technology cooperation in order to expand and propose a 5G cooperation that will lead to commercial service development that can be experienced in everyday life in a 5G era. Following this, both sides have engaged in deep debate and agreed to simultaneously continue 5G technology cooperation and expand cooperation to a service field.
Verizon CEO Lowell McAdam stated, "Today, Verizon and KT showed various results that were made through recent cooperation. We will continue to work together in the 5G field to develop technology and service that will not be satisfied by present results and can lead 5G era global business."
KT CEO Hwang Chang-Gyu said, "5G commercialization in 2019 cannot be achieved by one corporation or country. Cooperation among leading businesses in the global mobile ecosystem is critical. We will present 5G technology and service that exceed mere network improvement and bring a whole new world, and show continual cooperation for Verizon and 5G commercialization."