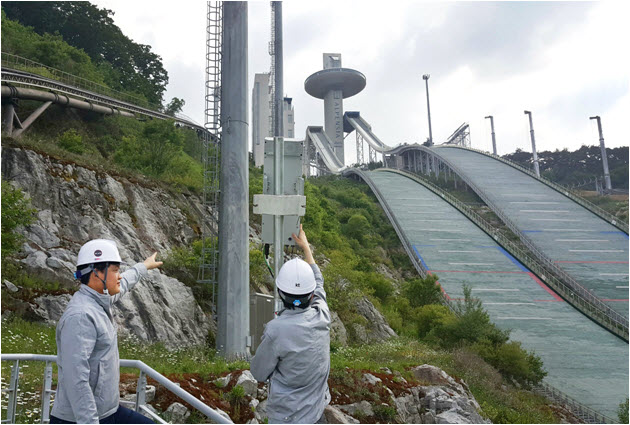 KT announced on July 5th that it conducted a field test of its latest solution '5G WTTx (Wireless To The x)', successfully providing 5G Giga Internet coverage in the ski jump tower located in the Alpensia Stadium where the 2018 PyeongChang Winter Olympic Games are to be held.
WTTx is a solution that enables 'wireless' data transmission in areas where data transmission usually takes place through 'optical fiber cables'. So the solution helps to offer Giga Internet speeds even in areas with no or little infrastructure.
In the field test conducted in cooperation with Samsung Electronics, KT succeeded in wireless connection of a 5G device located in the lounge at the ski jump tower of the Alpensia Stadium and its 5G base station located 420m away in 'PyeongChang 5G Center' built in the Alpensia main stadium, offering Giga Internet coverage with 5G WTTx solution.
Due to the building structure and difficult-to-access location of the ski jump lounge, installation of optical fiber cables was not an option, leaving the area with no ultra-high speed Internet access. 5G WTTx, designed to overcome the environmental limitations of the existing wired internet such as difficulty in optical fiber cables installation, is one of the key 5G solutions being developed by KT.
The company aims to further apply the solution to remote areas like islands and mountains across the entire nation.
Mr. Chan-Seok Seo, Senior Vice President and Head of Network Strategy at KT, said, "This field test paved the way for provision of 5G WTTx-based broadband communication infrastructure in remote areas like islands and mountains where typically Giga Internet communication infrastructure could not be secured. KT plans to develop various solutions like 5G WTTx in order to successfully launch 5G pilot service in PyeongChang and then commercial 5G across the nation in the future."