SK Telecom today announced that it has reopened T.um, its ICT experience center located at its head office building in Seoul, Korea.
The company has first opened T.um in November 2008 to provide a vision of future ICT by introducing futuristic technologies and services along with the latest technology trends. T.um has so far attracted 65,000 visitors from 178 different countries worldwide.
The newly upgraded T.um is divided into two exhibition halls, taking visitors on a journey to the emerging world of 5G (1F) and to a more distant future created by ICT (2F).
On the first floor, it showcases diverse technologies and services that are expected to be widely used in the upcoming 5G era. Visitors can experience virtual reality (VR) shopping via immersive media, a self-driving vehicle with 5G V2X (Vehicle-to-everything) capability, and devices built with artificial intelligence to control smart home-capable electronic appliances via voice commands. In addition, SK Telecom has set up a 5G base station to allow visitors to enjoy 8K 360° VR video transmitted, in real time, from a moving vehicle connected to the 5G network deployed around the head office building. Visitors can also get a chance to understand quantum cryptography communication, which will transform the security paradigm in the 5G era by providing the strongest-ever protection against hacking. The company is also displaying an ultra-small quantum random number generator (QRNG) chip prototype it successfully developed in July 2017.
VR shopping via immersive media
On the second floor of T.um, visitors time travel to the future. Through a ride in a Hyperloop train, they arrive at a virtual futuristic city named 'Highland,' where serious environmental pollution and social problems had been overcome with ICT. Visitors are invited to perform important missions as they move through diverse zones, including Space Operation Center, Hologram Conference Room and Teleport Room, to experience first-hand how ICT can contribute to resolving problems the earth and the humanity could face in the future.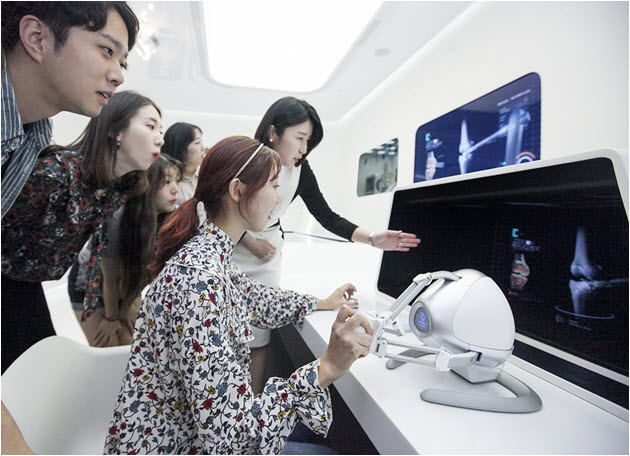 Teleport Room
"Built with the most-advanced technologies, T.um invites visitors to experience in advance the innovative changes soon to be brought to their lives by 5G, as well as many futuristic technologies that hold the power to address problems that the humanity could face in the future," said Lee Joon-ho, the Vice President and Head of New Media Office of SK Telecom.
Visitors can make reservations online at http://tum.sktelecom.com to experience T.um. Those who wish to visit only the first floor of T.um are not required to make reservations.