SK Telecom Presenting Its Newest Social VR Innovation 'oksusu Social VR' at MWC 2018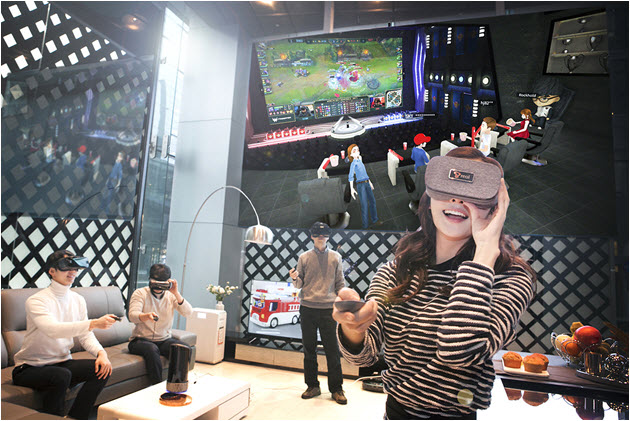 SK Telecom announced today that it will introduce 'oksusu Social VR,' its newest VR innovation enabling users to engage with video content and interact with each other inside the virtual world, at the Mobile World Congress (MWC) 2018 to be held in Barcelona, Spain, from February 26 to March 1.
'oksusu Social VR' is an innovation complex of Virtual Reality (VR) technology and the real-time community feature of SK Telecom's award winning media platform service 'oksusu,' enables users to watch video content with peers all around the world and share words with each other in the virtual space.
SK Telecom, as the leader in New ICT, is planning to expand the innovation success in other fields to provide extended VR experiences in shopping, music sharing, concert attendance and more as 5G becomes a reality in everyday life.
• Concert enjoyed in VR gathers all fans around the globe - Communication that transcends space
'oksusu Social VR' offers a 80-inch full HD equivalent content view in the virtual world. SK Telecom is expecting an upgraded image quality when 5G era approaches enabling ultra-high-speed data transmission, equipped with capabilities to provide 8K (7,680*4,320) video content which is the visual quality is 16 times greater than the current full HD.
In addition, 'oksusu Social VR' is formed in an interactive way where the user can invite other peers in the virtual world to share and jointly watch the content together. SK Telecom, in the upcoming MWC 2018, will be showcasing three different virtual spaces of the League of Legend (LoL) contest, SM concert video, and SK Wyverns(baseball) match.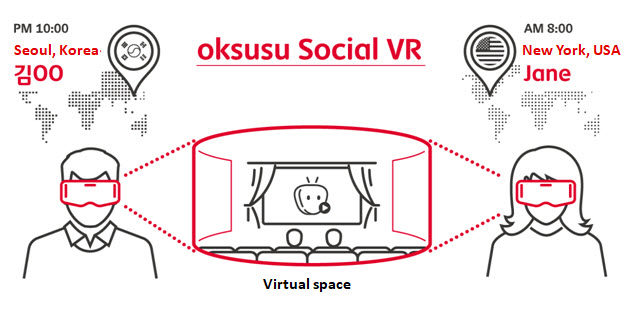 Also, SK Telecom has adapted 'T real Avatar framework' in the platform to have the avatars to smartly reflect the body movement, facial and emotional expressions in the virtual space. By applying the technologies, the 3D character will be able to implement all movements of the actual person, and more functions will be available in the near future such as appearance changes and more.
At the MWC 2018, the virtual world offered by 'oksusu social VR' can be enjoyed with VR devices including Samsung Electronics Gear VR and Google Daydream.
• Merging 5G and VR for Extended Interactive Content Platform, Watch European Football at your Doorstep
The VR platform is expected to create an incredible synergy with 5G and become a massive hit in the new ICT world.
Most of the VR content provided currently are pre-made content played whenever commanded. The real-time online VR content platform is not available because the limited high-speed communications network is unable to support the full VR environment.
Once the next-generation network, such as 5G, is applied to the VR platform, users will be able to enjoy high-resolution live streaming VR content in a real-time basis. For instance, a scenery of aurora from the north pole can be vividly presented via the VR platform, and a soccer match played in Spain can be enjoyed like if watching at the stadium.
Moreover, SK Telecom will be investing heavily in VR innovations to lead the interactive content creation that will maximize the VR experience in the upcoming 5G era. The company strongly believe that there will be explosive needs on the interactive content which offer an exceptional and innovative experiences of daily lives in the virtual world.
SK Telecom is planning on commercializing 'oksusu Social VR' in later of the year, and will expand the platform usage in commerce, advertisements, entertainment, and more other industries.