SK Telecom Wins 'Best Mobile Innovation for Enterprise' Award at GSMA Global Mobile Awards 2018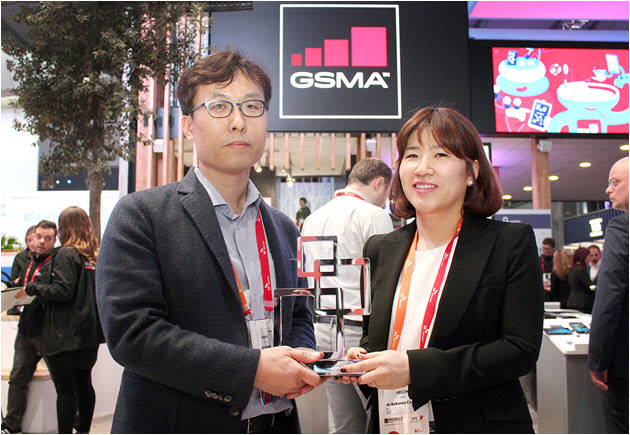 SK Telecom announced that its 'LiveCare' service was awarded 'Best Mobile Innovation for Enterprise' at GSMA Global Mobile (GLOMO) Awards 2018 at Mobile World Congress (MWC) 2018 held in Barcelona, Spain.
'Best Mobile Innovation for Enterprise' award recognizes the best product or service that can contribute to improving corporate productivity such as data management, service innovation, and security.
The awarded service, 'LiveCare,' is an IoT livestock management system jointly developed by SK Telecom and uLike Korea, which enables farmers to monitor and manage their livestock in real time.
By orally administrating a bio capsule embedded with an IoT communication module into the cow's first stomach (the ruminant stomach), LiveCare service helps farmers to monitor the body temperature and acidity level (pH) of cows to detect signs of illness, determine optimal timing of insemination, and recognize signs of calving.
The data measured with the capsule are sent to the server automatically through LoRa station, low-power IoT dedicated network, to be analyzed for specific patterns. Upon detecting abnormal health conditions, notifications are immediately sent to the farmer's mobile device or PC. Farmers with a data graph can conveniently track signs of a cow's body temperature change and breeding schedule through a mobile application anytime, anywhere.
SK Telecom received high praise for enhancing convenience in farmers' livestock management by combining IoT technology with the livestock industry and for laying a foundation for safer livestock management. The GLOMO Awards judges said "The winning application demonstrates the importance of combining innovative technology with a firmly grounded use case, with immediate and longer-term benefits"
Unlike other devices attached outside the body such as earrings and necklaces, LiveCare allows less risk of damage and higher accuracy in health check. Particularly, LiveCare is certified as oral administration animal medical device for the first time in Korea.
Huh Il-kyu, Senior Vice President and Head of IoT/Data Business Division at SK Telecom said, "This award is the recognition of SK Telecom's achievement in offering practical value to the customers by converging SK Telecom's IoT technology with other industries." Huh added, "We will expand our service to not only domestic stockbreeding farmhouses but to those all around the world."