KT Launches World's Fastest Mobile Service at S. Korea Starbucks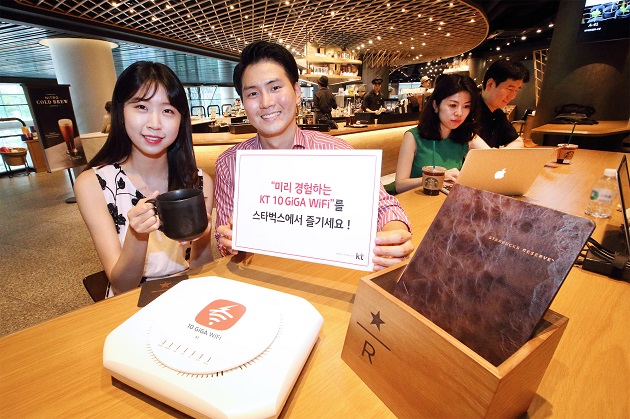 ▶ '10 GiGA WiFi' Utilizes KT's Latest Mobile & Internet Technologies
▶ More Starbucks with Ultra-Fast Service Will Soon Open Nationwide
SEOUL, South Korea (July 20, 2018) – In South Korea, premium coffee now comes with premium Internet. Starbucks' upmarket Reserve stores in the capital of Seoul are from this week supported by the world's fastest mobile Internet.
KT Corp. (KRX: 030200; NYSE: KT), South Korea's largest telecommunications company, is offering its '10 GiGA WiFi' service at Starbucks' three major Reserve stores across Seoul. The locations include Jongno Tower, Starfield Coex Mall and Gangnam Kyobo Tower. More Reserve stores with the Internet service will open across the country in the coming months.
The new WiFi service in Starbucks' premium shops is the latest step in preparing for the early commercial use of next-generation wireless technology. KT has showcased the test service in the flagship showroom at its headquarters in downtown Seoul since December last year. It also debuted a new in-venue WiFi service during the Winter Olympics in Pyeongchang earlier this year.
"KT has introduced an outstanding 10 GiGA Internet infrastructure and next-generation WiFi technology in partnership with Starbucks," said Park Hyun-Jin, head of KT's Telecommunication Business Unit. "We will continue to develop and provide a faster and securer WiFi service for our customers and clients around the world."
10 GiGA WiFi is the world's first commercial technology based on the Institute of Electrical and Electronic Engineers (IEEE)' new standard of WiFi, 802.11ax, and KT's 10 Gbps internet infrastructure. It provides the maximum speed of 4.8 Gbps, almost three times that of the previous standard of 802.11ac with 1.7Gbps, the speed of the wireless local area network (WLAN) that is widely used today.
To ensure quality WiFi service when many people are using it, KT used two advanced technologies: the orthogonal frequency division multiplexing access (OFDMA) and multi-user multi-input multi-output (MU-MIMO). These technological breakthroughs make the new wireless service twice to four times as fast as the conventional service during peak hours.
Korea's leading mobile carrier has vastly improved WiFi service by replacing the 1 Gbps Internet connection speed with 10 GiGA network. The application of 10 GiGA Internet technology provides much-needed momentum in overcoming the major obstacle to speeding up WiFi service.
KT is planning to soon improve the security of 10 GiGA WiFi. In August, security will be significantly tightened by requiring a service set identifier (SSID): a sequence of characters that uniquely names a WLAN. WiFi users will be prompted to select a WLAN from the WiFi list – for example: KT_starbucks_Secure – and then use the ID and password provided by the shop.