SK Telecom Participates in MWC Barcelona 2019 to Showcase Leading 5G Technologies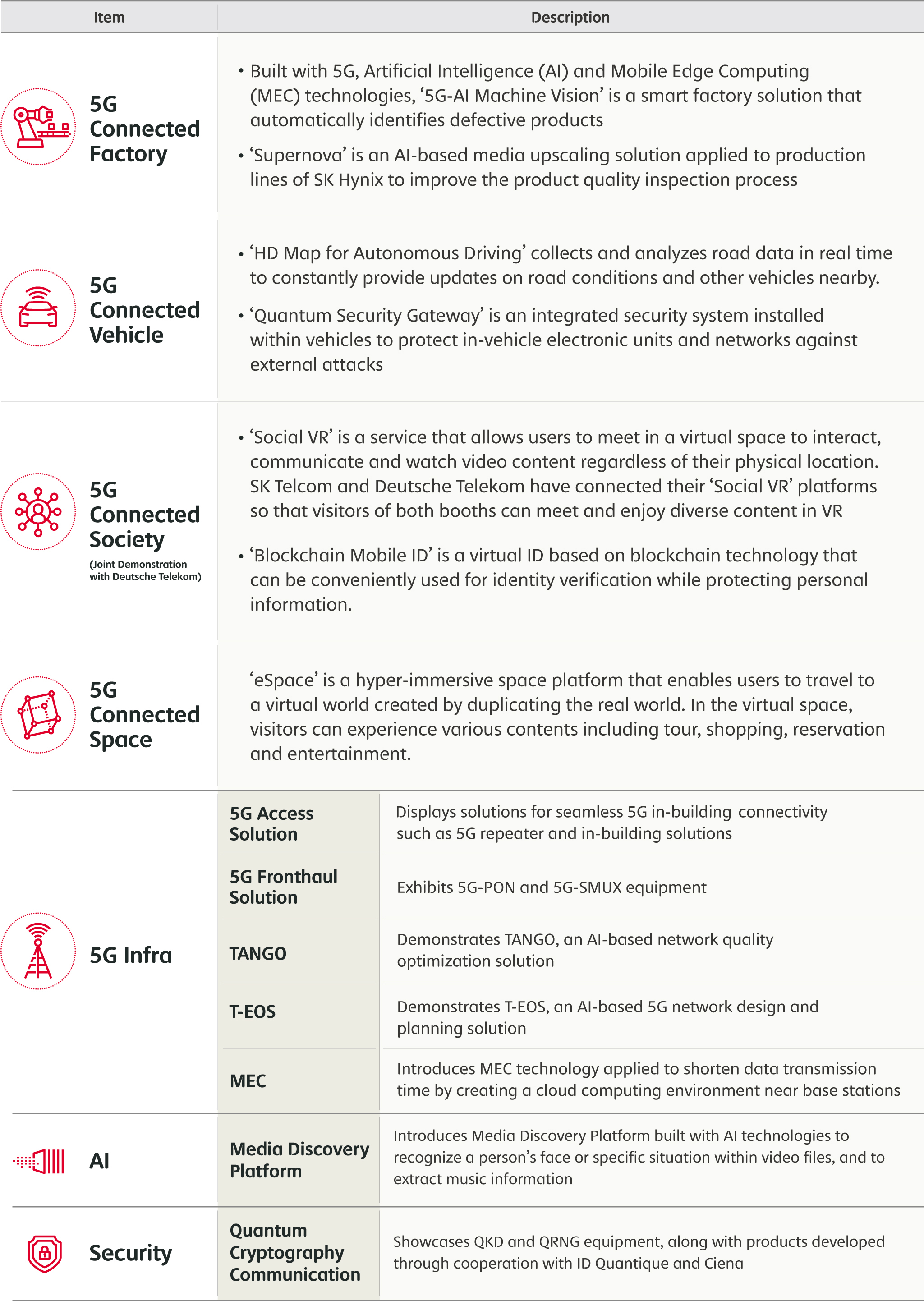 List of Exhibition Items for MWC Barcelona 2019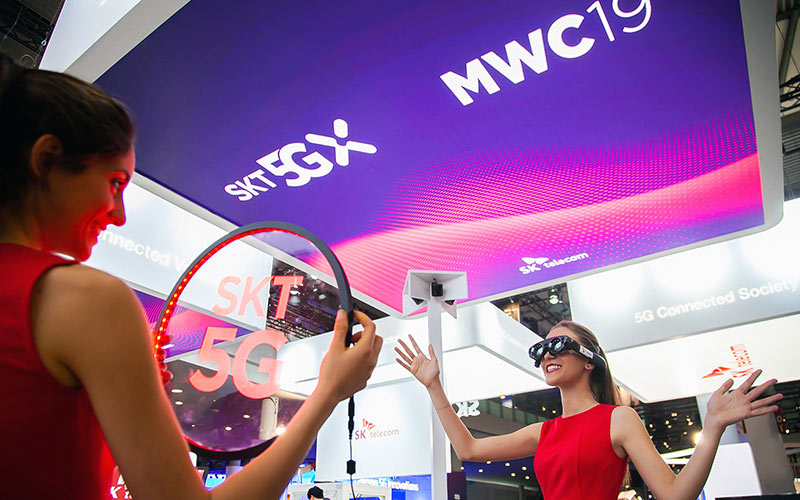 ---
Based on its experience in 5G commercialization, the company plans to seek coopera-tion with global ICT players
Plans to suggest development direction for realistic/immersive media in the 5G era by introducing innovative VR services
Aims to secure leadership in the area of smart factory through innovative solutions like '5G-AI Machine Vision' and 'Supernova'
Partners with Deutsche Telekom to jointly demonstrate 'Social VR' and 'Blockchain-based Mobile ID'
K Telecom (NYSE:SKM) today announced that it will participate in MWC Barcelona 2019 to be held from February 25-28 to showcase its leading-edge 5G network technologies as well as a range of innovative technologies and solutions in the areas of smart factory, social VR, autonomous driving and blockchain.
Located in Hall 3 Stand 3H10, SK Telecom's exhibition space is divided into four different zones – i.e. 5G-Connected-Factory, 5G-Connected Space, 5G-Connected Vehicle and 5G-Connected Society - to show how every aspect of our lives will be transformed in this era of 5G.
First, the '5G-Connected Factory' zone will feature a live demonstration of '5G-AI Machine Vision' and 'Supernova' to show remarkable changes appearing at industrial sites since the commercialization of 5G.
'5G-AI Machine Vision' is a smart factory solution that automatically identifies product defects. That is, high-resolution, multi-angle photos of components on conveyor belts are sent to the cloud server via 5G mobile routers, and the server's high-performance AI instantly scans the photos to sort out defective products. Since the launch of the 5G network in December 2018, the solution has been highlighted as the first 5G industrial solution.
The company will be also showcasing 'Supernova,' an AI-based media upscaling solution, which has being used by SK Hynix to shorten time required for product quality inspection. The deep learning algorithm applied to the solution can also be utilized in other areas such as content platforms, security solutions and e-commerce.
The '5G-Connected Space' zone invites visitors to travel beyond time and space through its hyper-immersive space platform named 'eSpace.' By duplicating the real world in VR via digital cloning, eSpace allows users to teleport to a virtual world to experience diverse services. Users can enjoy shopping and entertainment services as if they are in the real world; move to a specific place under the guidance of AR navigation; and teleport to different places within the virtual world.
SK Telecom expects the platform to be wildly utilized in the 5G era to create new value in diverse fields including interior design, commerce, education and entertainment.
The '5G-Connected Vehicle' zone showcases advanced autonomous driving technologies. While sitting in a futuristic-designed driver's seat, visitors can experience 'Quantum Cryptography Secure Gateway,' which protects in-vehicle electronic units and networks to prevent hacking of autonomous cars, and 'HD Map Update' service, which analyzes road data in real time to constantly provide updates on road conditions and other vehicles nearby.
To show how 5G will bring the world even closer, SK Telecom has partnered with Deutsche Telekom to create the '5G-connected Society' zone. The two companies will jointly demonstrate two promising 5G-based services namely 'Social VR' and 'Blockchain-based Mobile ID.'
SK Telecom and Deutsche Telekom will each operate 'Social VR' corner. For instance, visitors located at SK Telecom's booth will be able to meet with people standing at Deutsche Telekom's booth in the same virtual space, where they will appear as avatars, to communicate and watch video content together.
Moreover, at both companies' booths, visitors will be issued a virtual ID based on blockchain technology, and use the ID to enter booths and learn more about exhibited items, collecting coins as they go. Through this experience, visitors will understand how blockchain-based mobile IDs can dramatically enhance convenience in identity verification while perfectly protecting user's personal information.
Meanwhile, in addition to these zones, SK Telecom will also set up a special corner to share its knowhow in 5G network deployment and operation to seek opportunities for global cooperation. The company will display access network equipment such as 5G repeater and in-building solutions; 5G fronthaul solutions developed to improve 5G network stability; AI-assisted network OSS system named 'TANGO'; and AI-based wireless network design and planning solution called 'T-EOS.'
SK Telecom stated, "At MWC Barcelona 2019, SK Telecom will share lessons learned through its experience of commercializing 5G network with global partners and promote collaborations to accelerate ICT innovations,"