SK Telecom CEO Park Jung-ho says, "5G is the main artery of the Fourth Industrial Revolution and AI is the brain"
Plans to launch 5G service on December 1, 2019 in central areas of Seoul, Seoul Metropolitan Area and six metropolitan cities in Korea
The first 5G customer will be Myunghwa Industry, which will verify its product quality with SK Telecom's 5G and AI
Plans to differentiate its 5G network based on AI, strong security and fast speed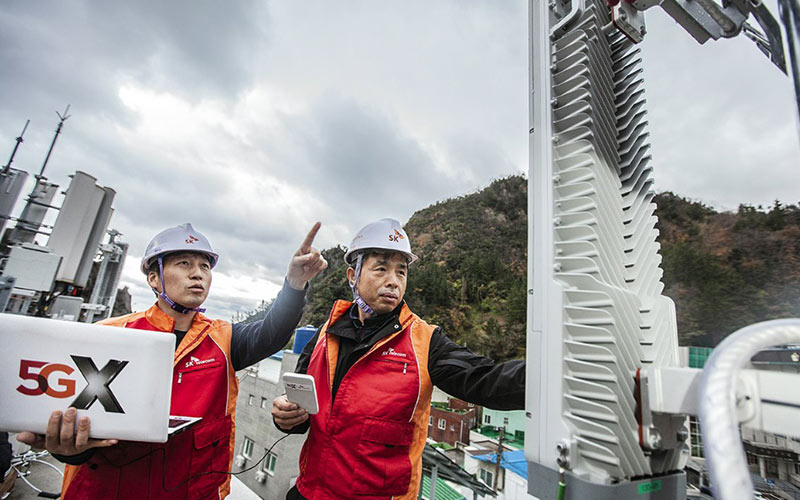 SK Telecom (NYSE:SKM) today announced its plans to lead New ICT innovations in Korea by not just rolling out 5G network, but by converging its 5G network with AI technologies.
SK Telecom CEO Park Jung-ho today posted a message on the company's bulletin board to stress the role and responsibility of the company as it is standing at an important juncture.
CEO Park stated, "In the Fourth Industrial Revolution, 5G is expected to serve as the main artery that connects people and things and also things themselves, and AI will act as the brain that analyzes complicated data and seeks optimal solutions. Both 5G and AI will become the core competitiveness of SK Telecom."
He also said, "As the core infrastructure that will drive the Fourth Industrial Revolution, 5G and AI will trigger an era of hyperconnectivity and hyperconvergence. All things in the offline world will become connected at great speeds and precision, giving rise to new industries and values that go beyond our imaginations."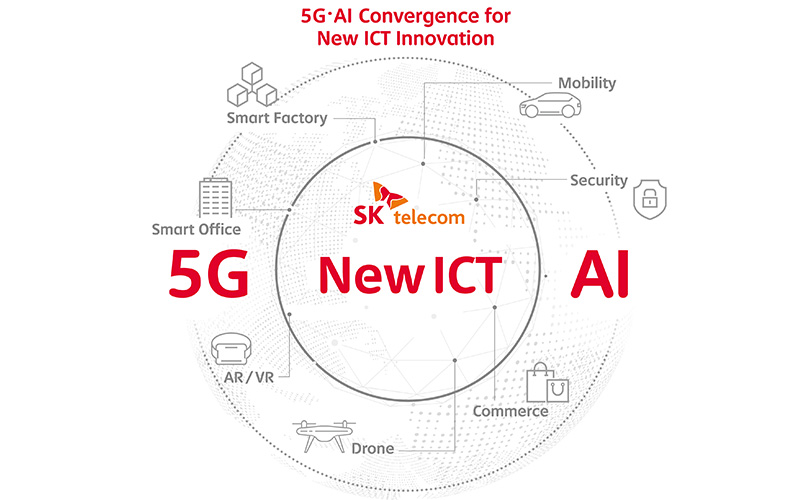 ■ To launch 5G service in main areas nationwide on December 1, 2018
SK Telecom will launch 5G service at midnight, December 1, 2018 in central areas of Seoul, Seoul Metropolitan Area and six metropolitan cities. The company plans to expand its 5G service coverage to 85 cities nationwide by September 2019.
The commercial 5G service will first be provided to an enterprise customer in the manufacturing sector. Its first customer will be Myunghwa Industry Co., Ltd, an auto parts company based in Banwol Industrial Complex, Ansan, Gyeonggi-do. Myunghwa is expected to reach KRW 610 billion in sales this year.
SK Telecom will provide '5G-AI Machine Vision,' which will be applied to production lines of Myunghwa to verify product quality by utilizing 5G and AI. That is, high-resolution, multi-angle photos of products on conveyor belts will be sent to the cloud server via 5G mobile routers, and the server's high-performance AI will instantly scan the photos to check for defective products.
5G for enterprise customers will be provided as a package that includes mobile router, network communication and solution, and usage fees will differ by company as the services will be provided in customized formats. SK Telecom plans to expand its 5G customer base to businesses in diverse industries.
■ To differentiate its 5G with AI, high security and fast speed
Powered by AI, SK Telecom's 5G network will be able to maintain the best communication quality by accurately predicting the time and place of data traffic congestions. Based on its predictions, the AI will allocate more network capacity in advance if deemed necessary or automatically adjust the antenna directions and area of radiowave propagation.
Moreover, recognizing the importance of stability and security of the 5G network, SK Telecom has been focusing on developing related technologies. In particular, through six years of development, the company has successfully developed the world's smallest Quantum Random Number Generator (QRNG) chip in 2017. Also, in February 2018, SK Telecom has acquired over 50% stake in ID Quantique, the world's No. 1 quantum-safe cryptography solutions provider, to further strengthen its technological capabilities.
To provide watertight security for its 5G network, SK Telecom will first apply quantum cryptography communication technology to Seoul-Ansan section of its 5G network and plans to apply the technology to its customer authentication server in the first half of next year.
"Determined to provide the highest level of network security and stability at all times, SK Telecom will continue to work closely with companies across the globe to secure the best technologies," said Park.
Furthermore, SK Telecom has acquired the optimal 5G spectrum, which is essential for high speed data communications. There are no radio frequency interferences caused by adjacent frequency bands. At the same time, the company already has the largest LTE spectrum in Korea. Going forward, the company will be able to offer unrivalled data speeds in Korea by commercializing 'dual connectivity,' which will be realized by binding LTE and 5G networks.
CEO Park concluded his remarks by saying, "Starting with its success in CDMA twenty years ago, SK Telecom has sustained market leadership in the era of 3G and LTE. Now, let's continue our success story by driving New ICT innovations in Korea through 5G-AI Convergence."