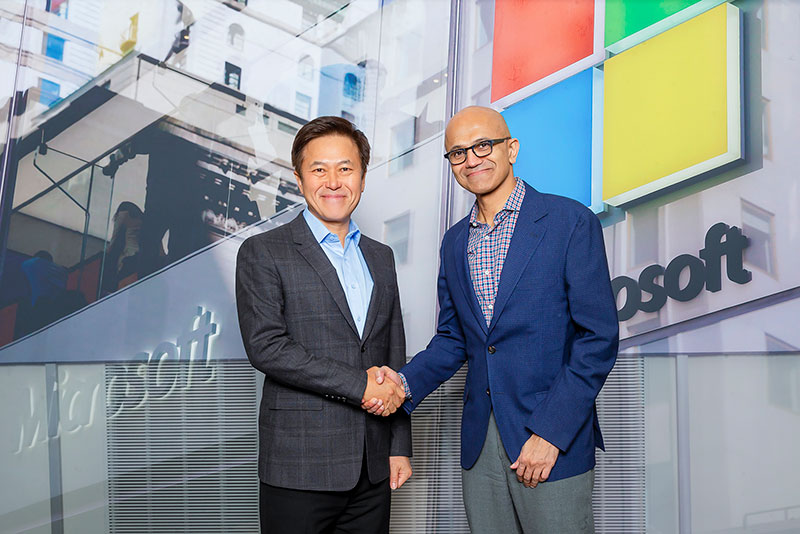 ▲ Park Jung Ho, CEO of SK Telecom (left), and Satya Nadella, CEO of Microsoft (right), at a recent meeting.
SK Telecom (NYSE:SKM) and Microsoft Corp. signed a memorandum of understanding (MOU) on May 7 for comprehensive cooperation in leading-edge ICT, including 5G, artificial intelligence (AI) and cloud.
Under the MOU, SK Telecom and Microsoft will combine their technological capabilities in areas such as 5G, AI and cloud to jointly promote Internet of Things (IoT) business including smart factory; AI technologies and services; media and entertainment services; and new ways of working for ICT companies under the SK Group umbrella.
To promote smart factory IoT business operations, the two companies established a business strategic partnership in February 2019 to launch Microsoft Azure with Metatron, SK Telecom's self-developed big data solution. SK Telecom and Microsoft will work together to further upgrade the service and implement joint marketing activities.
By putting together the capabilities of SK Telecom's AI platform NUGU with Microsoft's Cortana digital assistant, the two companies will work together to offer new AI-powered products and services, including consumer solutions such as smart speakers and other offerings for the enterprise.
Moreover, the two companies will work together to create a new level of customer experience in the field of media and entertainment.
SK Telecom will adopt Microsoft 365, the company's intelligent and secure solution to empower employees, to create a modern workplace and promote a new way of working among employees. Eventually, SK Telecom will expand Microsoft 365 to other ICT companies under the SK Group umbrella. In addition, the two companies will provide new value to customers by combining Microsoft's modern workplace devices and solutions, such as Surface and Office 365, with SK Telecom's unique products and services.
"SK Telecom is pleased to join hands with Microsoft as collaboration with global leading companies like Microsoft is essential to gain leadership in the 5G market, where competition is already fierce," said Park Jung-ho, President and CEO of SK Telecom. "SK Telecom will work closely with Microsoft to create an unprecedented value by combining the strengths and capabilities of the two companies."
"Through the strategic partnership with SK Telecom, we will play a key role in shaping the future and accelerating the digital transformation of the telecommunications industry with our world-class network and technology," said Jason Zander, executive vice president, Azure, Microsoft. "This will be a deep and multifaceted partnership that strengthens the power of cloud and AI to deliver innovative new services to customers."