SK Telecom and Microsoft Expands Project xCloud Preview to Strengthen Leadership in Cloud Gaming Market
The two companies expand Project xCloud Preview in Korea by inviting more players to participate for the preview; increasing the number of available game titles to 85; and distributing the Xbox Game Streaming Preview app exclusively via One Store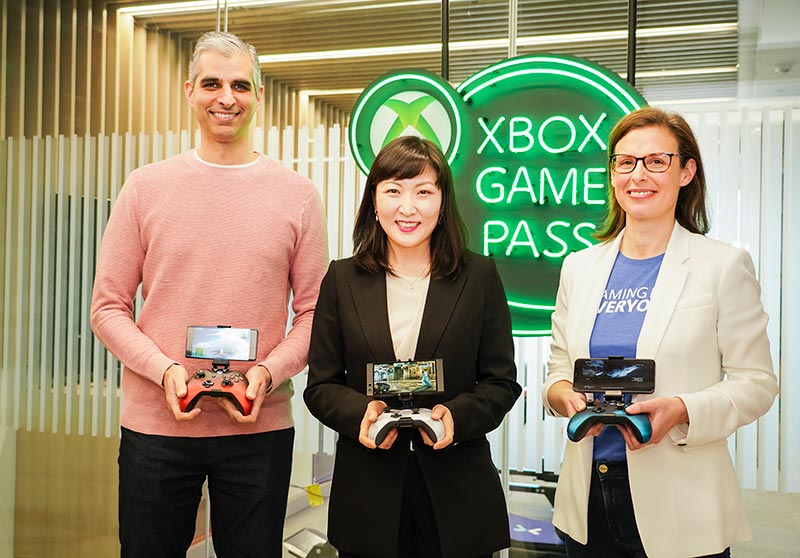 ▲ (from left) Kareem Choudhry, Corporate VP, Project xCloud, Microsoft, Jeon Jin-soo, VP and Head of 5GX Service Business Division, SK Telecom, and Catherine Gluckstein, GM and Head of product, Project xCloud, Microsoft
SK Telecom (NYSE:SKM) and Microsoft today announced that they will expand Project xCloud Preview in Korea, inviting more players to participate, adding new games, and delivering the Microsoft Game Streaming app via the One Store beginning Tuesday, January 21, 2020.
Project xCloud is Microsoft's game streaming technology that allows gamers to play Xbox games directly from the cloud on mobile devices while connected to the internet.
Supported by SK Telecom's 5G network, which is marked by super-fast speed and ultra-low latency, Project xCloud can offer a more immersive and seamless experience to gamers.
As an exclusive business operating partner of Project xCloud, SK Telecom has launched the public preview for Project xCloud in Korea in October 2019 for its selected customers.
At present, public previews for Project xCloud are being provided in the United States, United Kingdom and Korea.
According to Microsoft, Project xCloud preview participants in Korea are on average spending 1.75 times more time gaming and revisiting three times more compared to the participants in the United States and United Kingdom.
To continue learning more about best ways to enhance gamers' experience, SK Telecom and Microsoft will invite more gamers into the preview.
Moreover, SK Telecom and Microsoft will increase the number of games for Project xCloud preview in Korea from 29 (as of November 2019) to 85 titles, including homegrown Korea-developed favorites such as "Black Desert" and "Tera."
And around 40 of these games will provide Korean subtitles or voice-overs, and more games that support the Korean language will be added to the preview over time.
Gamers interested in joining the Project xCloud preview can register at the official webpage (https://m.sktelecom5gx.com/mobile/general/xcloud/main).
Those who have previously registered do not need to register again, and invites will begin rolling out on January 21, 2020.
Once invited, the Project xCloud preview can be accessed free-of-charge on Android devices through the Xbox Game Streaming Preview app in the One Store, now the exclusive app store for Project xCloud in Korea.
The previously-registered gamers who have downloaded the preview app from the Google Play Store can update their apps via the One Store.
"Our partnership with SK Telecom has played a valuable role in helping Microsoft reach new, mobile-first gamers while also learning more about delivering high-quality game streaming through 5G networks," said Kareem Choudhry, Microsoft's Corporate Vice President of Project xCloud. "As we enter the next phase of our preview in Korea, it is critical for us to have a strong partnership with a respected company like SK Telecom to push the technology forward."
"We are confident that 5G cloud gaming will shift the paradigm in the video game industry," said Jeon Jin-soo, Vice President and Head of 5GX Service Business Division of SK Telecom. "We will continue to make efforts to provide the world's best cloud gaming services to the Korean gamers."