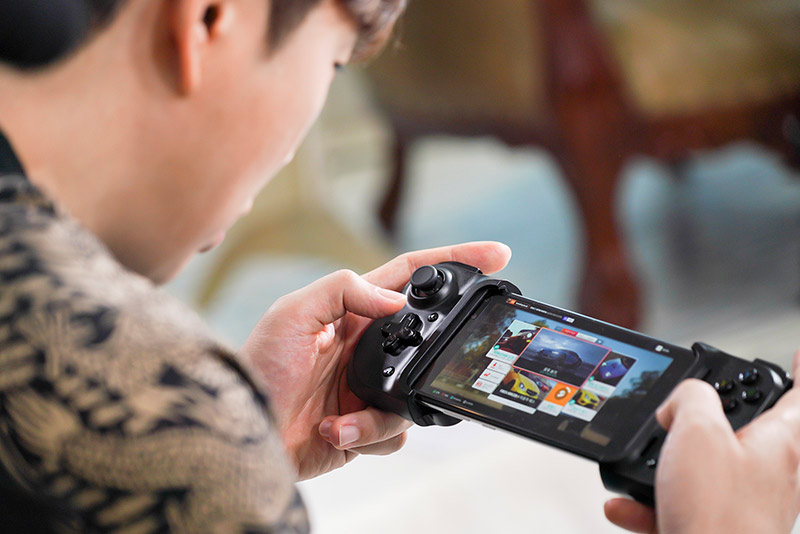 SK Telecom (hereinafter referred to as "SKT") and Microsoft today launched 'SKT 5GX Cloud Game' powered by Xbox Game Pass Ultimate in Korea, making the country the first Asian market to offer Xbox's cloud gaming service.
'SKT 5GX Cloud Game' powered by Xbox Game Pass Ultimate, is a subscription service that allows users to play more than 100 great games in the Xbox Game Pass catalog for a monthly fee of KRW 16,700.
The subscription will enable gamers to play the games they want, with the people they want, anywhere they want by accessing the cloud server via Android phones or tablets. Users can also download and play Game Pass titles on their PCs and Xbox consoles as part of their subscription. The service is also available to subscribers of other mobile carriers in Korea.
SKT and Microsoft carried out the Project xCloud preview in Korea for about a year and found that 55 percent of users played cloud games at their homes via Wi-Fi connectivity, while the remaining 45 percent did so outside of their homes via mobile connectivity.
SKT has launched a bundled service named 'Xbox Game Pass Ultimate Controller Pack,' which provides a 12-month payment plan to purchase an Xbox dedicated controller along with 12 months of Xbox Game Pass Ultimate membership, priced at KRW 22,000 per month.
Alongside the launch of Xbox's new Xbox Series X and S console devices in November 2020, SKT will also begin offering Microsoft's Xbox All Access (XAA) Bundle that provides access to a new next-generation console, combined with a 24-month Xbox Game Pass Ultimate membership, via a more affordable monthly payment.
SKT's 5G network, which offers super-fast speeds and ultra-low latency, will optimally support cloud gaming services, turning them into one of the most popular services in the 5G era.
The company has been developing and applying diverse innovative technologies to provide a differentiated gaming experience through its 5G network.
Earlier this year, the company applied pre-scheduling technology to its 5G network to maintain low network latency by dramatically reducing initial access time so that users can enjoy cloud gaming in real-time.
In addition, to seamlessly support cloud gamers who play while on the move, SKT has been developing and applying 5G network optimization solutions that can reduce latency when hand-over occurs between base stations.
"With cloud gaming now a key part of Xbox Game Pass Ultimate, we're excited for gamers in Korea and across the world to have more freedom in the way they play with friends and family. Connecting gamers is core to what we do and having a great partner like SKT to enable best-in-class mobile gaming for customers is critical to that mission. We're excited to continue our work with SKT and look forward to delivering a fantastic gaming experience to the Korean gaming community", said Phil Spencer, Head of Xbox at Microsoft.
"With SKT 5GX Cloud Game powered by Xbox Game Pass Ultimate, we will realize a new level of experience for users of 5G-based cloud gaming in Korea," said Ryu Young-sang, President of MNO at SK Telecom. "We will continue to expand the cloud game ecosystem by discovering and supporting promising games in Korea."